Craving a vacation away from the hubbub of everyday life? Mexico might come to mind immediately, but because so many tourist areas are packed with resorts, not all destinations offer a private oasis. That's not to say you're out of luck. After exploring the country from coast to coast, we found 13 hotels that offer a stellar secluded getaway in Mexico.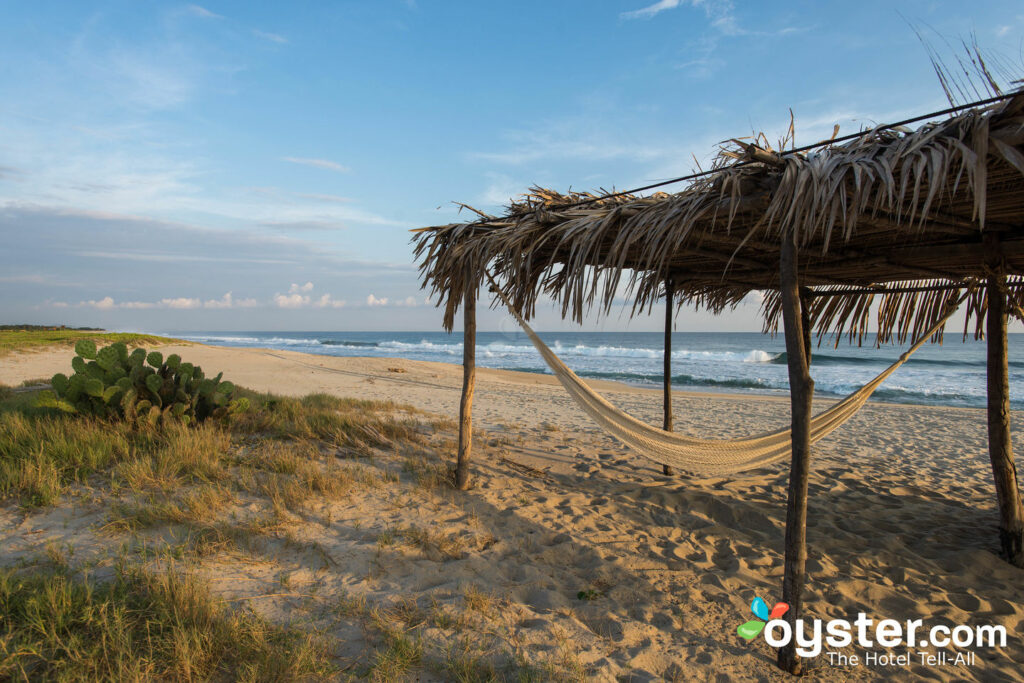 Set amid private "middle of nowhere" acreage, Hotel Escondido (a Grupo Habita property) offers 16 sleek and modern bungalows made for barefoot boutique chilling on an exclusive stretch of beachfront. Bungalows open to private decks with plunge pools and their own sandy beach access paths. The 50-meter beachfront infinity pool is a spectacular centerpiece, and the open-air palapa restaurant serves top-notch food and cocktails (although hyper-creative dinner menus can disappoint those who just want tacos.) Visitors can also expect an on-site spa and chic boutique that sells artisan home goods. Hotel Escondido is far from town and doesn't allow kids under 16, but that's the whole idea. It's a super laid-back escape well worth the adventure.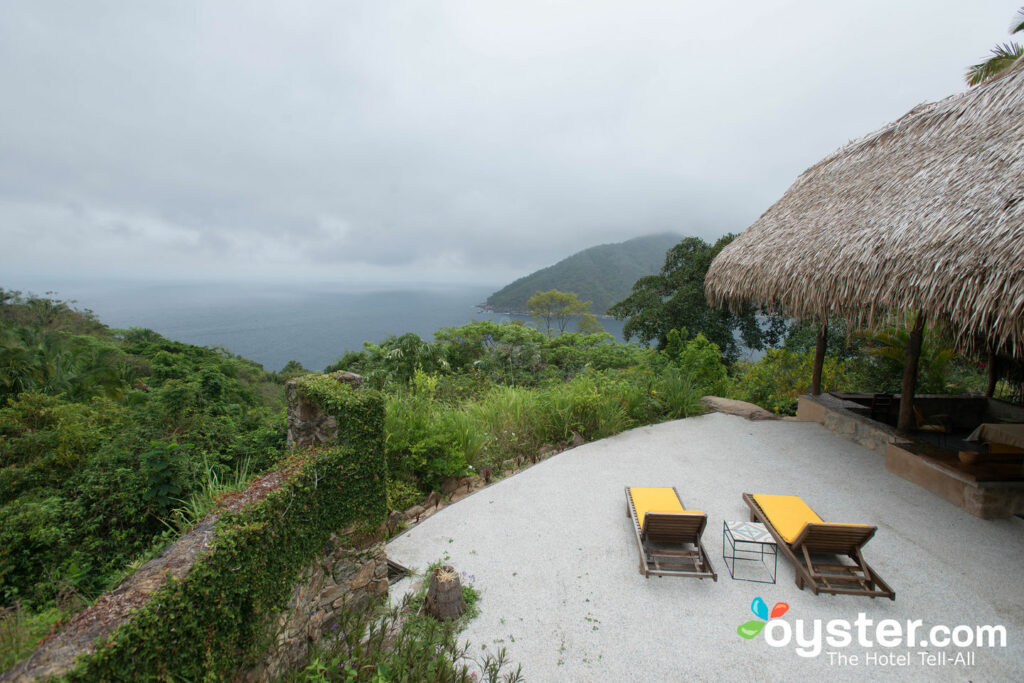 Verana is an adults-only boutique resort nestled in a hillside high atop the bay of Yelapa, a small village on the coast of Mexico that is only reachable by boat. Forty-five minutes south of Puerto Vallarta, Verana offers eight uniquely designed, rustic houses that include complely open-air, gazebo-style rooms perched out over the jungle; some have private pools. While facilities are minimal and not exactly upscale, this secluded jungle experience — which includes a lovely restaurant, spa, and infinity pool — is popular among couples looking to get away from it all. Due to the isolated location, though, it takes some effort to explore Yelapa beyond the property.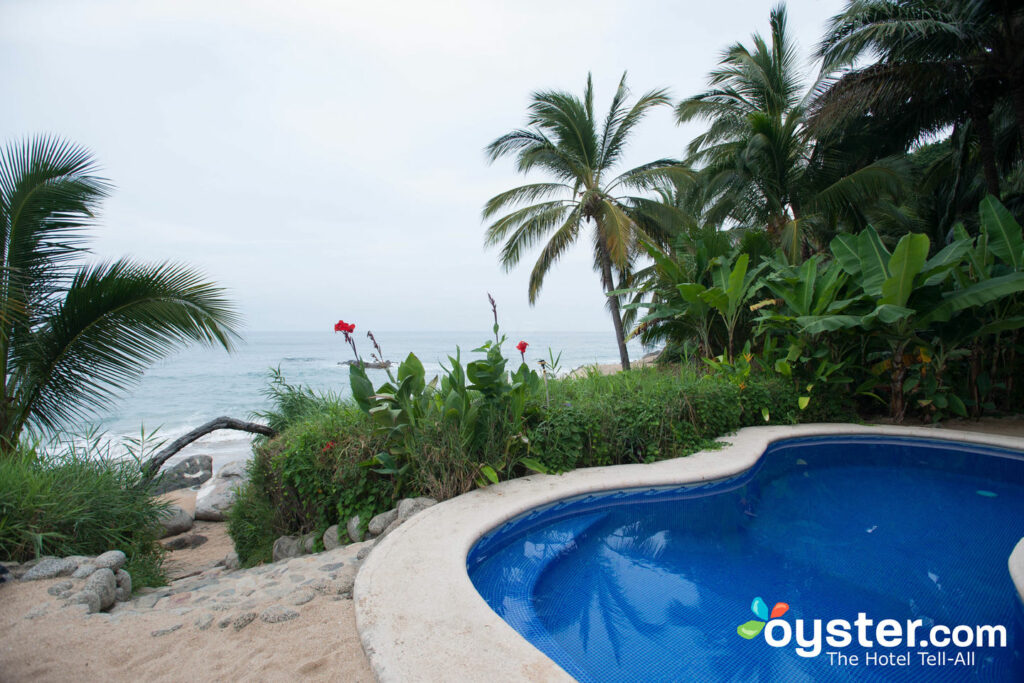 This secluded, romantic retreat is tucked away in a beachfront spot in the jungle outside Sayulita. Playa Escondida offers 25 beautiful rooms housed in standalone huts built using natural local materials and offering ocean or jungle views, rustic-chic decor, terraces, and no window panes. The idea is to deliver an unplugged, in-touch-with-nature vacation, so rooms have no TVs and cell phone and internet service are limited to some common areas. The beautiful infinity pool, gorgeous massage huts, tasty restaurants, and private sandy beach are all highlights. Just note that Bird Canyon rooms, while as gorgeous as the other accommodations, are far from the main facilities (a golf cart is provided). The vibe is definitely adult-oriented, and kids are only allowed during certain holiday periods.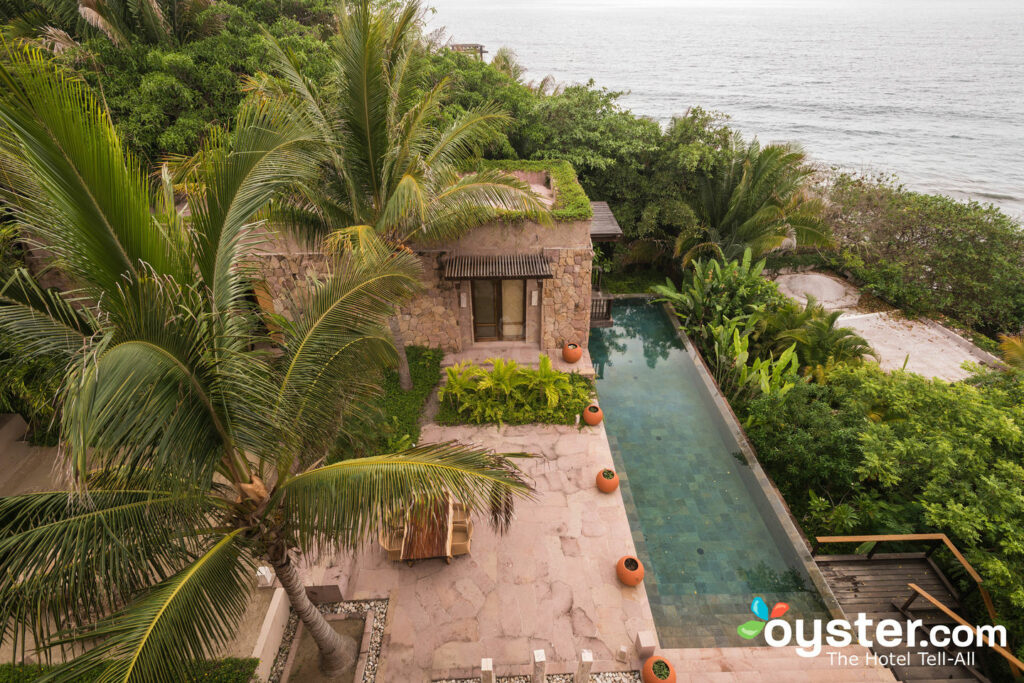 Imanta is a unique, luxury resort set on a massive 250-acre property in Punta de Mita where the jungle meets the sea. This stylish Relais & Chateaux property offers 11 rooms with private pools and elegant baths in a lush tropical setting. A stunning private beach, a unique outdoor spa, two upscale restaurants, and a small gym complete the package. Forget about room keys and towel cards — the doors don't even have locks. The compound is very secure and remote, located down a two-mile-long private road. While the remote location adds an air of exclusivity (which is backed up by a notable celebrity clientele), guests looking to explore local restaurants or shopping will find it quite out of the way as it is over an hour from the city.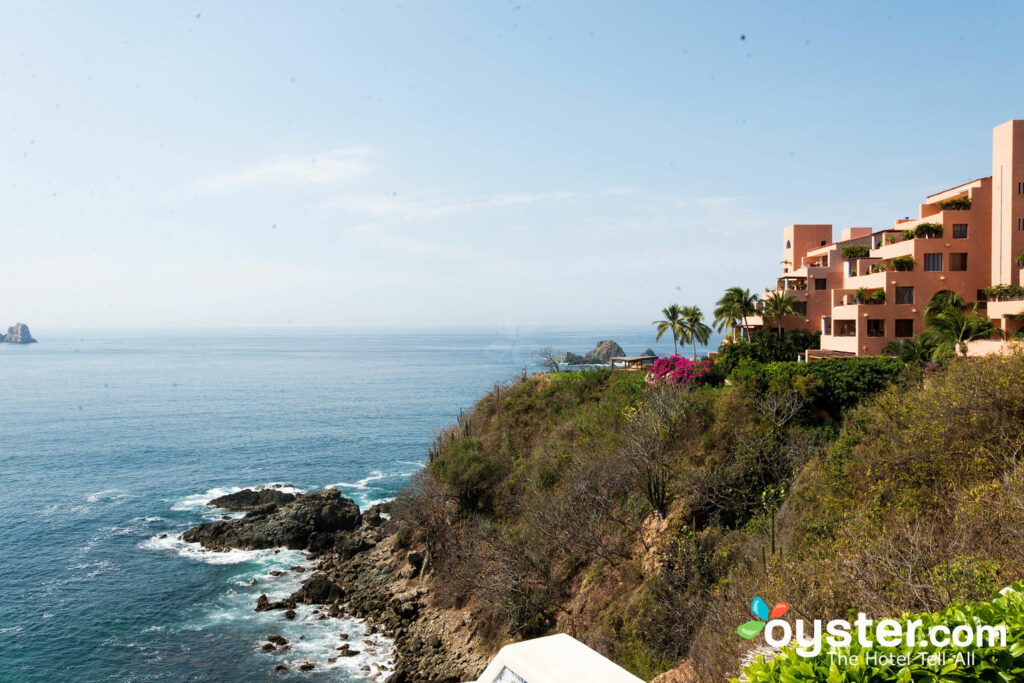 The upscale, 59-room Cala de Mar Resort & Spa Ixtapa is an inviting hotel with a chic and sophisticated Mexican style. The hotel features many of the amenities travelers look for on vacation: two infinity pools, a full spa, and ocean views, plus luxe touches like a personal assistant and free treats by the pool. Drinks and food are available from the patio restaurant, pool, tapas bar, and seafood grill. Each of the rooms are tastefully decorated with Mexican-style art and have private dip pools, balconies, and stunning ocean views. Unfortunately, the resort's location on the edge of Ixtapa means that the closest beach (Playa el Palmar) is an eight-minute drive.
Villa Azalea is an upscale, eco-friendly boutique resort and organic farm on 10 acres of countryside just outside of Puerto Vallarta. This tiny bed-and-breakfast offers just seven rooms and suites in a relaxed, stylish atmosphere with special details. A babbling river runs through the property, and guests can dine at a picnic table that's placed directly in the clear, cool water. The farm offers fresh fruits and vegetables, as well as a duck pond. Inside, the rooms are chic and modern. The property's isolated location means it's a 15-minute drive to the nearest beach or a 35-minute drive to town.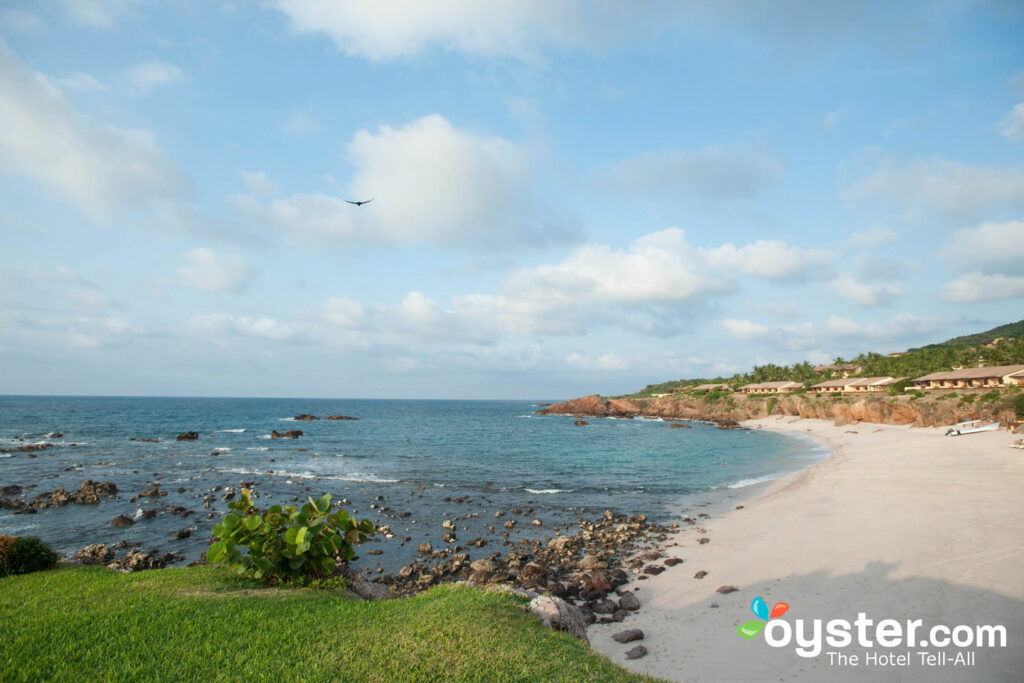 The Four Seasons is one of the grand dames in Riviera Nayarit. It has been around for over two decades, but still wows with its sprawling manicured grounds, elegant rooms, outstanding restaurants, and slew of activities for adults and kids. Its location in exclusive Punta Mita means guests won't get to experience much of the local culture, but the hotel is a short drive from quaint little villages full of Mexican flavor. It also has not one but two pretty fine-sand beaches, both with calm waters that are great for families with children. Two adults-only pools, an infinity-edge pool, and a lazy river, plus a serene spa, add to its allure.
The 199-room Grand Isla Navidad Resort is a sprawling waterfront property with all-inclusive packages available. One of the most upscale hotels in the area, it boasts elegant guest rooms and suites with wooden furniture, marble floors, flat-screen TVs, and free Wi-Fi. It's situated in a lagoon, and there's a large, sandy beach area, as well as three pools, a kids' club, spa, gym, and sports facilities. In addition to the main buffet restaurant, there are two a la carte restaurants and a snack bar; food at the buffet receives mixed reviews. One of the most prominent features is the 27-hole golf course. The hotel sits on a peninsula that's separated from Barra de Navidad by a lagoon, and the beach is actually in an inlet, meaning it's private, quiet, and without waves.
Haramara is arguably one of the most special hotels in Mexico. It is a luxurious yoga retreat located on 12 seaside acres of wild vegetation just outside Sayulita. The structures have been built using traditional construction techniques to minimize the environmental impact, and there is no electricity anywhere besides the restaurant and the yoga studio — not even in the rooms. Each room is housed in a private standalone thatched hut with no window panes or screens separating it from the jungle, and only gauze curtains and mosquito nets to avoid bugs and critters. It is geared towards those in need of some detoxification and relaxation, with yoga and meditation classes, an open-air spa, a vegetarian and seafood restaurant, unpaved trails, and limited cell phone service.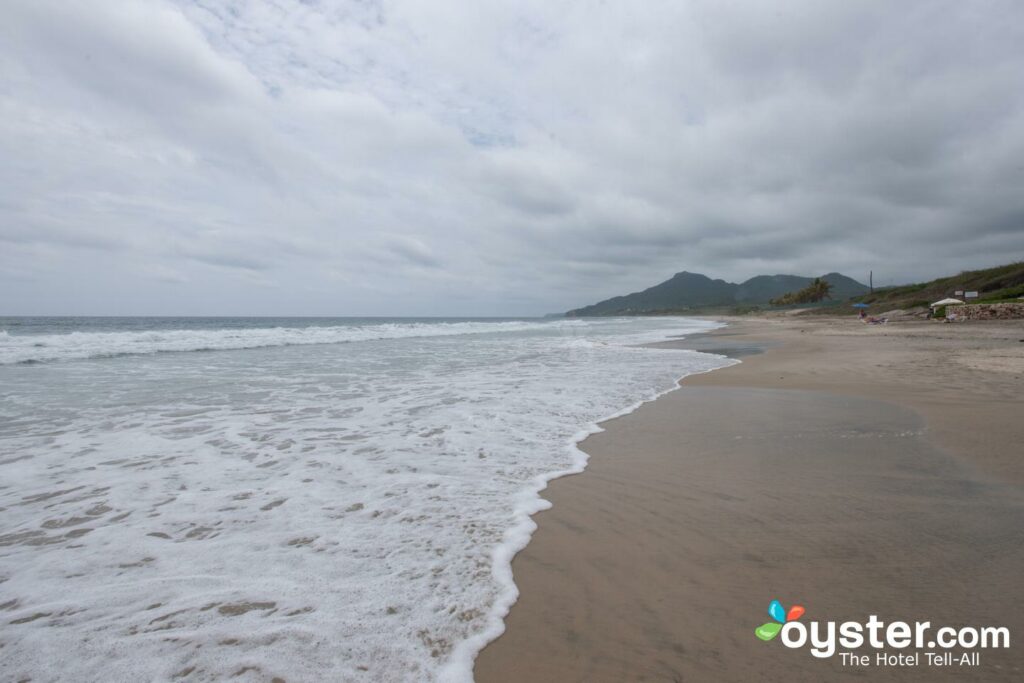 Set on a secluded peninsula near the town of Punta de Mita, an hour from central Puerto Vallarta, Iberostar Playa Mita is an upscale, all-inclusive mega-resort offering 452 polished rooms and suites on lush grounds with palm trees and tropical plants. Elegant rooms come with air-conditioning, flat-screen TVs, coffeemakers, mini-bars, and balconies. Suites add living areas and kitchens, and some units have ocean views. There are five restaurants, a 24-hour cafe, and seven bars, including a lively swim-up bar in the massive two-tier pool. A huge, beautiful beach offers water sports. Other amenities include a golf course, a lovely spa, a fitness center, a kids' water park, a billiard hall, and regular entertainment and activities.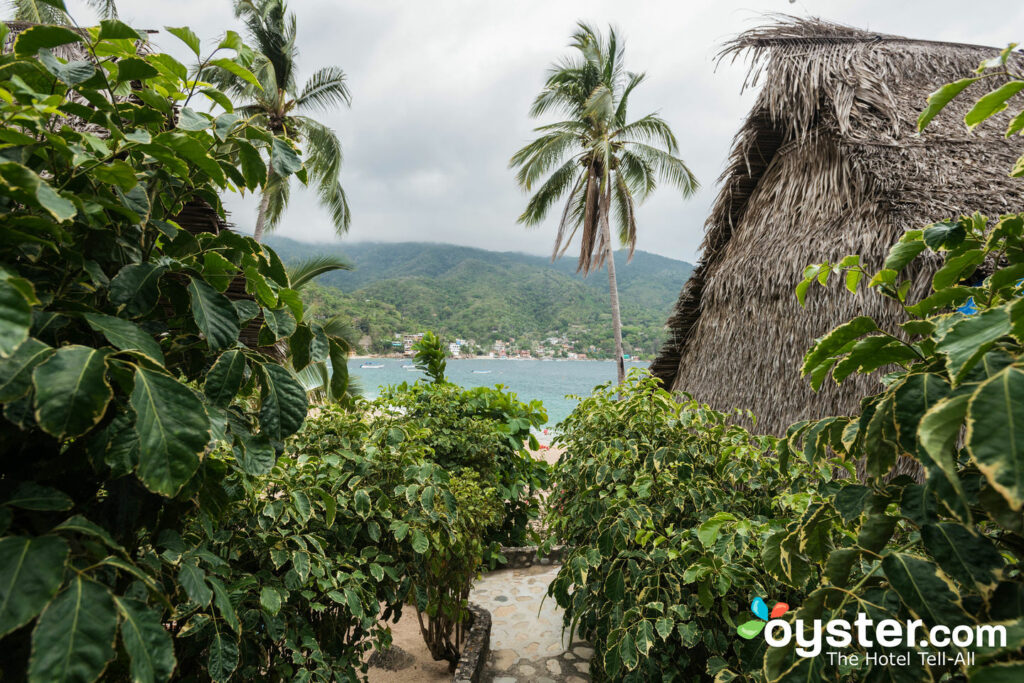 Hotel Lagunita is a rustic beachfront hideaway with 28 thatched-roof palapa cabins built in the style of a deserted island retreat. The journey to Yelapa, an enchanting, secluded village in a cove along the jungle-lined coast, is half of the adventure: There are no roads, so a 45-minute speed boat ride is the only option. Lagunita offers a lovely rock pool, a nice restaurant right in the sand, and a yoga studio. The property has a lush tropical setting, with the jungle trees leading right up to the beach. But finicky travelers should be forewarned: The cabins are extremely rustic, amenities are basic, and the experience is more like camping out than like staying at a traditional mid-range hotel.
Villas Flamingos is a boutique hotel situated in a tropical paradise on the secluded island of Holbox. The location on a nearly private beach in the Yum-Balam Nature Reserve makes for an even more romantic hideaway. The beach is set with hammocks, sun loungers, and parasols, as well as a massage treatment area. There are 14 bohemian-chic rooms; some include a private plunge pool or hot tub. Hammocks strung between poles in the ocean and romantic moonlight dinners on the beach up the ambience. The swimming pool is the only sea-facing pool on the island. Buffet breakfast is included in room rates and the beachfront restaurant and bar serves lunch, dinner, and drinks.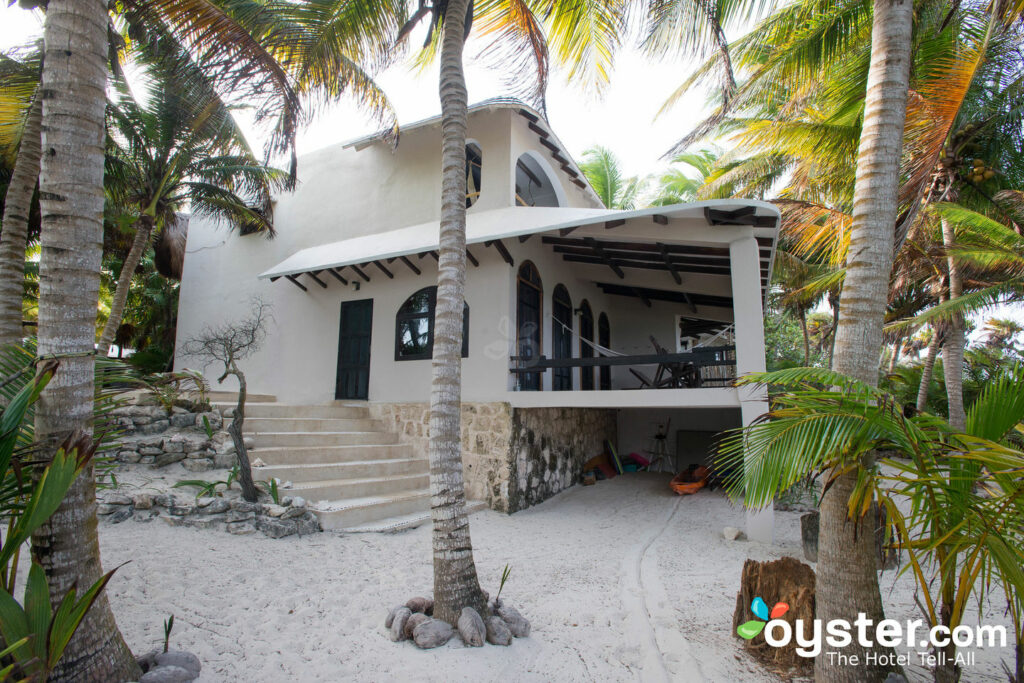 As the only LEED-Platinum-certified building in the country, Casa de las Olas is ideal for those who are looking for an eco-friendly, off-the-grid beachfront getaway. Relying only on solar power, this budget boutique uses self-sourced water, gravity-based plumbing, and biodegradable products. It also has locally sourced products and food. The five rooms have ocean views; most have kitchenettes or kitchens and furnished outdoor spaces. Free breakfast is served at a communal picnic table, but other than the occasional lunch (requested in advance), guest have to venture farther down the Hotel Zone for meals, drinks, or any other attractions. Overall, the end-of-the-road location is great for privacy and escape.
You'll Also Like:
All products are independently selected by our writers and editors. If you buy something through our links, Oyster may earn an affiliate commission.