Yesterday morning, the world woke up to some shocking news: The governments of Saudi Arabia, the United Arab Emirates, Egypt, Bahrain, Yemen, and the Maldives declared that they had severed diplomatic ties with Qatar, accusing it of supporting terrorist groups. And as we've come to know well given recent current events, politics and travel are inextricably linked. So, shortly after the news broke, travelers were already beginning to be impacted. According to Al Jazeera, the aforementioned countries announced that they would suspend air, sea, and land transport with Qatar.
This comes not long after Qatar Airways was impacted by the U.S. Department of Homeland Security's decision to ban passengers flying to the U.S. from certain airports in the Middle East and North Africa from carrying any electronics larger than a cell phone in the airplane cabin. Here's what you need to know about how the recent news might impact your trip.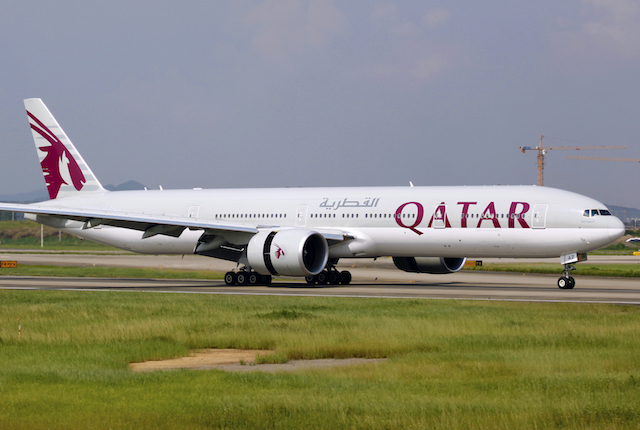 The Airlines Impacted
Qatar Airways stated on its site that it had suspended all flights to Saudi Arabia starting noon on Monday. Meanwhile, Emirates and Etihad also announced that they would be suspending all flights to and from Doha, Qatar's capital, starting Tuesday. Egypt Air has delayed its flights to and from Doha on Monday, according to Al Jazeera, and the country's ministry of aviation said it will "halt all flights between Egypt and Qatar and close off Egyptian airspace to Qatari aircrafts that seek to land or pass through" starting Tuesday. Other airlines, including Bahrain's Gulf Air, FlyDubai, Air Arabia, and Saudi Arabian airlines also chimed in with their own plans to suspend flights. Qatar Airways has retaliated with the suspension of all flights to Saudi Arabia, UAE, Egypt and Bahrain.
According to APEX Media, more than 200,000 seats could be lost in both directions per week, due to canceled flights. Even more alarming, this could result in over 10 million lost seats over the next year, should the suspension continue.
Flight Refunds Will Be Available
If you are traveling to or through Qatar, expect to select an alternate flight. Both Etihad and Emirates are offering full refunds — and free rebooking to a different destination — for travelers who are inconvenienced by this change, according to Al Jazeera. Those flying on Qatar Airways should also allot for longer journeys, as they'll be required to take a longer route.
Connecting Flights Will Also Be Affected
Folks who wish to visit Qatar (or have a connecting flight through the destination) should prepare to fly only Qatar Airways, as you won't be able to connect through popular destinations like Abu Dhabi or Dubai on one of the other aforementioned airlines. Speaking of which, travelers will no longer be able to transit through Doha's airport when coming from countries like Egypt, Saudi Arabia, and Bahrain. The bright side: In 2015, Skytrax, an aviation consumer website, named Qatar Airways one of the best airlines in the world.
You'll Also Like:
All products are independently selected by our writers and editors. If you buy something through our links, Oyster may earn an affiliate commission.