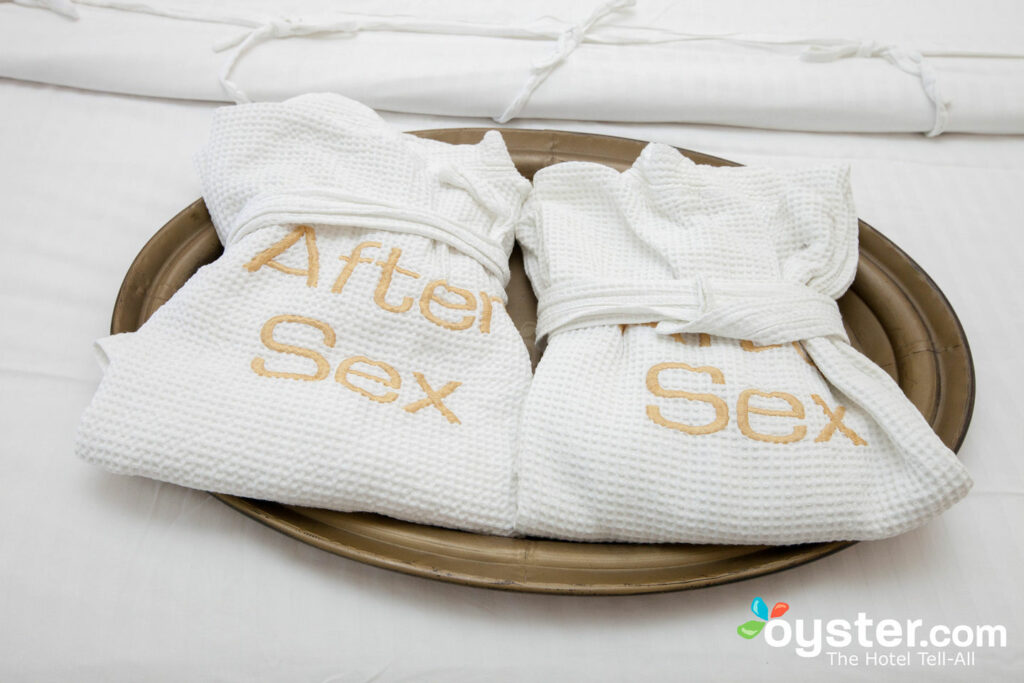 It's no secret that hotels often kindle desire. Intimacy kits are becoming a standard item in the minibar and many hotels go out of their way to stoke romance and rowdiness with everything from stripper poles, to rotating beds, to vending machines stocked with sex toys. But what about after the magic happens? Nothing kills a rendezvous faster than an early check-out time or an empty stomach. Whether you've booked the room with the sole purpose of getting down with your significant other, or waves of passion spontaneously overtake you, the following hotels have everything you need to stay happy after you get lucky. Who knows, you may just be ready for round two, or three...
Plush Robes
Hanging out au natural is comfy, but it can get chilly. Animal-print robes at New York's Ink48 are both soft and warm, making one the perfect little something to slip on after the deed. Book the High Heat amenities package and you'll get an intimate boudoir photo shoot starring you wearing the robe, and little else. It's the ultimate sexy souvenir. The robes are included in the luxury boutique hotel's Deluxe level rooms, with or without the package, along with green chaise loungers, L'Occitane bath products, and king-size beds.
Romance Concierge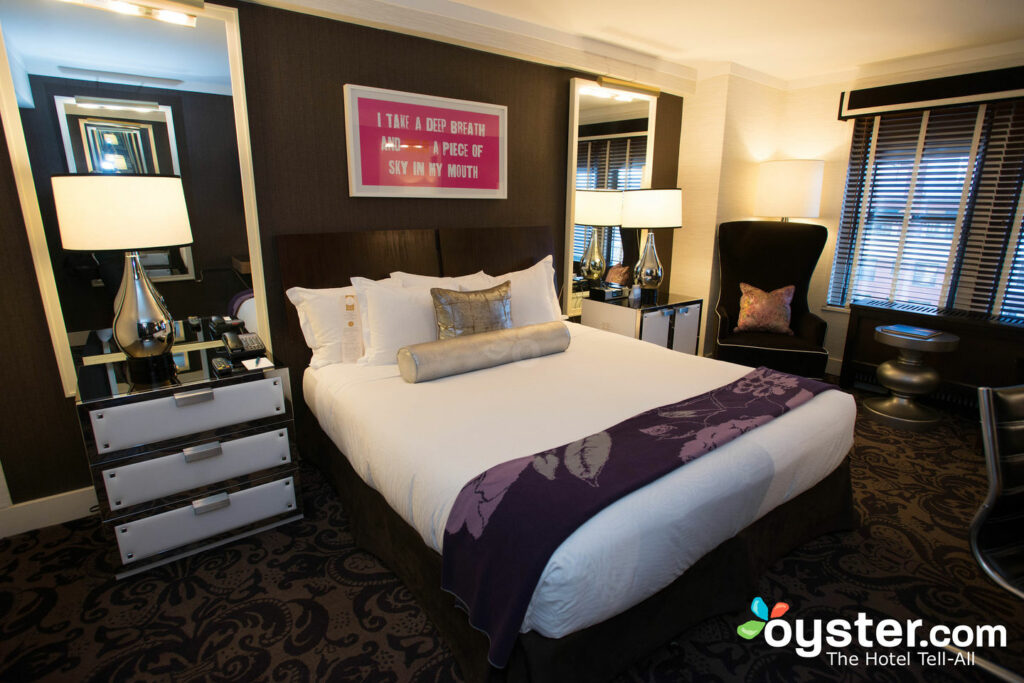 Maybe all that love-making has put you in the mood to put a ring on it. Stay at the 70 Park Avenue Hotel and the in-house "romance concierge" can set the proposal stage with rose petals strewn about and love ballads playing in the background, and he or she can even help procure the ring from Tiffany's — or slip it in a champagne glass for quite the bubbly surprise. Purple bed runners and velvet wing chairs set the "say yes" stage in contemporary guest rooms. In-room spa treatments and a free wine reception every evening dial up the romance factor for those with something special to celebrate at this Midtown hotel.
24-Hour Room Service
For couples who've stayed up late knocking boots, a midnight snack or late breakfast in bed is extra appealing. The Trump International Hotel & Tower Chicago takes 24-hour room service one step further with the option of having a chef cook up pancakes, eggs, sausage and bacon, and coffee right in the One-Bedroom Suite. A server provides endless mimosas and sliced fresh fruit, meaning guests don't have to get out of bed for any reason. Of course, traditional room service is also available (at a smaller price tag) and the late night menu includes everything from pints of Ben and Jerry's ice cream to chicken quesadillas. So go ahead and work up an appetite.
Bubble Baths
As if the Michelin-starred restaurant, rooftop swimming pool, and on-site Remede spa weren't enough, the St. Regis San Francisco offers guests the option of four distinct hand-drawn bubble baths in each of the guest rooms and suites. What could be better than a hot soak a deux after a session between the sheets? A private butler is on-call to fill the tub with your choice of scented bubbles and outrageously decadent add-ons like caviar, a magnum of Krug Champagne, or chocolate-covered strawberries. Superior Guest Rooms have peek-a-boo bathrooms while Suites have deeper soaking tubs and more privacy between the bedroom and bathroom — something to think about if you're planning a getaway with a new guy or girl.
Late Check Out
Absolutely nothing ruins a post-sex mellow like the reality of having to get dressed, packed, and out of the hotel room before 10 a.m. Depending on availability, most hotels will allow guests to pay extra for a late check out, though, and Sunday seems to be the best day for making that happen, as hotels are often running at low occupancy by the end of the weekend. Westin hotels launched a "Make Mondays Better" campaign to allow for a free 3 p.m. check out at all of their properties on Sundays, while Novotel New York allows guests to linger in bed and admire the views of Times Square (or your partner's adoring face) until five p.m. on Sundays.
In-Room Spa Services
The Spa by ASHA at The James Chicago is lauded for its diverse menu of treatments for hair, skin, and body — but we highly suggest booking an in-room couple's massage that will turn the already luxe guest room into a serene, temporary spa. While the therapist preps the room with scented candles and tops the portable heated massage beds with high-thread-count sheets, guests are invited to shower with an aromatic body cleanser by Aveda. The massage then incorporates a body toner and customized scented oils, and can be scheduled for increments of 60, 90, or 120 minutes. This type of pampering is highly recommended for the ultimate in privacy and relaxation. Plus, a massage can work out any, um, sore muscles.
All products are independently selected by our writers and editors. If you buy something through our links, Oyster may earn an affiliate commission.