Sweden and Norway typically conjure images a la Frozen: Stunning icescapes punctuated by the rogue reindeer or a flash of brilliance from the Northern Lights. But there is more to these Northern European countries than meets the eye -- and it's not all winter and chill. When hockey season ends and the sun comes out to play, Scandinavians flock to the coastline for summering on the shore. Whether boating along their country's rugged oceanfront or exploring its lakes, Scandinavians embrace the warm weather with gusto. There's also phenomenal hiking, golfing, and other athletic activities to enjoy, as well as island hopping and shopping, so Norway and Sweden are both wonderful, not to mention atypical, holiday vacations to squeeze in before the summer's over. Check out our favorite stays and activities in Scandinavia.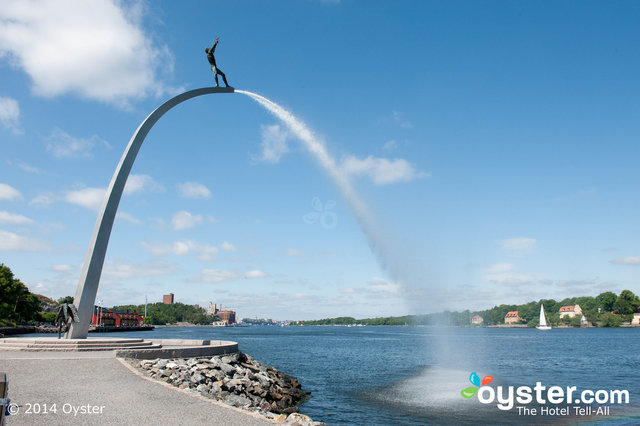 This nautical-themed, boutique hotel has a secluded, out-in-the-country feel perfect for summering in Sweden — but in reality, it's only a 10-minute drive from central Stockholm, making it convenient as well as picturesque. Though the suburban area of Nacka, one of the city's business hubs, can be relatively quiet at night, the Hotel J has an excellent waterfront restaurant that's often bustling. Nacka is well-regarded among sailing enthusiasts and spa-goers, making it an apt choice for a holiday.
This 50-room boutique hotel is notable for two reasons: Its charming Norway-meets-Bali decor, and its eco-friendly philosophy. The location is a tad removed from the heart of Oslo's action (though the Royal Palace and Aker Brygge are within walking distance). But features at the Carlton — such as rustic-chic four-poster beds with fur throws, 27-inch iMacs in the rooms in lieu of TVs, a free organic breakfast, and a small spa area with a sauna — make this an attractive, intimate option. Summering in Oslo means exploring by boat (the city is built along the Oslofjord, a pretty body of water dotted with tree-covered islands) and by bike, as rentals are conveniently available throughout the city.
The historic Grand Hotel is one of Stockholm's grand dames, complete with gilded accents and a high-profile clientele. Built in 1874, the hotel boasts spectacular harbor views, and a great location near multiple museums and tourist attractions. Stately rooms have flat-screen TVs, and some come with extras like separate deep soaking tubs and balconies, the better to take in Stockholm's lovely summer days. The hotel's Norrmalm neighborhood is the largest shopping district in Sweden, featuring an underground mall. Fabulous restaurants line the streets and the subway system makes it easy to get around. The upper region of Norrmalm is mostly residential and borders Ostermalm, where Stockholm's "rich and famous" live.
This historic property has a gorgeous location on the harbor and is within walking distance of Stavanger's Old Town, oft regarded as one of the most charming historic districts in all of Norway. Lovely historic details at the Victoria include wood paneling and chandeliers, but the overall feel is slightly corporate (the hotel is popular with business travelers). Stavanger is a petite, pretty city within driving distance of beaches for summer visitors (skiing is also nearby). Quaint wooden houses and flowering gardens dot Old Town's twisting, cobblestoned streets, and ferries to the beautiful Lysefjord depart regularly from the harbor.
Owned by former ABBA-member Benny Andersson, the boutique Hotel Rival is located in the residential neighborhood of Sodermalm, overlooking a small park. Though popular sites and museums are a 15-minute ride away, the hotel is a destination unto itself, with a large auditorium theater and a popular restaurant and cafe frequented by locals as well as guests. The funky, modern design of the upscale rooms fits into the hip vibe of Sodermalm. While retaining its historic 17th-century splendor (back when it was the choice summer retreat of wealthy Swedes), Sodermalm is now also regarded as the bohemian area of Stockholm. Art galleries sit alongside beautiful historic homes, and the nightlife scene is the liveliest in Stockholm; it includes everything from hip, ultra-chic lounges to pumping nightclubs to chic gay bars.
This business-oriented boutique is located in the same building that houses the Olavshallen concert hall, and has a unique music-inspired theme. The Grand Olav also has numerous freebies — a DVD library, rental bikes, and most notably, free breakfast, afternoon waffles, and a light evening buffet — all of which make this a serious value, especially in a country as expensive as Norway. Decor is sultry and sophisticated, with plush fabrics in jewel tones. Trondheim, where it's located, is a historic city with a modern vibe. The iconic Nidaros Cathedral (its spire is the most prominent feature of the city skyline) gives some sense of the city's true age, but lively nightlife, excellent shopping, and a local university keep Trondheim current at the same time.
The most attractive feature of theb business-friendly Radisson Blue Royal is its excellent location attached to the historic buildings of the Bryggen wharf area, Bergen's most popular attraction. Smaller business meetings can even convene inside the historic buildings, most of which have been rebuilt. Bergen is one of Norway's most charming and appealing cities, with several well-preserved historic areas dating back to 1070, museums, a wide shopping plaza, and the large, manicured Byparken with a lake, gardens, and a gazebo. From the popular Floibanen Funicular, visitors can take in panoramic views of the city, its harbors, and the seven surrounding mountains.
Check out Oyster's page on Google+
To learn more about Kristina Fazzalaro, visit her on Google+
RELATED LINKS:
All products are independently selected by our writers and editors. If you buy something through our links, Oyster may earn an affiliate commission.