India takes its festivals very seriously, and no matter what time of year you visit the country, you're likely to encounter some sort of traditional holiday or celebration going on. However, if you're planning a trip and want to align your travel dates with one of the country's most exciting holidays, here are five that are worth booking a flight to India for. Because even though these are all celebrated by Indians and others stateside, these five picks are best experienced where they originated.
1. Holi
One of the best-known Indian holidays abroad, Holi (frequently called "the festival of colors") is an annual celebration in late February or early to mid March that some consider the de facto start of springtime. Celebrations include the lighting of bonfires on Holika (the night before Holi) and a second day of "playing colors." This involves throwing powdered or liquid colors at your friends, so after a particularly successful round of color-playing, most participants are multihued from head to toe. Some people up the ante by mixing water and colors in water guns (or sometimes water balloons). Others also consume "bhang," an intoxicating mix of cannabis and other plants that's often mixed into sweetened milk known as "thandai."
Where to celebrate: The twin towns of Mathura and Vrindavan, near the Taj Mahal, are among the best places in the country to celebrate Holi. The Hindu Lord Krishna was born and raised in the area, and Holi is a bigger deal here than almost anywhere else in the country.
2. Diwali
Also known as Deepavali, this annual festival of lights held in October or November is the most important holiday of the year for many Indians. People working in other cities often return to their hometowns to spend at least some of the five-day festival with family. While the significance of the holiday varies across communities, it's commonly associated with the triumph of good over evil, of light over darkness. Traditions include performing traditional "pujas" (ceremonies), giving gifts to friends, families, and neighbors (sweets and nuts are common), lighting candles or small oil lamps (known as "diyas"), and setting off tons of fireworks.
Where to celebrate: Diwali's a pan-Indian holiday and you'll have fun no matter where you go. That said, Rajasthan's capital city of Jaipur is a particularly great place to be during the festival; the old Pink City looks particularly beautiful lit up with thousands of twinkling lights.
3. Durga Puja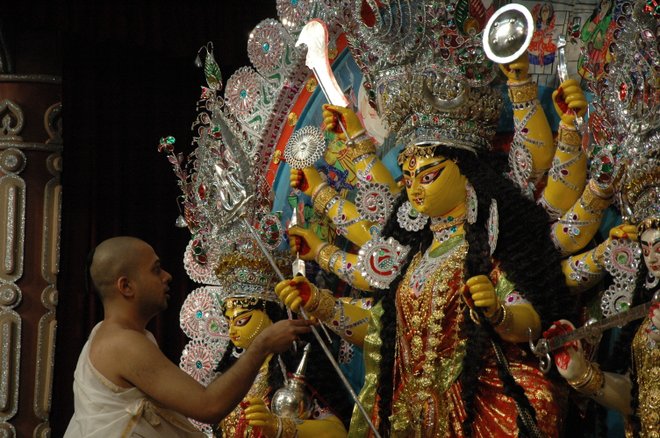 Arguably the most important festival for the people of West Bengal, Durga Puja is a five-day holiday that honors the goddess Durga and her victory over evil. Along with religious ceremonies in honor of the goddess, traditions include dressing up in new finery and the ritual beating of the "dhak," an enormous drum the size of a wine barrel that's struck with wooden drumsticks. Perhaps the best-known Durga Puja tradition involves the creation of "pandals," which are giant temporary structures housing enormous idols of the goddess. Revelers often build these in groups, with multiple neighboring families contributing financially and physically to furnish elaborate pandals, oftentimes created based on a theme. At the end of the festival, the pandals are ritually submerged into a body of water, returning the goddess to the earth and reuniting her with her consort, Shiva.
Where to celebrate: Although Durga Puja is celebrated by Bengali communities around the world, Kolkata, the capital of West Bengal, is indisputably the best place to experience the festival in full force. The city virtually comes to a standstill at this time, and no matter where you are, you'll find plenty of revelry to join in on — and elaborate pandals to visit.
4. Maha Shivaratri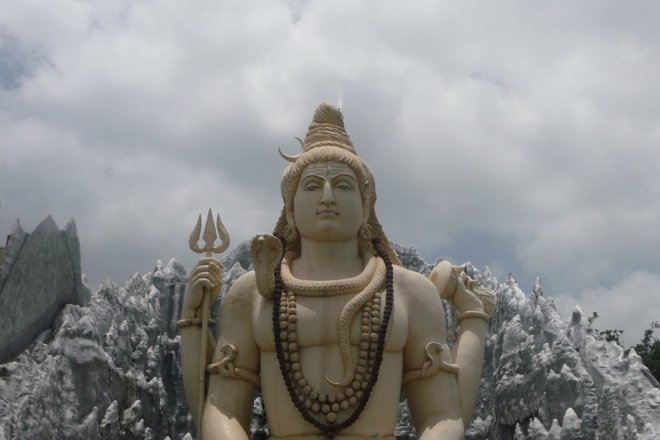 Maha Shivaratri is an annual festival dedicated to the Lord Shiva, and involves staying up all night chanting sacred mantras and worshiping the god. It's not quite as festive as some of the other celebrations held throughout the year, but it's considered one of the holiest nights to many Hindus and is an excellent time of year to visit if you are interested in learning more about traditional worship.
Where to celebrate: Varanassi, considered the most sacred city in the world for devout Hindus, is an excellent place to experience Maha Shivatari, notably because of its abundance of Shiva temples and ceremonies held on the banks of the Ganges River.
5. Ganesh Chaturthi
Held in late summer or early autumn, Ganesh Chaturthi honors the elephant-headed deity Ganesha. The main tradition involves the worship of idols of the god, which are subsequently returned via ritual submersion in a body of water. These idols can range in size from small statues to enormous, elaborate creations known as "madals" that are made to be displayed for, and worshiped by, entire communities.
Where to celebrate: Ganesh Chaturthi is frequently associated with Mumbai, where a number of huge Ganesh mandals are created, worshiped, and brought to the Bay of Bengal in huge, energetic processions before being submerged. The most famous of these is the Lalbaugcha Raja, which has been created in a similar fashion since the 1930s.
Related Links:
All products are independently selected by our writers and editors. If you buy something through our links, Oyster may earn an affiliate commission.