Pictures can't do it justice, but photos of the magnificent cliffside towns along the Tyrrhenian Sea that make up the Amalfi Coast are enough to inspire millions of tourists to visit each year. Spanning the coast from Positano to Vietri sul Mare, the Amalfi Coast is 34 miles (55 kilometers) long, and would take about 90 minutes in total to drive. But, while you can certainly see the coast in one day, we think it takes at least a full week to truly experience the splendor of the scenery, history, and culture.
Additionally, though some people tackle the drive themselves, the white-knuckle driving caused by narrow coastal roads filled with buses is best left to a personal driver or the well-run public transportation. Plus, that means you can keep your eyes on the lovely landscape. A word to the wise: Summer sees a huge influx of tourists, so it's best to visit in the spring or fall when temperatures are cooler and crowds are more manageable. It's also worth noting that hotels, excursions, and transportation book up well in advance.
We've started our itinerary in Positano, presuming that you fly into Naples. We suggest staying a couple nights in Naples to see its sights, as well as make day trips to Pompeii and Mount Vesuvius. Then, follow this eight-day itinerary, which will help you get the most out of your Amalfi Coast getaway.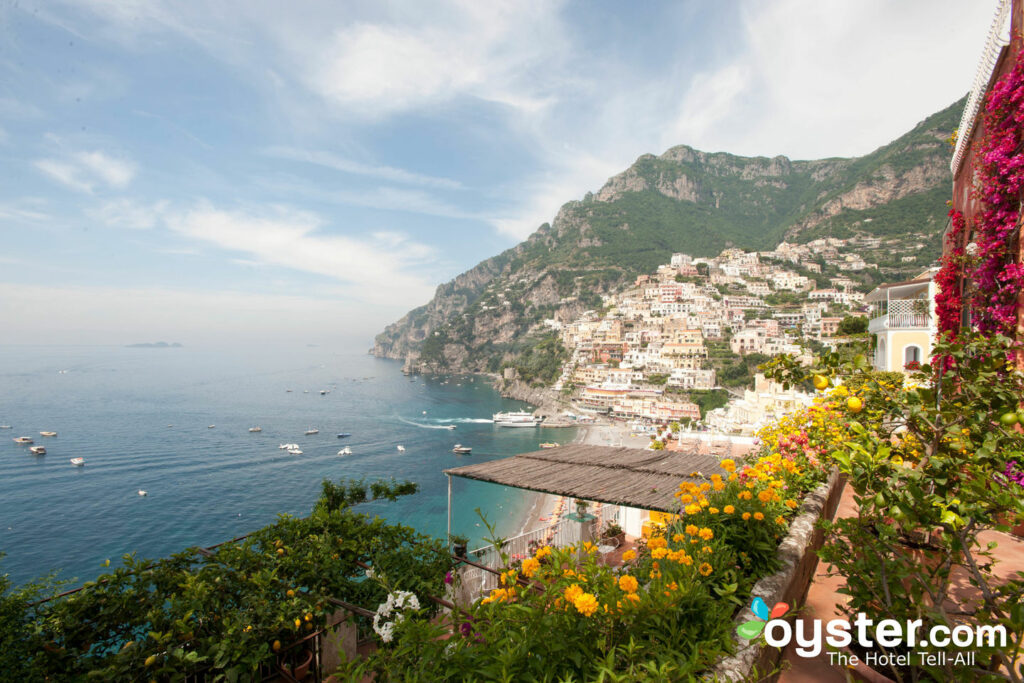 Starting on the western end in Positano, you'll immediately be rewarded with the jaw-dropping vistas that typically come to mind when you hear "Amalfi Coast." The cliffside village is a popular resort area thanks to its pebbly beach, stucco buildings with colorful roofs that slope down the hills, and the Chiesa di Santa Maria Assunta (Catholic church), which boasts a striking dome covered in majolica tiles. After enjoying a cappuccino and filling buffet breakfast at one of the many well-positioned cafes, take the Path of the Gods trail that connects Positano with Agerola. Ideally, you'll start in the latter, as the route gently slopes down, allowing hikers to focus on the breathtaking scenery instead of catching their breath.
For a more laid-back activity, numerous boat operators provide affordable private and group tours of the area with non-stop picturesque views. Most restaurants in the area serve a mix of Italian, Mediterranean, and seafood dishes, and you really can't go wrong with the region's famous fresh pasta and clams alongside limoncello — Ristorante Casa Mele and Il Ritrovo are some of the top options. Souvenir-wise, handmade sandals are exquisite and found throughout, so head to Nana Positano for a pair before you leave.
Where to Stay: Hotel Marincanto
With beautiful sea views, the cliffside Hotel Marincanto scores plenty of points for ambiance. Rooms and suites have king beds and balconies, many with sea-facing views. Suites also have whirlpool hot tubs, but overall room decor is bland. On-site features include a restaurant serving an expansive (and free) buffet breakfast, as well as a small infinity pool with ocean views.
Given how beautiful the coast is, savoring the trip by squeezing in days to simply relax and enjoy the view is a good idea. Just a 35-minute bus ride from Positano is the quaint town of Praiano. There are a couple of lovely historic churches to visit in Praiano (Parrocchia Di San Gennaro and Parrocchia di San Luca Evangelista), but this should be a day to rest your feet. Boat tours are always an option, though wine drinkers should head to the Cantine Marisa Cuomo winery in Furore (45-minute drive). Book one of their guided tours for a chance to see their cellars and vineyards, and sample delicious wines.
Although there are some hotel options in Furore, Hotel Pellegrino is one of the most beloved properties in all of the Amalfi Coast, making it well worth the drive back. The family-run guest house receives rave reviews, has just nine large rooms (all with stunning vistas), an excellent restaurant with an outdoor terrace and free breakfast, and outstanding service.
Where to Stay: Hotel Pellegrino
This multi-level family-run guesthouse is made up of only nine rooms, each offering the sprawling coastal views the area is famous for. The quaint, idyllic grounds are covered in ivy and flowering vines, and the pride the family takes in their cuisine is reflected in the on-site restaurant's exceptional offerings. Hotel Pellegrino is ideal for those seeking an affordable and romantic stay along the coastal cliffs.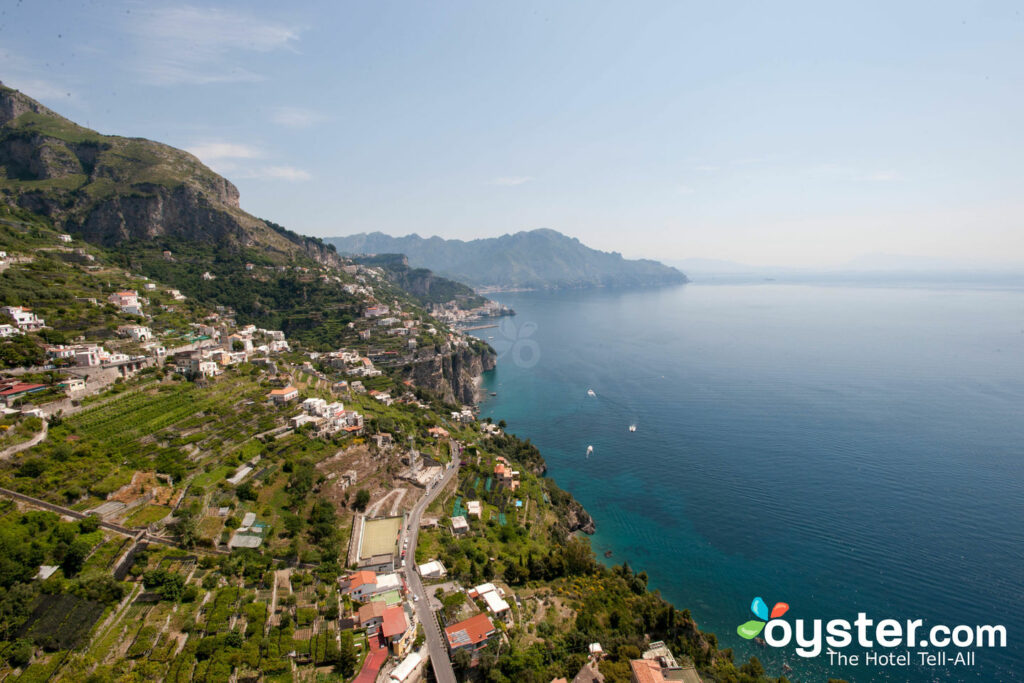 Whether you're celebrating your honeymoon or traveling solo, pamper yourself with a spa day in Conca dei Marini — a 25-minute drive east of Praiano. The Monastero Santa Rosa Hotel & Spa is a luxury property with prices to match, but if shelling out that kind of dough for a room is out of the question, stick to one of their spa day packages for treatments and access to their extensive facilities like an emotion shower, natural rock sauna, and vaulted hydromassage pool. Once you're thoroughly relaxed, head to the Ceramiche Piccadilly for handcrafted ceramics ranging from dishes and vases to lava stone tables. Finally, cap off the day with a meal at Le Bonta del Capo, which has gorgeous sea views from its terrace; its prawns, octopus, and lemon ravioli receive consistent praise.
Stay at the upscale Hotel Belvedere for pretty views, an outdoor saltwater pool, free breakfast, and attractive rooms with air-conditioning, minibars, and sea-facing balconies.
Where to Stay: Hotel Belvedere
The 36-room upscale Hotel Belvedere is perched on a cliff above the sea, overlooking the Amalfi Coast. The hotel makes the most of its location with a bluff-side seawater swimming pool and terrace, direct access to the sea, and indoor and outdoor eating areas with spectacular views. The hotel has lobby and pool bars, and an excellent restaurant with a changing dinner and lunch menu and a la carte options.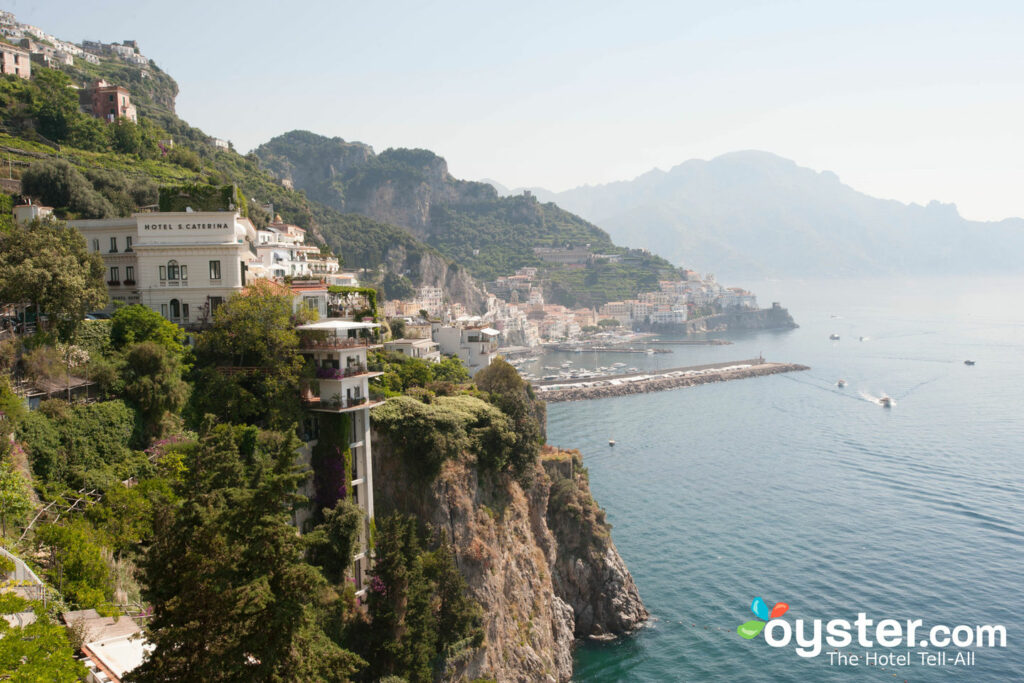 A quick 20-minute bus ride will get you to Amalfi — an undeniable jewel, but a crowded one. This small town with a permanent population of around 6,000 was once the capital of a maritime republic and important trading center; it had roughly 70,000 residents before a devastating earthquake-caused tsunami in the 14th century killed many and destroyed much of the city. Easily the biggest attraction here is the gorgeously designed Duomo di Sant'Andrea Apostolo, followed by the Chiostro del Paradiso (Moorish-style cloisters) and the Torre dello Ziro (a historic watchtower that's reached by a scenic and easy hike). After a day of sightseeing, fill up on authentic Italian cuisine at either the fine-dining Eolo or cheap but tasty Pizza Express.
On your second day based in Amalfi, walk 25 minutes or take a quick seven-minute bus to Atrani, a tiny city centered around a quaint piazza. Grab gelato or a glass of wine here for a respite from the busier Amalfi, or head to the town's beach to rent a lounger and umbrella. If you haven't gotten tired of churches yet, the Collegiata di Santa Maria Maddalena has beautifully ornate interiors.
Where to Stay: NH Collection Grand Hotel Convento di Amalfi
Part of the NH Collection chain, the Grand Hotel Convento di Amalfi is housed in a stunning, gorgeously restored medieval monastery dramatically situated on the Amalfi Coast, just minutes from the harbor and the town of Amalfi. The 53 rooms all have panoramic views of the sea, modern design, free Wi-Fi, minibars, terra-cotta floors, and lovely marble bathrooms.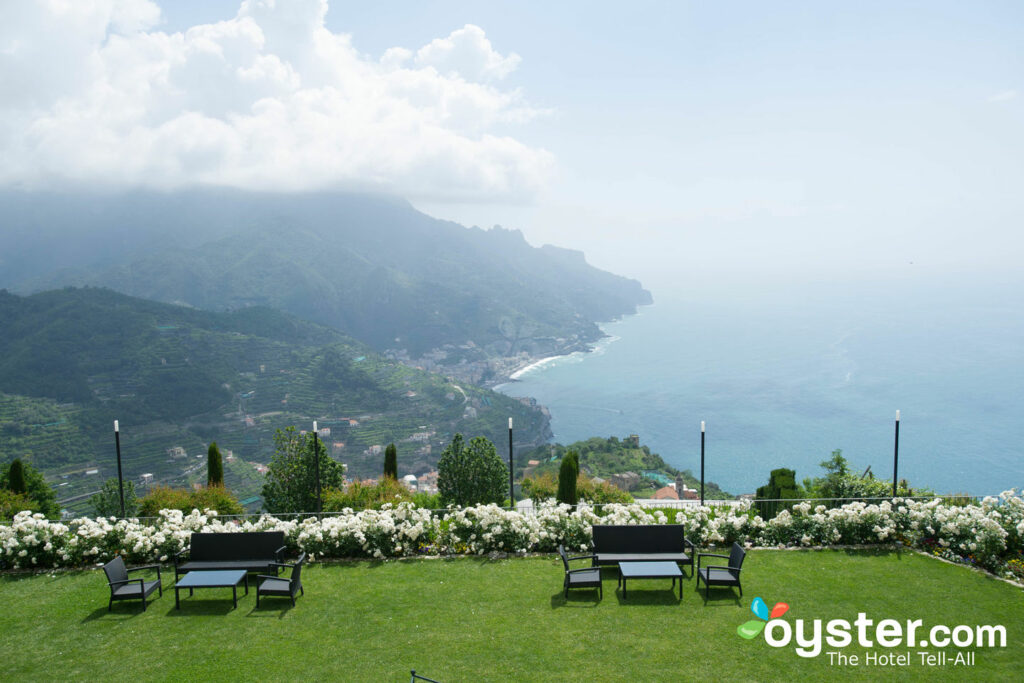 Next up is Ravello, a UNESCO World Heritage site that sits high above the coast and is an approximately 15-minute drive from Amalfi. While it previously served as a shelter from barbarian invasions, and later as a primary wool producer for the area, its more recent history found it as a retreat for famous writers and artists — Virginia Woolf, Greta Garbo, Joan Miró, and Truman Capote, to name a few. Add historic sights like the Villa Cimbrone Gardens, Villa Rufolo, and Duomo di Ravello to your must-see list, as well as the lobster linguini at Ristorante L'Antica Cartiera and catch of the day at Garden Restaurant to your must-eat roundup.
If you're passing through between July and August, try and book an event during their annual arts festival, which has an array of dance- and music-based performances.
Where to Stay: Belmond Hotel Caruso
The Belmond Hotel Caruso is one of the top luxury hotels not only on the Amalfi Coast, but in Italy. Situated in an 11th-century palace and surrounded by fragrant terraced gardens, it is perched above the Tyrrhenian Sea at Ravello's highest point and offers full-on views of the sea and village. The 50 rooms and suites have beautifully tiled floors and marble bathrooms, and many offer terraces or balconies overlooking the water.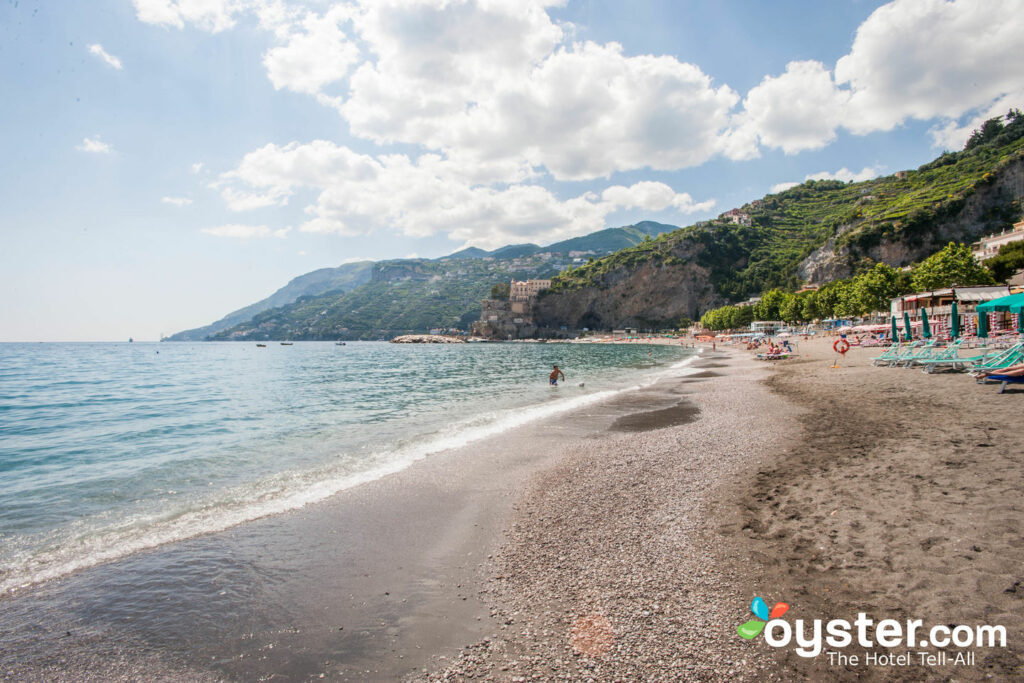 You're now in the home stretch: From Ravello, walk and take a bus (35-minute journey) to Maiori, one of the largest towns along the coast. While the city has some points of attraction, the real reason to visit is for its long stretch of beach with ample vendors to rent loungers from. Beach bums that can't pull themselves from the sand should stay a full night — the oceanfront Hotel Panorama is an excellent option — while others will want to make their way to Vietri sul Mare, the eastern end of the coast. This is your chance to do any last-minute Amalfi Coast excursions or activities that you skipped — cooking classes, wine tastings, and cultural tours — or simply decompress before heading to Salerno for more Italy touring or departing from the city's airport.
A well-respected hotel on Italy's Amalfi Coast, the 77-room Hotel Raito is a romantic and exclusive getaway high up on a coastal cliff. Most rooms have balconies overlooking the sea and some of the suites have whirlpool hot tubs; decor here isn't as luxe as what one may expect at an upscale property. There's also a spa on-site as well as a beautiful pool area with fantastic views of the Gulf of Salerno.
Reformation should be your go-to spot for Italian style. Classic, cute, and sustainable–you'll be looking like one of the locals in no time.
NOW WATCH: The Best Itinerary for Italy
You'll Also Like:
All products are independently selected by our writers and editors. If you buy something through our links, Oyster may earn an affiliate commission.