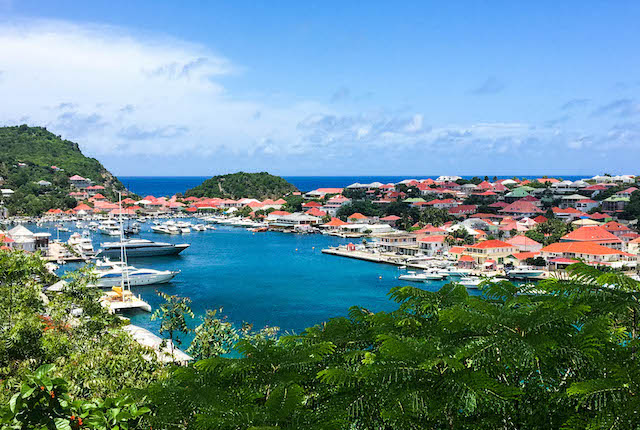 They say, nothing worth having comes easy, and that certainly applies to a stay in St. Barts. Arriving at this French-speaking Caribbean island is not simple. In fact, it's downright daunting. The stomach-flipping landing into Gustaf III Airport involves teetering between craggy peaks before touching down on a tiny 2,100-foot tarmac. Overshoot the barely-there runway and you'll wind up in the Bay of St. Jean. But all that's forgotten the moment you step off the eight-seat puddle jumper, and feel the thick Caribbean air kiss your skin.
Despite this white-knuckle journey, plenty of folks continue to flock to the tony island for its high-end designer boutiques, gourmet restaurants, and secluded beaches. Well-heeled guests, including a rotating cast of famous faces, can be found clinking glasses of rosé and mingling on beaches that span from rowdy (Nikki Beach) to relaxed (St. Jean).
For those who are wondering how St. Barts is faring following Hurricane Irma, which hit the island hard in September 2017, the lights are back on. Recovery continues, but restaurants, shops, and hotels are slowly rolling out the welcome mat. One could easily while away a week here crisping on the sand, shopping at high-end stores, and sipping tropical cocktails, but if you only have 72 hours to spare, don't discount a trip to the island. Below, we rounded up the perfect long-weekend itinerary for St. Barts.
Getting There and Around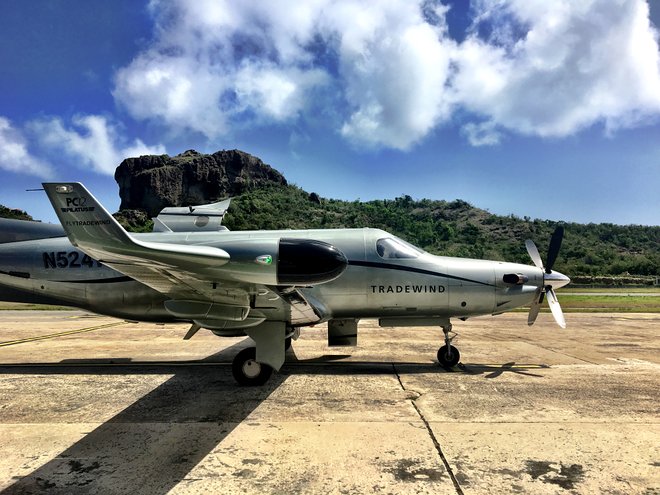 The path to paradise can be long — that is to say, there are no direct flights to St. Barts. For U.S. travelers, we recommend flying into San Juan, Puerto Rico, Antigua, St. Thomas, or Nevis, before hopping on an eight-seat Tradewind aircraft for the final, hour-long leg of the journey. Tradewind makes the precarious landing a little less nerve-wracking, by offering liquid courage (rosé) and snacks (chips, granola bars) onboard. But the white-gloved service begins before you even board. Upon landing in Puerto Rico, a designated Tradewind employee will greet you at the gate and escort you to a private lounge, where you can slip into vacation mode with complimentary food, drinks, and Wi-Fi. Meanwhile, the representative will do all the legwork, including retrieving your checked luggage, putting it on your next flight, and handling customs paperwork.
A shorter, 15-minute flight on Winair or St. Barth Commuter from other stopover destinations are also available, but neither offer the same VIP, red-velvet-rope experience. For those who would rather stretch their sea legs (and not brave the terrifying touch-down), Great Bay Express and Voyagers offer 45-minute high-speed ferries from St. Maarten.
Renting a car (or if you're up for it, a door-less, electric Moke) is recommended for getting around the island. Buckle up for winding roads with hairpin turns, steep cliffs at dizzying heights, and narrow stretches, but the fear factor is a small price to pay for the reward of breathtaking vistas across the unspoiled landscape. It's also worth noting that Uber, Lyft, and other ride-sharing apps have not debuted on the island, and the approximately 40 licensed taxis are individually owned and operated. You can always ask the hotel to hail a cab for you.
Where to Stay
Don't come to St. Barts expecting to find any hotel chains. Instead, charming, upscale boutique properties and luxe villas are the norm. Since the devastating hurricane made landfall on the island last September, two properties have fully opened to guests.
With a name that translates to "small paradise," Hotel Manapany in Anse des Cayes is a laid-back, but refined, beach hotel with all the trappings of a resort and none of the sprawl. The property, from the French hospitality group B Signature, managed to remain largely unscathed by the hurricane, though it still underwent a tip-to-toe renovation and re-opened its doors in March 2018.
Today, the steep hillside grounds blend into their natural surroundings, with winding pathways tucked between coconut groves, requisite lush palms, and even citrus, banana, avocado, and mango trees. Luxurious without being pretentious, the hotel is dripping with eco-conscious amenities. Only electric cars are allowed on the property, and water in every bathroom is heated by solar panels. The chef even sources his ingredients from the hotel's dedicated vegetable garden. The breezy accommodations — most of which face the ocean — feature white-washed walls, tropical wood, and cheerful pops of royal blue, sunny yellow, and bright orange. Some of the furniture is hand-sourced from around the world. And for such an intimate number of rooms (43 to be exact), Manapany has a wealth of amenities: a sea-facing spa, two swimming pools (one adults-only infinity option), a fitness center, an address that's a 10-minute drive from Gustavia, and a restaurant right on the sand that hosts BBQs. Be on the lookout for resident turtles and a rooster, who will gladly wake you up each morning, reminding you that you're in paradise.
Situated on a hilltop above Colombier, Villa Marie marries colonial style with Caribbean flair. Tropical accents (seashell details, bright fabrics), polished woods, and hand-woven cordage fill the common spaces. Much like Manapany, the 23-room property also shelters furniture from around the world (antique chests come from Jaipur, rattan lamp shades hail from Tunisia, and pineapple-shaped tables are brought in from Indonesia), maintaining that vacation-home feel throughout. Those who book a stay at the new Villa Colombier can enjoy a private swimming pool, canopied beds, and stunning views overlooking the island. Meanwhile, Villa Saline, also an all-new accommodation option, provides private access to a terrace with a Jacuzzi surrounded by frangipani, hibiscus, and other tropical flora. To top it off, your taste buds are also in for a treat: The Francois Plantation restaurant serves upscale, French-Caribbean fare.
Unlike Villa Marie and Manapany, Hotel Christopher was badly damaged by the hurricane last September. It's currently undergoing a major facelift, and though the hotel won't be fully operational until October 2018, parts of the property are already welcoming visitors, including the pampering oceanfront spa and restaurant. The Christopher is not on the beach, but its infinity pool — one of the best on the island, if not the best — is the main attraction, likely to once again draw guests and non-guests when it officially opens its doors.
Day One
Start easy (you're on vacation, after all) with a stroll around the island's capital of Gustavia. Dotted with a cluster of red-roofed buildings, the area is wrapped around a harbor with bobbing mega-yachts and sailboats. Putter around the water and take in the views, then hit the shops on and around Rue de la Republique. Designer stores (expect usual suspects like Hermes, Prada, and Louis Vuitton) commingle with charming boutiques, like Sunday and PaSha St. Barth. Those visiting in June can score major discounts on high-end labels, as annual sales occur this time of year. Oh, and did we mention it's all duty-free?
On the other side of the island, even more shopping awaits. St. Jean, on the north coast, is often likened to St. Tropez, and houses a smattering of shops selling everything from casual beachwear to fancy threads for a night out on the town. Voila St. Barth and Calypso St. Barth are island favorites, as is Marche U supermarket, where you'll find lots of French imports.
Before heading to St. Jean, make a quick pit stop at the roundabout above the airport — marked by a bronze statue of Savaku, an Arawak. Carefully pull off the road, and keep your eyes peeled as planes zip overhead, shaking the ground beneath you and creating a thundering noise. If you have time (or desire), you can also make your way to the village of Corossol, where you'll find a small beach lined with colorful fishing boats. Come for a swim; stay for the stunning sunset.
Where to Eat: As a French overseas collectivity, St. Barts largely serves up French cuisine with Creole influence, which means you should prep your palette for lots of fresh seafood. La Lagouste is the perfect spot to pause for lunch after all that shopping. As you might have guessed by its name, the restaurant's specialty is its spiny grilled lobster, though other tasty fish options include sole meuniere, seabass, tuna, and sea bream. Carnivores are well taken care of as well, with plates like lamb shanks, chicken kebab, beef, and veal. No matter what you choose, though, your meal is guaranteed to come with a side of beautiful views overlooking the Bay of Flamands.
For your first sit-down dinner, book a table at the open-air restaurant, Le Tamarin. A lush tamarind tree stands tall at the entrance, hinting at what's to come inside. Guests can enjoy entrees like mahi-mahi, tuna tartare, and gambas a la plancha in the romantically-lit tropical garden, or in the main building overlooking ponds. As the evening wanes, the ambience becomes livelier, as guests surrender to the foosball and ping pong tables after a few cocktails. Tip: Cap off the night with some soul-satisfying profiteroles.
Day Two
Between the designer boutiques and delicious grub, the eight-square-mile island has a lot to set tongues wagging. But arguably its best attribute is its beaches. The sandy stretches around the island are not only all free, but also all open to the public. Choose one or beach-hop between a few.
Gouverneur Beach: Despite being an island-favorite, Gouverneur Beach, on the south side of St. Barts, still feels like a well-kept secret. Those who brave the twisting path required to reach this secluded spot will be rewarded with peace, quiet, and frothy waves perfect for swimming and snorkeling. Upon arrival, follow the lush walkway, which eventually gives way to white sand and crystal clear water tucked between two rocky promontories. There's nary a bar, restaurant, or shop in sight — ensuring nothing breaks the soothing soundtrack of the ocean — so pack a picnic, umbrella, and any other beach essentials. You may, however, stumble upon topless sunbathers lying heads up or down, and you should feel free to strip down, too.
Saline Beach: This slightly off-the-beaten-path beach is one of the most highly photographed spots on St. Barts. And the moment you lay eyes upon the wide, unspoiled landscape, you'll understand why. What you'll find here is turquoise water and soft, white sand that's bookended by rocky hillsides. Beachgoers frolic in their birthday suit or picnic with spreads that include baguettes, cheese, charcuterie, and of course, rosé. What you won't find, however, are bars, restaurants, shops, or even crowds. So, while you might not bring your swimsuit, make sure to carry your own food, drinks, umbrellas, and chairs.
St. Jean Beach: Split in two by the uber-luxe Eden Rock Hotel, St. Jean is the place to see and be seen. Between the brilliantly blue water and the occasional famous face, you'll find yourself in good company. Thanks to its location near of Gustaf III Airport, beachgoers can sit back and enjoy the thrilling view of planes taking off and landing. On the other side is Nikki Beach, a beach club where the Champagne flows and dancing on the tables is the norm. Plus, the water here is calm enough for windsurfing, snorkeling, and paddleboarding, but when you need a break, there are several toes-in-the-sand bars, as well as nearby boutiques.
Flamands Beach: While every St. Barts beach has its own personality, there's a common thread that runs through all of them — and that's pristine sand and clear water. Flamands Beach, located about three miles north of Gustavia, in the northwest part of the island, is no different. Unlike many others on this list, however, this wide and quiet swath of sand offers some shaded areas — a nice reprieve from the scorching heat. Plus, it's backed by a few hotels, and there are plenty of facilities in the vicinity should hunger or thirst hit. On most days, the surf welcomes swimmers and boogie-boarders, though many visitors just choose to bask in the Caribbean sun.
Colombier Beach: Accessible only via a 30-minute hike or, more easily, by boat, Colombier Beach is arguably the most secluded spot on the island. If you opt for the former, wear comfortable shoes as you'll be traversing pebbly paths and dodging plenty of plant life before emerging onto the powdery sand. Luckily, many tours and catamaran sailing trips stop at the beach, too. Once there, scope out some sea turtles and other marine life in the calm, clear water. Beyond snorkeling and swimming, visitors should also keep an eye out for David Rockefeller's former home. And while privacy is not lacking, amenities are, so bring drinks, snacks, and other beach supplies.
Check out our full list of the best beaches in St. Barts.
Where to Eat: Many of the beaches on the island are secluded, unspoiled spots, with no nearby bars or restaurants, so you'll need to BYO food and drinks. For lunch, stock up on picnic essentials — cheeses, baguettes, sandwiches, and a bottle (or two) of rosé — at Marche U or Mayas to Go. When the sun goes down, dress up and head over to Bonito, a sophisticated restaurant positioned on a hilltop overlooking the Gustavia harbor. Here, French cuisine gets a little Latin flavor — the ceviches, tiraditos, and lobster risotto are a must.
Should you be in the mood for some late-night debauchery, book a table at the iconic Le Ti St. Barth. Though this is a restaurant, the real fun begins once the plates have been cleared off the tables. A burlesque show kicks off the evening's shenanigans, and before you know it, you'll be busting a move on the tables yourself. But this is no ordinary nightclub — patrons can sneak into a back room and don a costume before hitting the dimly-lit dance floor. It's something of a rite of passage on the island.
Day Three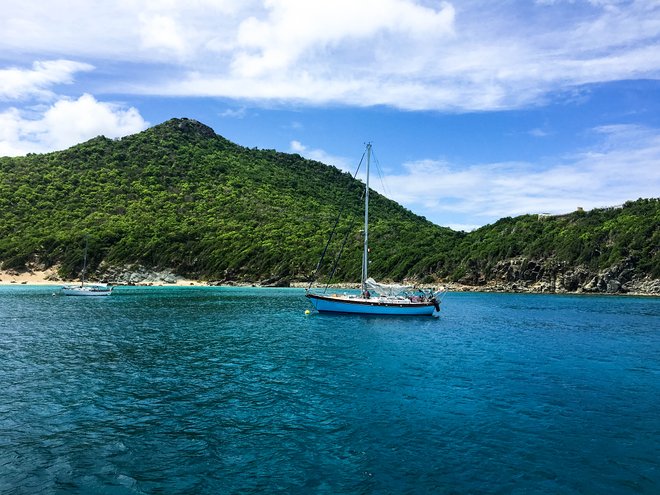 After a full day of dozing on the sand, it's time to get active (and sweat off last night's booze). Rise and shine early to embark on the short, but tricky, hike to the natural pools at Grand Fond, nestled among the rugged landscape. Just beware of sea urchins, who also have the same idea. En route, keep your eyes peeled for goats and the Washing Machine, a swirling pool of water. Tip: Wear sturdy shoes, and consider hiring a guide, as parts of the trek are tough to traverse.
Reward your hard work with a half-day catamaran excursion with St. Barth Sailor. The private charter whisks folks to hard-to-reach beaches, like Colombier, where there's no shortage of stunning marine life (sea turtles, stingrays, colorful fish) to marvel at. Throw on some snorkeling gear (provided by the company) and dive into the underwater world. All of that swimming will help you work up an appetite, and thankfully, the boat provides a full lunch onboard, plus snacks and booze (all for an additional fee). If you don't want to devote an entire day or half-day to a boat trip, other on-the-water activities include surfing (at Toiny and Lorient) and paddleboarding (at St. Jean).
Where to Eat: Since you'll be properly satiated during the sailing trip, you'll only need to plan in advance for dinner. Splash out a bit on your last night and book a table at Orega, an elegant restaurant in the heart of Gustavia. The chefs here put their own spin on French and Japanese cuisine, which translates to starters like Waygu gyoza, scallop carpaccio, and a shiitake soup with seared foie gras, as well as entrees like miso Chilean seabass with wild mushrooms and white asparagus and duck confit with teriyaki, shiitake mushrooms, and Romanesco cauliflower.
If you want to keep the fun going — and have an afternoon flight the following day — make your way to the Rhum Room, a speakeasy with — you guessed it — hundreds of rums, including rare bottles. Simply walk through an unassuming kitchen and hallway to access the clandestine watering hole. For something a little more raucous, check out Bagatelle (yes, as in the one from New York City). Located right on the water, this scene-y hot spot serves up dinner, but many stop by after hours to enjoy some music, dancing, and cocktails — the perfect way to cap off a fun weekend in St. Barts.
You'll Also Like:
All products are independently selected by our writers and editors. If you buy something through our links, Oyster may earn an affiliate commission.