Heist movies like "Ocean's Eleven," "Reservoir Dogs," and "The Usual Suspects" never fail to grab our attention, push us to the edge of our seats, and leave us with one hand in a popcorn bag and the other biting our nails. But you know what they say -- life imitates art. So here, we rounded up some of the most jaw-dropping real-life hotel heists of all time. One big takeaway: they've all come a long way since Bonnie and Clyde. While some still follow the "everybody freeze and put 'em up" method of attack, other clever crooks employ elaborate plots, costumes, and technology to carry out their mission. Danny Ocean, it seems like you've met your match.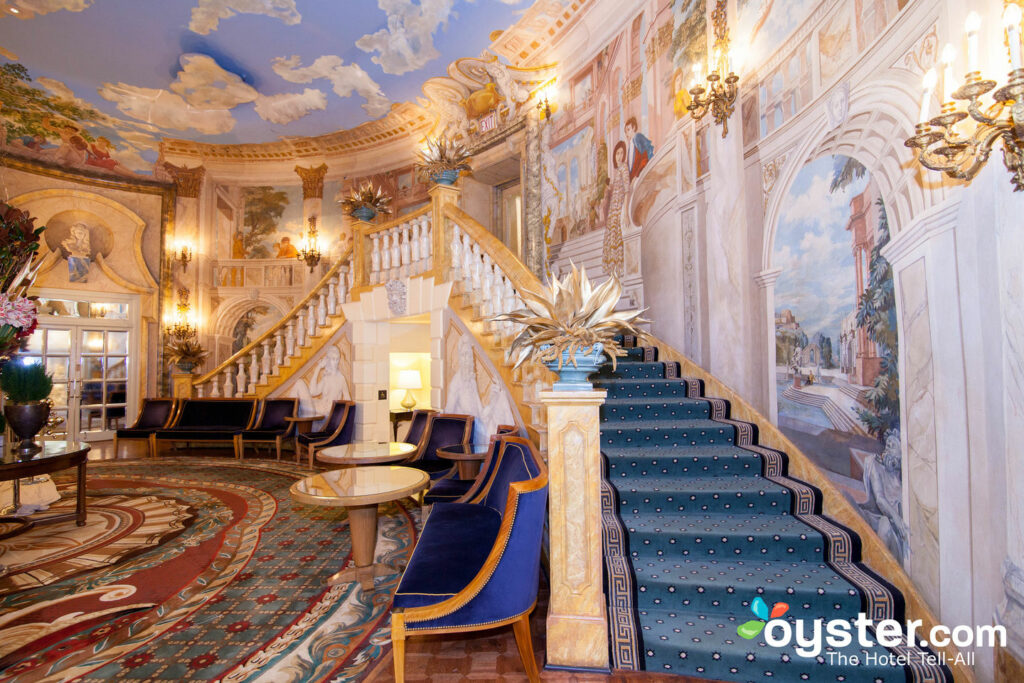 The Pierre, a posh property in New York City's Upper East Side, has been home to folks like Elizabeth Taylor, Aristotle Onassis, and Yves Saint-Laurent. It also happens to be the site of one of the biggest hotel heists in history.
On January 2, 1972, while the hotel's well-heeled guests were sleeping off their New Year's shenanigans, a group of eight thieves, including a few that were associated with a legendary New York crime family, held staff hostage while prying open the vault's safe-deposit boxes, which were over-flowing with jewels and money. Dressed in a chauffeur's uniform, one of the robbers arrived in a black Cadillac and pretended to be the friend of a guest. After being let inside, the thief held a gun to the security guard's head. The rest of the robbers also donned a disguise (think wigs, fake noses, and glasses). A couple of hours later, the crooks walked away with several suitcases filled with $27 million worth of loot.
But this wasn't beginner's luck for Samuel Nalo and Robert Comfort, two of the masterminds behind the operation. The duo had previously stolen one million dollars in jewelry and cash from the Sherry Nertherland Hotel. Weeks before this robbery, Nalo and Comfort allegedly even researched old newspapers for information about the hotel's guests. When the big day arrived, they focused on the safe-deposit boxes that belonged to people they saw in gossip columns. And while Comfort and Nalo were eventually both arrested (another one of the thieves has been in the federal witness protection program for 40 years), they left their mark: the hotel robbery made the Guinness Book of World Records as the largest and most successful one at the time.
InterContinental Carlton, Cannes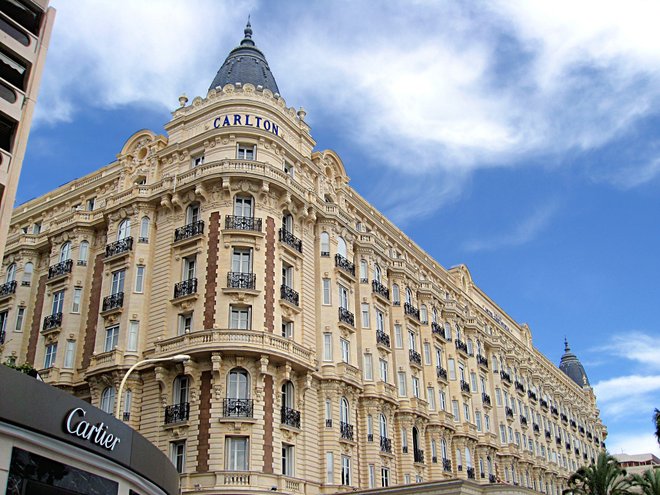 The InterContinental Carlton hotel in Cannes starred in Alfred Hitchcock's film "To Catch a Thief" with Cary Grant and Grace Kelly. Ironically, the property has also been the target of a couple of high-profile jewelry heists in real life. In 1994, three automatic weapon-carrying robbers marched through the hotel's doors and opened fire. Although their guns were loaded with blanks — as police later discovered — the bandits made out with about $60 million in bijou.
Then, in 2013, a lone gunman in a bandana and mask walked into the hotel during a jewelry exhibition by Leviev, which is owned by Israeli billionaire Lev Leviev. The robber pocketed a whopping $136 million of jewels, including colorless diamonds, pink and yellow diamonds, and emeralds and sapphires, and more. And it's not only one of the biggest heists in France (and perhaps of all time), but also one of the quickest — from start to finish, the whole operation lasted under one minute.
Unlike The Pierre and Carlton, where the thieves took home millions, the burglar at this upscale Hong Kong hotel walked away with $50,000 Hong Kong dollars (or about $6,444 USD) of goods and money. Nonetheless, the heist was still impressive.
For starters, the staff was duped into giving the thief a spare key to a room of which he was not staying in. He strategically waited until the room's occupants were asleep to claim that he had lost his set and wanted another. When the couple who was staying in the room left for the day, the man let himself in, called the front desk, stating he had forgotten the safe password and needed help opening it. When the staff arrived to open the safe for him, the man even posed as a guest in slippers.
In 2005, one thief involved in stealing more than $2.5 million from the Circus Circus Hotel & Casino in Las Vegas turned herself in. But let's rewind a little. Roberto Solis, who was locked up for murder, didn't waste any time while he was behind bars. He used this time to scheme a new criminal act. His plan: coax Heather Tallchief, a woman he had developed a romantic relationship with, to take advantage of her job at a security company that transported cash to and from the hotel to carry out the heist. In 1993, Tallchief took off with a couple million dollars while driving the van. The couple remained on the run for a long time — that is until, Solis left Tallchief high and dry with only $1,000. Her accomplice is yet to be found.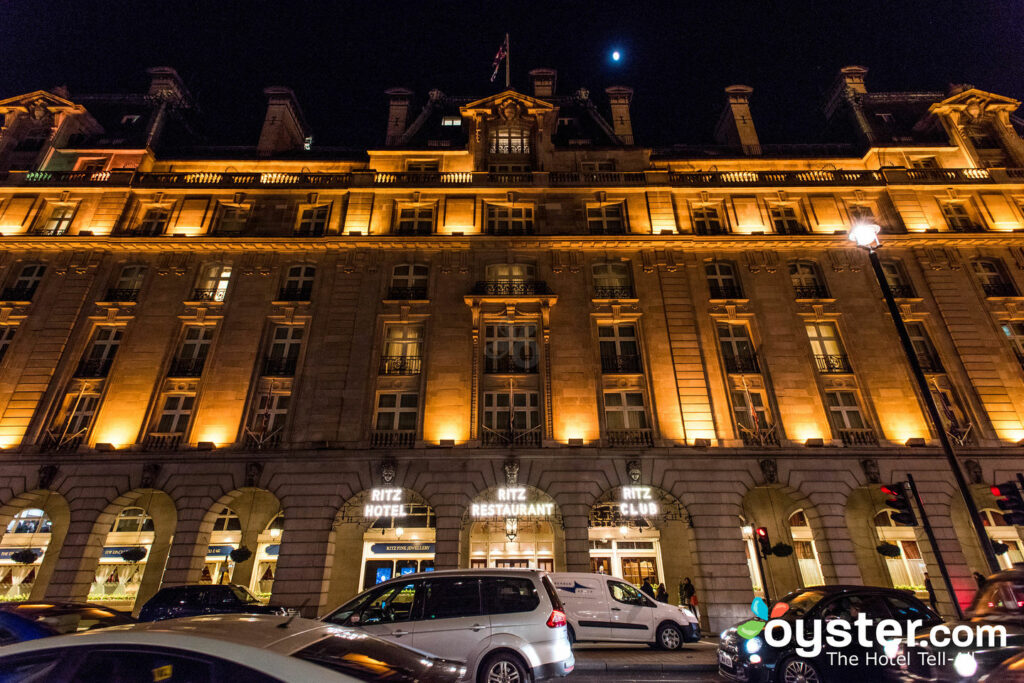 The heist that took place at London's Ritz hotel and casino sounds like something straight out of a movie script. In 2004, three men somehow used lasers on their cell phones to the determine the speed of the ball and wheel on the roulette table. This precious information was then directed to a computer, which helped the trio determine the best bets to make, and eventually, they made off with $1.9 million. The most shocking part? The judge ruled in their favor and were let off scot-free.
In December 2010, Anthony Carleo pulled up to the Bellagio in Las Vegas on a motorcycle, walked inside the hotel's casino, and left with $1.5 million worth of chips. But unlike some of the other bandits on this list, Carleo, who also happens to be the son of a former Vegas judge, didn't become a millionaire. The chips, which had tracking devices, could not be cashed in. Instead, Carleo opted for the next worst option: bragging about his scheme to his buddies. In an attempt to sell the chips, he even emailed out a photo of some $25,000 chips with a note that read "biker bandit." The police eventually caught up with Carleo and sentenced him to prison.
Related Stories:
All products are independently selected by our writers and editors. If you buy something through our links, Oyster may earn an affiliate commission.