It's the middle of October and that means we're elbow-deep in pumpkin-carving, costume planning, and spooky stories. Whether or not you believe in ghosts, it's still fun to indulge in a little spooky storytelling this time of year. At Oyster, we love all things hotels -- and we get a special thrill from (supposedly) haunted properties in New York. After all, the historic and oftentimes storied state is where our headquarters are located, and there's something extra frightening about the idea of poltergeist activity occurring within driving distance. Read on for seven spine-tingling hotel ghost sightings.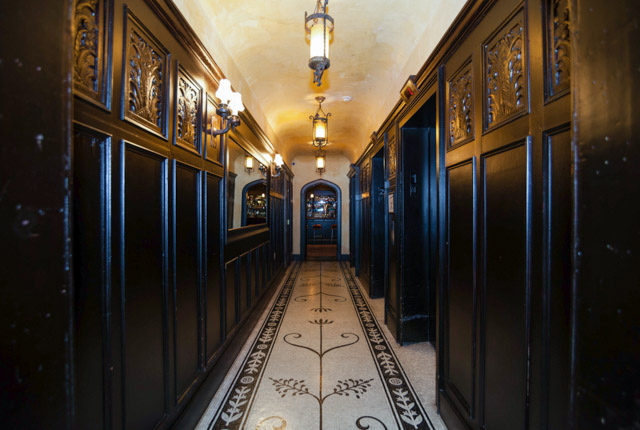 The Bowery Hotel's excellent East Village location gives its celebrity guests and fashionable clientele easy access to some of the city's hippest restaurants, bars, and boutiques. But the neighborhood isn't just prime for the fashion set — it's also the final resting place for more than 2,000 souls in Marble Cemetery, which lies just a block from the luxurious gritty-chic hotel. Perhaps one of these spirits is responsible for the supposedly nightly occurrence of elevators going wild at 1 a.m. Rumor has it, others have also had conversations with guests who simply disappear mid-sentence.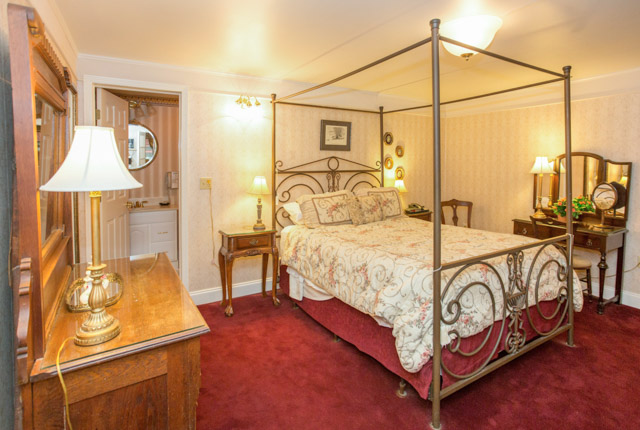 Unlike some of the hotels on this list, The Red Coach Inn in Niagara Falls is loud and proud about its resident ghosts. The Victoria Suite was the site of a gruesome wedding night murder in 1926. The newlyweds checked in for their wedding night, and the bride was found bludgeoned to death the next morning. Since then, guests and staff have reported seeing a woman in an old-fashioned white lace dress roaming the halls. The English Tudor-style inn certainly sets the stage for spookiness with antique furnishings and period details. Many guests stay here in hopes of experiencing some paranormal activity and have reported everything from jewelry mysteriously moving across a dresser to people dancing in the middle of the night. One of our hotel inspectors did some paranormal investigating and reported back on her ghostly findings in this essay.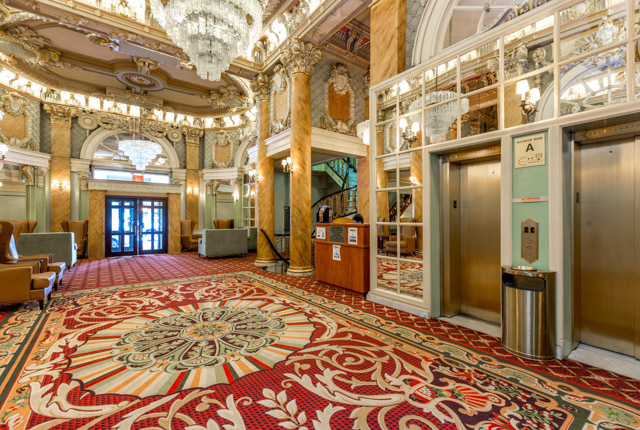 In its 1900s heyday, the Wolcott Hotel was a true showstopper on a booming section of 5th Avenue famous for townhouse mansions owned by big-time New Yorkers. Today, the neighborhood has changed and mansions have mostly been replaced with budget hotels and shopping chains, but the historic Wolcott still stands out. And the gold cherubs and marble columns aren't the only things that linger from the hotel's past. Guests have reportedly seen two young boys wearing pajamas and playing at the top of the lobby's stairwell. Another alleged ghostly guest is an elderly man with a cane who wanders the hallways. Delivery workers have felt an unknown presence and touch in the hotel's magnificent ballrooms, which are not open to the public.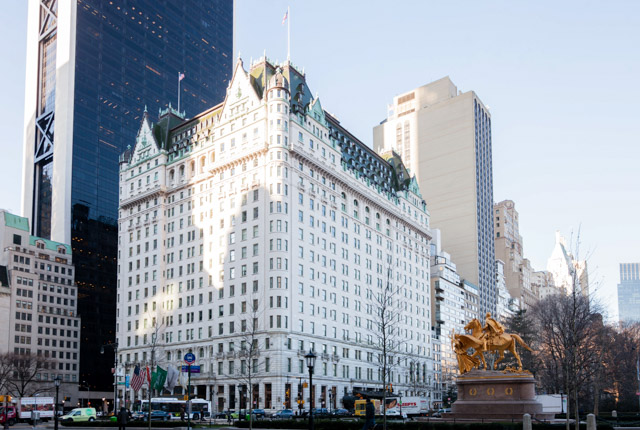 Since it opened on the corner of Central Park South in 1908, The Plaza has been an institution in the worldwide hotel scene and has helped set the standard for luxury hotels in the United States. The elegant and grand building has hosted countless celebrities, dignitaries, and royals — and been the setting of several Hollywood films. It should come as no surprise, then, that some departed guests would rather linger in the luxury hotel's hallways than move on to the afterlife. There have been spooky reports of disembodied voices, doors that suddenly refuse to open, and shadowy figures in hotel rooms.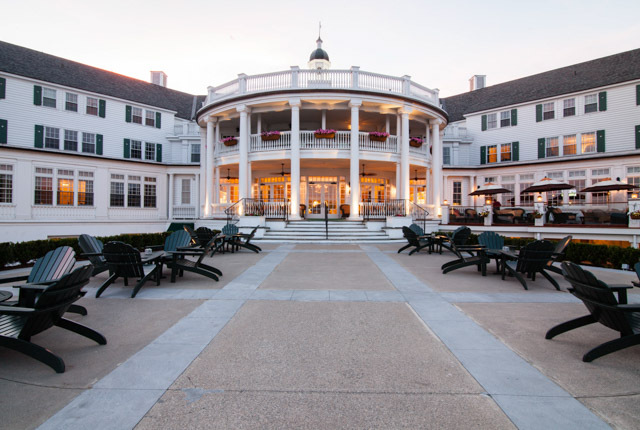 The Sagamore Resort is an ideal summer getaway spot due to its isolated location on scenic Lake George. The list of impressive amenities at this upscale resort is lengthy, and so its storied history. The hotel originally opened in 1883 as a playground for moneyed Philadelphia residents, and was later badly damaged by two fires and then abandoned over 100 years later. Today, the entire property has been lovingly restored, but glimmers of the past still remain. The 18-hole golf course is purportedly a favorite haunting ground for a little boy who was hit by a car and killed in the 1950s. Supposedly, a couple still bickers over dinner in the dining room before fading away. Even more terrifying, a woman dressed in white has been known to enter hotel rooms and blow onto sleeping guests' eyelids.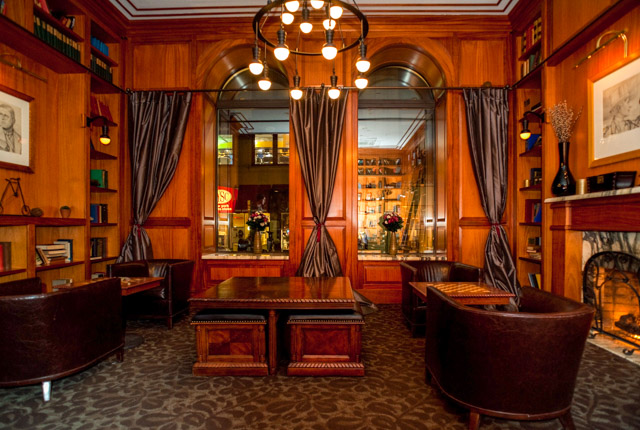 An orphanage used to stand on the land that now holds the historic and beautifully eerie Mansfield Hotel. Constructed in the popular Beaux Arts style, the property was originally built as a fancy hostel-type hotel for New York's elite. It's hard to believe there isn't at least one lingering orphan spirit or bachelor roaming the halls, searching for his last gin martini. In 2015, a TripAdvisor reviewer stated, "And… it turns out that it's extremely haunted and we had tons of paranormal activity in our room, but the staff isn't allowed to talk about it."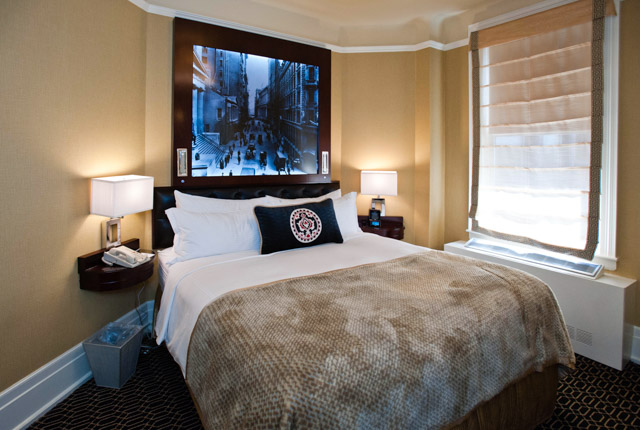 The Algonquin Hotel is a New York City Historic Landmark, and in the 1920s, the property's restaurant served as the informal gathering place of the Algonquin Round Table — an elite literary group that included Harold Ross, Edna Ferber, Alexander Woollcott (there's a suite named after him), Charles MacArthur, and Dorothy Parker. However, after a renovation in 2004, guests started to notice some strange noises and apparitions. Perhaps the members of the round table object to the changes made at their meeting place.
Afraid of ghosts rummaging through your undies? Fear no more, Away's carry-on has a TSA-approved lock that is 100% ghoul-proof (don't look that up). It's even offered in a bone-like, spooky white.
You'll Also Like: