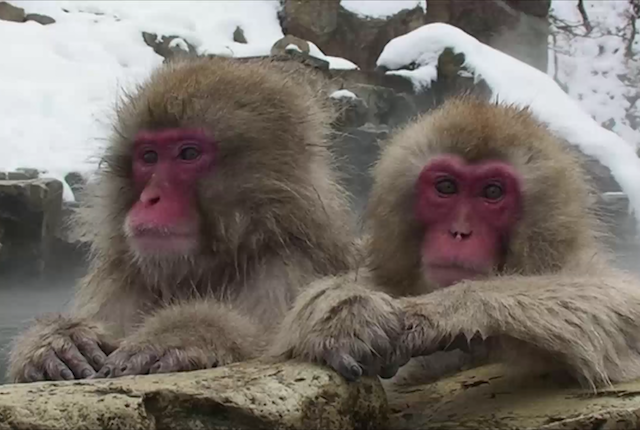 Brace yourself for some monkey business. Out of all the primates in the world, macaques, or snow monkeys, live the farthest north. But that's not the only reason these adorable, fuzzy-faced creatures have been making headlines. The animals are known to keep warm by bathing in a hot spring in Japan's world-famous Jigokudani Monkey Park. (Cue the awwws.) And now, according to a new study, researchers discovered that these monkeys de-stress by taking a dip, just like humans. During the winter, temps at the park can drop as low as five degrees Fahrenheit, and the hot springs have a stress-reducing effect. The macaques' fondness for hot baths were first reported in the winter of 1963, when a young female was found soaking at a hotel pool. However, concerns around hygiene eventually led to the building of a dedicated monkey pool.
These days, approximately 500 daily visitors flock to the park to watch the monkeys relax in the hot spring, and fortunately, the crowds seem to have no impact on the animals' stress hormones. And while the hot spring is reserved for monkeys only, there are nearby onsens where humans can relax. Monkeys -- they're just like us!
NOW WATCH: Snow Monkeys Know How to Relax
https://www.youtube.com/watch?v=dCOD2E1FsJg
You'll Also Like:
All products are independently selected by our writers and editors. If you buy something through our links, Oyster may earn an affiliate commission.