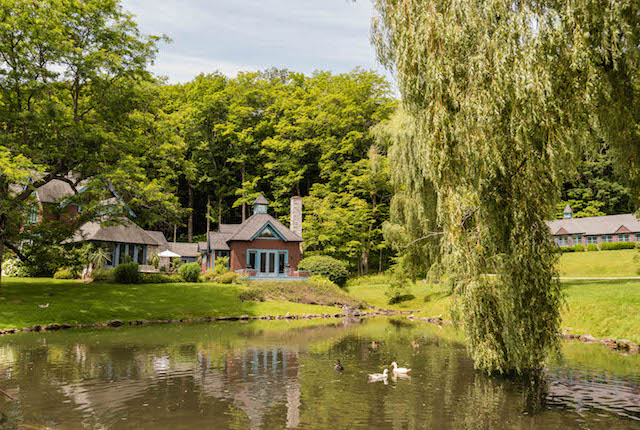 The scenic Berkshires region of southwestern Massachusetts is known for its top-notch skiing. But what if you're not into hitting the slopes, or aren't visiting during ski season? The Berkshires is also characterized by its cache of cultural, historical, and educational gems, from concerts and festivals to garden tours and world-class museums. And, in all seasons, the quaint towns of the Berkshires -- in particular Great Barrington, Lenox, and Stockbridge -- are delightful to stroll through and shop in. (Don't forget about the mega outlet mall, Lee Premium Outlets, in Lee, if that's your thing.) But beyond boutiques and charming coffee shops and bakeries, here's what else is tucked into this picturesque corner of New England.
The Clark Art Institute houses an impressive collection of European and American paintings, sculptures, and photographs from the Renaissance to the early 20th century. You'll also find a vast array of French Impressionist works, drawings and sketches, and silver pieces, as well as the work of American artist Winslow Homer. Upcoming special events include the Nutcracker Sweets Tea, a gallery talk specifically for parents with babies in tow, and a film on the art of Venice. To add an extra dimension to your tour, download The Clark's multimedia guide mobile app (free on iTunes). The grounds are lovely, with hiking trails that are open all year round. Plus, admission is free on the first Sunday of each month.
Williamstown Hotel Pick:
2. Jacob's Pillow, Becket, Massachusetts
A performing arts theater, Jacob's Pillow is the place to go for dance performances, including jazz, ballet, and more. Aspiring dancers in the family will enjoy observing The School at Jacob's Pillow, where professional dance artists work with up-and-coming young students. The Families Dance Together class is lively and suited for beginners. Therefore, it's a popular option for families arriving with both children and grandparents. The Inside/Out performance series takes place on Wednesday through Saturday evenings. It's free, as is exploring the institution's massive archives, and the facility tours given on Thursdays and Saturdays.
Nearby Hotel Pick:
3. Mass MoCA, North Adams, Massachusetts
The Massachusetts Museum of Contemporary Art, affectionately known to locals as Mass MoCA, is a big draw to the area for adults as well as kids. The renowned Sundance Institute regularly comes to Mass MoCA to host a Theatre Lab, which always includes a work-in-progress showing. Another upcoming exhibit is The Lure of the Dark, in which contemporary painters present different artistic interpretations of nighttime. The nearby Public Eat + Drink at 34 Holden Street gets high marks from visitors and residents alike; the butternut squash flatbread is not to be missed. If you're visiting sans kids, there's a new craft brewery, Bright Ideas Brewing, right down the street. It features a recycled art installation by local Daniel O'Connor, who creates collages from the likes of packing tape, old album covers, and magazines.
Nearby Hotel Pick:
Located in a particularly hilly location in western Massachusetts, this long-loved music venue has drawn festival fanatics for decades. The home of the Boston Symphony Orchestra since 1937, Tanglewood regularly hosts soloists, pianists, and conductors from the New York Philharmonic, Vienna Philharmonic, and Israel Philharmonic to perform in the Koussevitzky Music Shed. Pop stars, such as James Taylor, are woven in more than ever in recent years. The theme of the upcoming season will be a tribute to Leonard Bernstein, and include a visit from Yo-Yo Ma. Tanglewood is a feast for the ears and the eyes — fans rave about the scenery as much as they do the entertainment.
Lenox Hotel Pick:
This museum is the ultimate tribute to artist Norman Rockwell. It's open seven days a week, 12 months a year, and you can often spot Rockwell fans sketching their own masterpieces right in the galleries, while soaking in the inspiration from the roughly 1,000 original paintings and drawings housed here. The Norman Rockwell Archives, a collection of more than 100,000 bits of memorabilia, are on the premises. Among them are photos that the artist worked off of to create his paintings, letters, personal calendars, and fan mail. As a resident of Stockbridge, Norman Rockwell naturally turned to depicting scenes from the community. That fact alone makes visiting the area even more thrilling for true Rockwell aficionados. Gallery guides greet visitors upon arrival, and offer some information on the history and highlights of the museum as well as a rundown of Rockwell's life. An audio tour is also available, and is narrated by sculptor Peter Rockwell, Norman's youngest son. Or, you can opt for the Rockwell Digital Gallery Tour, which can be viewed on your smartphone.
Stockbridge Hotel Pick:
Naumkeag is your ticket back to the Gilded Age (no time machine needed). This 48-acre retreat consists of exquisitely manicured gardens and a country estate that was typical of the upper-crust of the time. Joseph Choate, an American lawyer associated with many famous litigations in American legal history, called it his "summer cottage." However, with 44 regal rooms, it feels like a palatial mansion. The gardens are designed to lead visitors through in stages, from the afternoon garden, tree peony terrace, and rose garden, to the evergreen garden and Chinese gardens.
With everything exactly as it was in the late 1800s, including furniture, garden tools, and a dairy barn, Naumkeag is a National Historic Landmark. (An exception is the greenhouse, which was destroyed in a blizzard but recreated with every detail, including the lauded Peach House.) Picnicking here is not only allowed, but encouraged. Bring your own or purchase traditional picnic fare (catered in from the Red Lion Inn) on-site. You can even borrow a blanket.
Stockbridge Hotel Pick:
The home of famed author Edith Wharton, a National Historic Landmark, is open for tours year-round, while the grounds are free to access daily. Several different tours are available to book, depending on your interests and exactly when you stop by. Two of the most popular are the Backstairs Tour and Ghost Tour. Regardless of which tour you choose, you won't encounter velvet ropes or off-limits areas. Visitors are invited to take a seat in the rooms and take in the interpretive exhibits throughout the house, which tell about Wharton's lesser-known humanitarian efforts, the interesting lives of her servants, and more. Plus, local groups frequently come in to present lectures, do readings, or perform music. The forest and gardens surrounding the estate are carefully manicured, with relatively easy hiking trails running through and around them.
Lenox Hotel Pick:
You'll Also Like: