There are many reasons to visit Italy's famous Cinque Terre. Built into the cliffs on an incredible stretch of the Ligurian coast in northwestern Italy, the five former fishing villages lure tourists with breathtaking views, pastel-painted architecture, local wineries, tasty seafood and pesto, and a national park of nearly 10,000 acres. You can visit by car, ferry, or train, but the best way to see the region is most definitely on foot. More than 75 miles of trails crisscross the gorgeous region, and it's entirely possible to visit each of the stunning villages by walking (hundreds of thousands of people do it every year). The most popular hike is the coastal path Sentiero Azzurro, which links all five villages (note that sections of the trails can open and close due to maintenance and weather -- watch for signs) and offers stunning vistas. It would be a huge mistake to visit Cinque Terre and skip a hike, but there are a few things you should know before you start the trek. Here are our top five tips for hiking in Cinque Terre.
1. Take photos.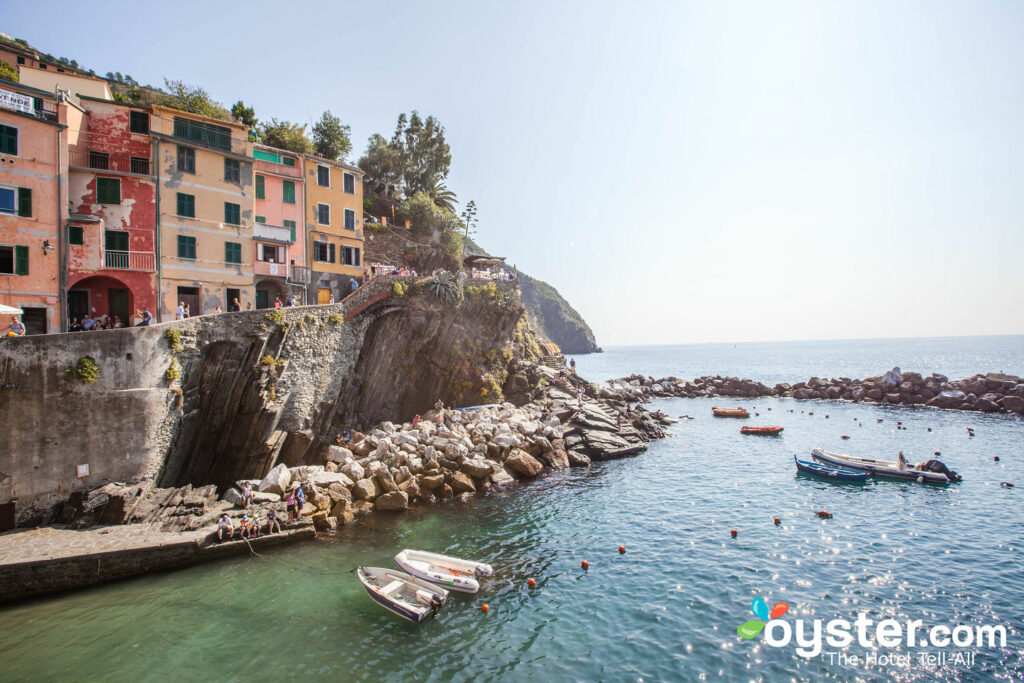 Part of the appeal of hiking in Cinque Terre is the vastly different scenery you'll encounter. The trails were originally (and painstakingly) built by farmers who needed to walk up to their vineyards and down (and over, and up, and back) to neighboring towns before the trains and highway were constructed. Therefore, the paths wind and weave over streams, through forests, past vineyards, up rustic steps, and down to rocky outposts with incredible views of the coast and mountain villages in the distance. It's awe-inspiring to see the candy-colored ancient buildings of Vernazza from above as you trek down. Corniglia is the only town without water access, so you'll have beach time between hikes. Photo ops are endless, so be sure to bring a camera and a portable charger.
2. Dress accordingly.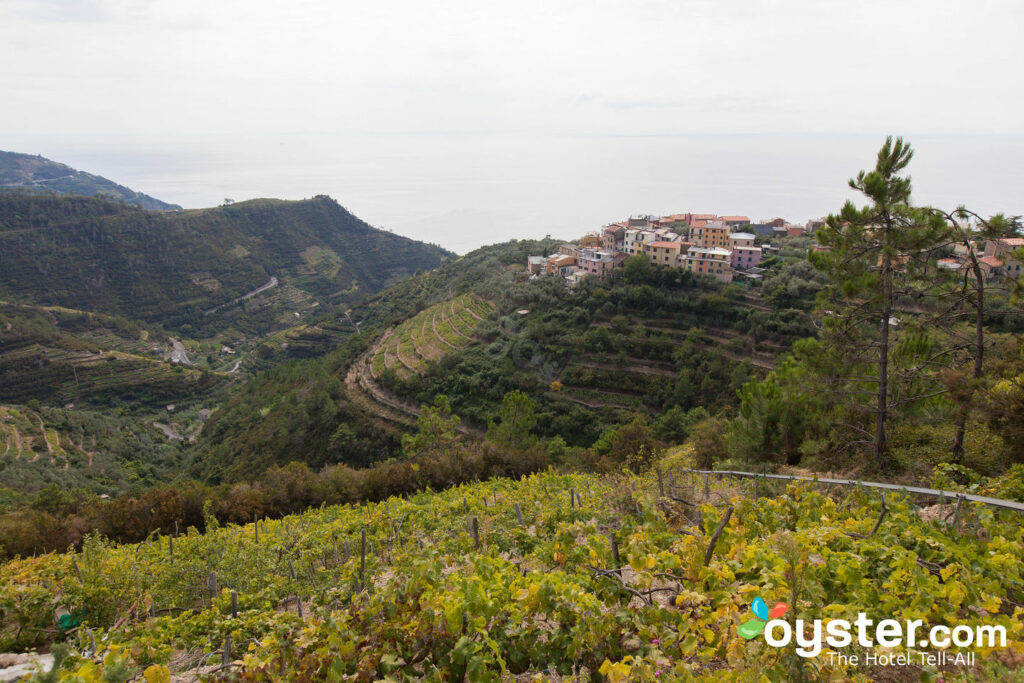 As previously mentioned, you can hike for days or just a few hours in Cinque Terre. But no matter how long you plan on hitting the trails, you should dress accordingly. Summer months bring temps in the mid-80s, and the sun feels quite strong on the trails. Wear sunscreen, appropriate shoes, and breathable clothes. If you're walking the entire trail, consider investing in a pair of trekking poles (there are equipment stores in Riomaggiore). Buy water before you start hiking, as it's only for sale in the towns. We did encounter a sweet old man who sold us cups of freshly squeezed lemonade outside of Monterosso al Mare, after a particularly steep set of steps, but don't count on that miracle happening every day.
3. Expect crowds.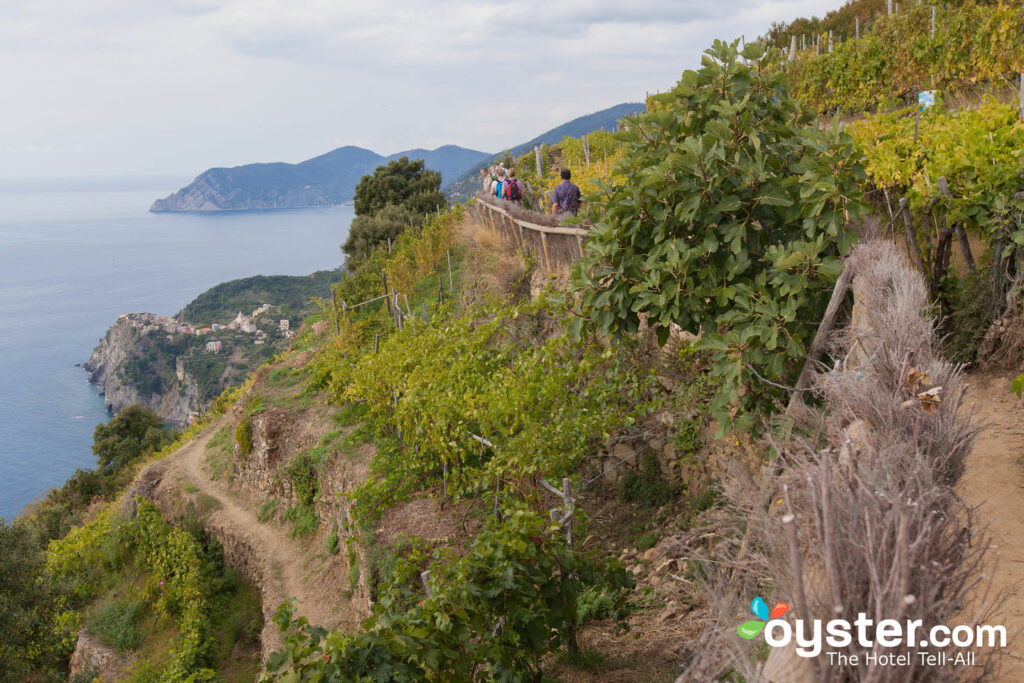 By some estimates, Cinque Terre is home to just 4,000 residents and sees nearly two-and-a-half million visitors every year. Many tourists arrive via cruise ship or bus and come only for the day, but overcrowding is still a major problem. Park authorities and mayors threatened to impose a tourist cap in 2016, but that has yet to happen. In the meantime, preservation groups are working with bus tours and cruise operators to figure out possible schedules and limits, but the crowds keep coming. The best way to avoid them is to start hiking as early as possible, and visit Cinque Terre outside of June, July, and August, when the crowds are at their heaviest. That said, there's a nice camaraderie among hikers along the trail. We chatted with senior Europeans with professional trekking poles, affable honeymooners, and even an entire class of French high schoolers.
4. Buy a Cinque Terre card.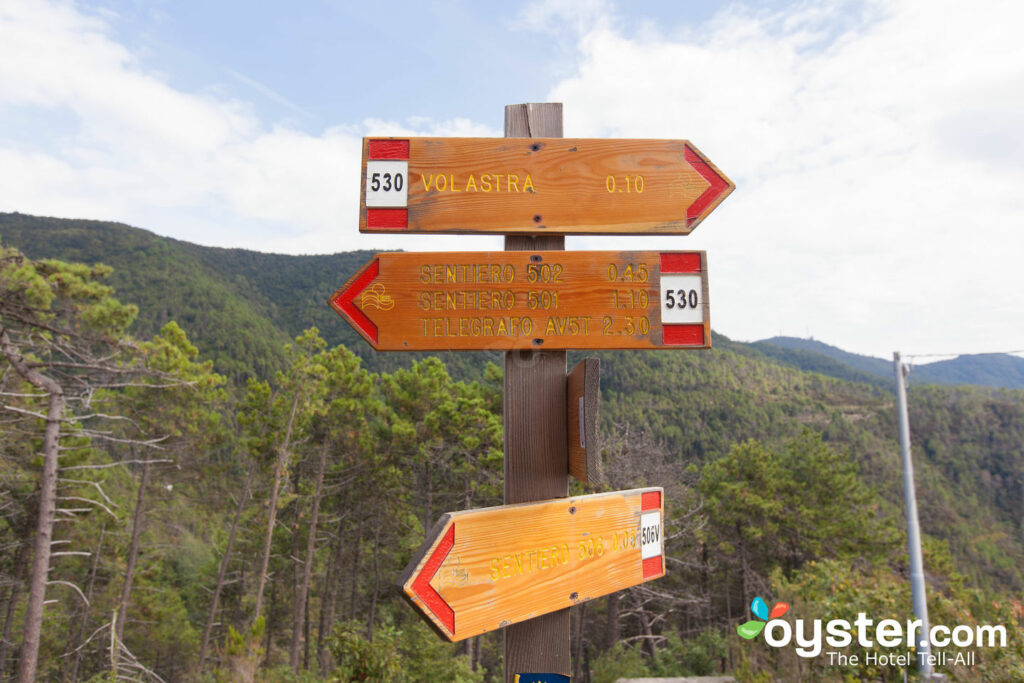 Technically, the only trail that requires a paid ticket is Sentiero Azzurro (also called the Blue Trail or Trail Number 2), as this is the most popular option and requires the most maintenance. Rangers are only available to check for tickets during high season, but we think all hikers should purchase a card as a sign of goodwill and to help keep the trails open and maintained year-round. The cards cost around $8 and include trail access, Wi-Fi at the train stations, and restrooms at the train station (an excellent deal). The pass can also be purchased with unlimited train travel for about $13 per day.
5. Take the train back.
We suggest hiking as long and as far as you can. But if you get a blister or start to feel tired, the trains are an excellent backup to have on hand. Be sure to grab a printed timetable from any of the five train stations in Cinque Terre, so you can see what time the trains are coming and going. One shortened option is to hike from Monterosso al Mare to Vernazza. The walk takes about two hours and showcases excellent views. Explore and have lunch in Vernazza, then jump on the train to take you to the other villages. Or better yet, walk.
You'll Also Like:
All products are independently selected by our writers and editors. If you buy something through our links, Oyster may earn an affiliate commission.