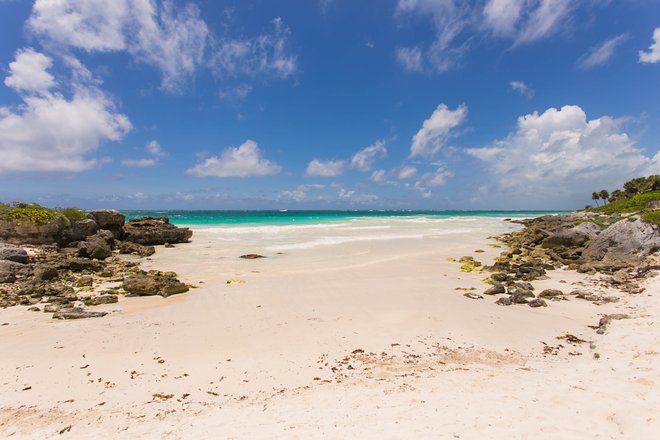 Tulum, located on the Yucatan Peninsula, is one of Mexico's most buzzed-about destinations -- and understandably so. The town is home to beautiful turquoise waters, dramatic jungle backdrops, and an eco-friendly lifestyle. Given its stunning views and romantic feel, it can certainly be a sweet spot for lovebirds, but it's also a great place to catch up with lifelong pals. So whether you're planning a bachelorette party or just need a few days to unwind with your BFFs, we've got a few tips to help you make the most of your girls' trip to Tulum. Gather your favorite gals and get ready to get that floppy-hat beach photo you'll all frame.
1. Opt for space.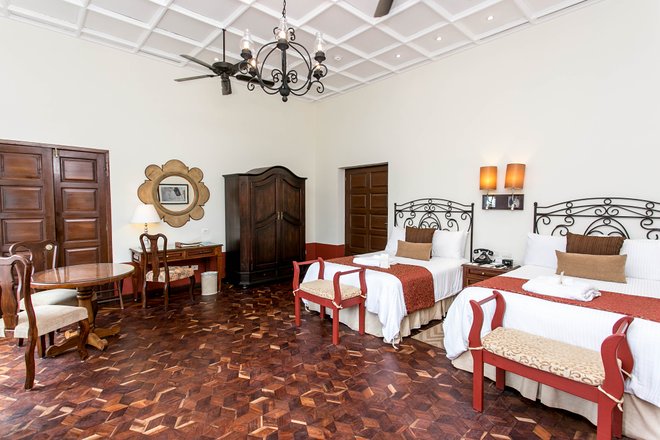 Many of Tulum's beachside hotels cater to couples, with rooms built for two. The view is great, but a girls' trip is much more fun when you don't have to split up into several small rooms. Instead of a small beachside boutique hotel, opt for a more spacious and affordable villa away from the main drag. There are plenty of options within a 10-minute drive of the beach, and many include amenities like pools and full kitchens. After a long day of exploring Tulum, it will be great to come back to a ton of space where you can uncork a few chilled bottles of rose and lounge around in your kaftans. Some hotels, like Dreams Tulum Resort & Spa, have spacious rooms and attract groups of friends.
2. Rent a car and explore the town.
Renting a car in Tulum is easy, affordable, and, despite what some naysayers may have you believe, completely safe. The drive from the Cancun airport is a straight shot down a major highway, plus you'll save a lot of money by splitting the cost of a car instead of using an airport shuttle. Cabs are available in Tulum, but drivers are strict about not carrying more than four passengers, which can be a problem if you've got a big group. And while bike rentals are available all around town, it can pretty get difficult (and sweaty!) to navigate a whole crew of riders on the relatively narrow, rocky, and crowded main drag along the beach.
Plus, a car rental will help your group take advantage of Tulum's attractions. Don't leave without checking out a cenote, natural sinkholes that provide the perfect backdrop for tranquil swims and mermaid-esque photo shoots. Dos Ojos is a peaceful option about a half-hour drive from the city; the biosphere at Sian Ka'an is about two hours away, but also offers more options for jungle treks and snorkeling. A car will also make it easier to check out some of the incredible restaurants away from Tulum's beach strip. Start your morning with breakfast tacos at Taqueria Honorio. Later, drive down a dirt road about 25 minutes outside the city for some fresh fried fish, cold beers, and hammock hangouts at the unpretentious beachside Chamico's.
3. Keep it casual.
Don't bother packing your date-night dress or stilettos. The vibe here is casual and bohemian-chic, and the roads are too rocky to traverse in heels. Plus, you'll want to kick off your shoes the second your feet hit the sand at any of the beachside bars and restaurants. If you want to spruce up your beachy wardrobe, make your first stop Josa Tulum, a rustic boutique near the beach that sells versatile kaftans, dresses, and cover-ups that you can wear everywhere from the beach to happy hour.
4. Plan a wellness day.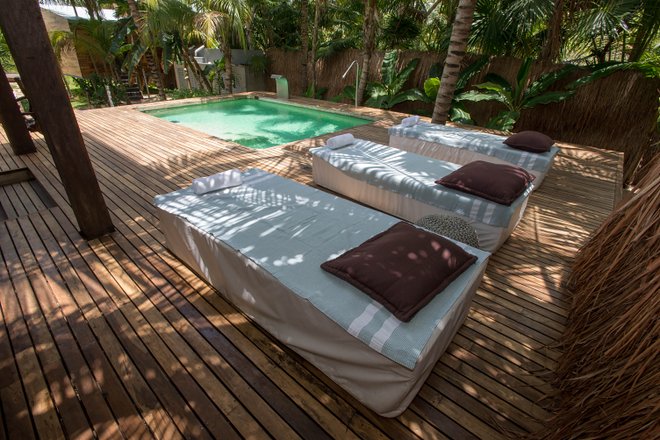 While Tulum certainly has a buzzing nightlife — check out Gitano for a dance party beneath a jungle disco ball, or Casa Jaguar for a smoky cocktail mixed with fresh, local ingredients — the area doesn't have the beer-soaked spring break energy of other Mexican destinations. Tulum's vibe is all about wellness, and it's a great place to practice self-care with a group of girlfriends. Start with a morning yoga class, hammock hangout, and walk around the gardens at Holistika Tulum, a whimsical jungle paradise just outside of the main strip of Tulum. Then, head to the spa. Kasa Tulum offers a unique Maya clay bath treatment that can be experienced as a group. After immersing yourself in a pool of exfoliating clay, enjoy a rejuvenating dip in a cenote water pool as well as a hydrating full body fruit mask. The day will leave you and your girlfriends feeling relaxed and refreshed.
5. Don't stay home, just stay safe.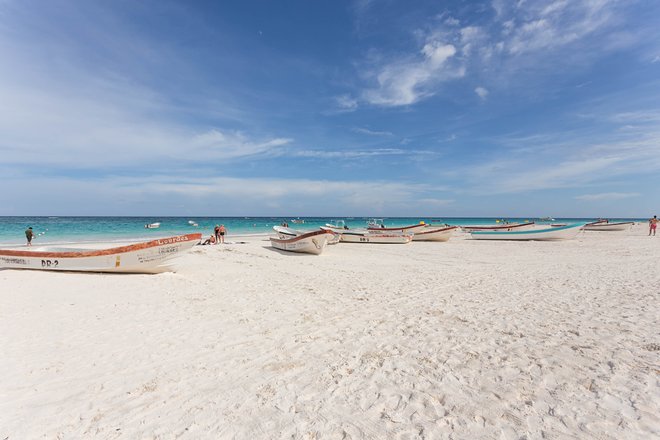 It's always important that women are aware of their surroundings, no matter where they are traveling, and Tulum is no different. Take typical safety precautions, like not packing any valuables, sharing your itinerary with someone back home, and making sure no one wanders off alone. But don't be scared away from Mexico — Tulum is a safe and fun destination for a girlfriend getaway.
You'll Also Like:
All products are independently selected by our writers and editors. If you buy something through our links, Oyster may earn an affiliate commission.