The best Jamaican beaches are naturally busy, but if you're seeking a sandy spot that's removed from the frenzy, there's no better option than Seven Mile Beach. As the name suggests, this beach has seven miles of sandy shoreline on which to soak up the sun. Drinks huts keep visitors refreshed, plus there are plenty of outfitters that offer various water sports. The beach borders the town of Negril and one highlight includes the Negril cliffs, used as a backdrop for James Bond movie "Thunderball" and home to daredevil cliff jumpers.
Hotel Pick: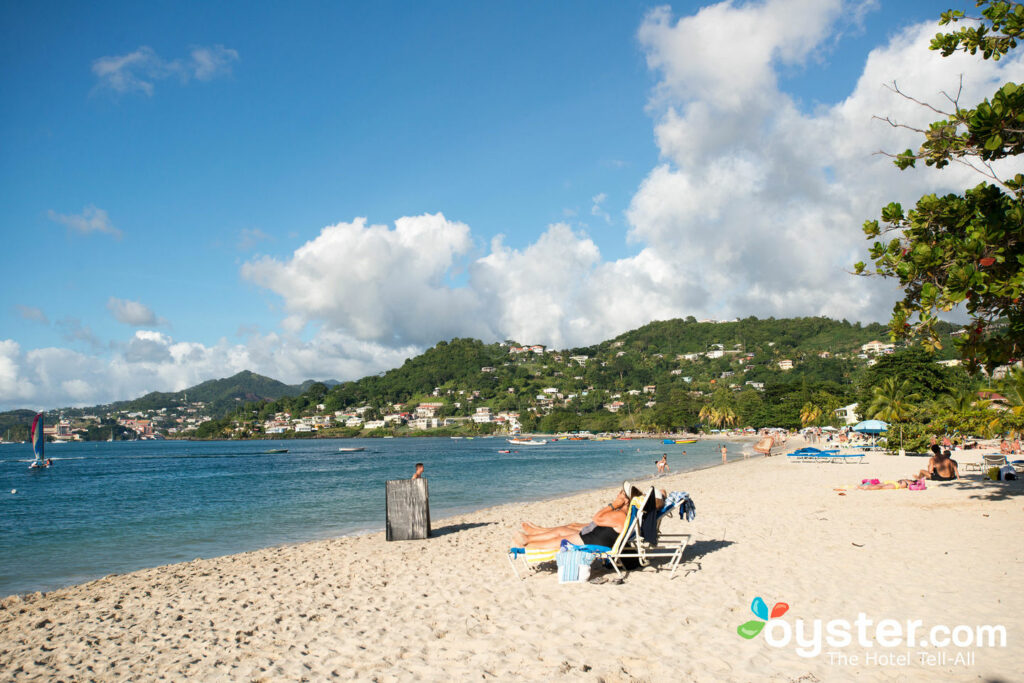 The most famous beach isn't always the best, but in the case of Grenada's Grand Anse, well, there's a reason its reputation precedes it. The long stretch of sand is lined with the kind of flora and fauna you'd expect from a Caribbean island — plenty of palms and a lush forest. The beach also has a nice range of vendors and restaurants to keep visitors occupied and fueled up. Keep in mind that cruise ship passengers are dropped off at the livelier north end of the beach, so head south for a touch more serenity.
Hotel Pick: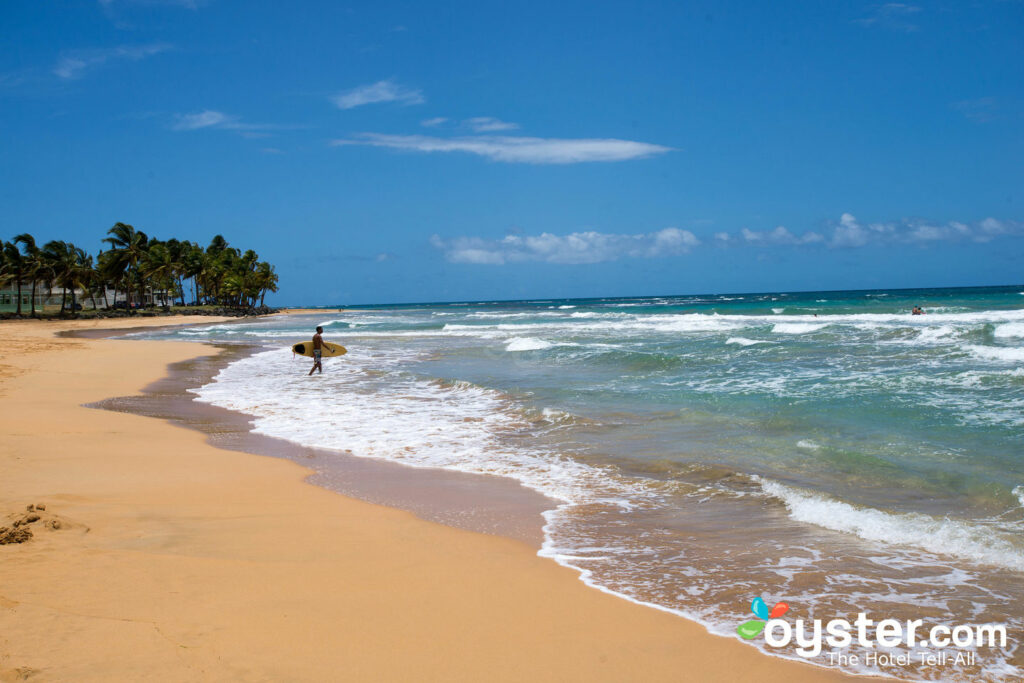 Tourism has begun to flow back into Puerto Rico following the destruction brought by Hurricane Maria. Though there are plenty of beautiful beaches to choose from, the gorgeous and exceptionally clear (thanks to its Blue Flag status) La Monserrate Beach stands out among the pack. Also called Luquillo Beach, the crescent-shaped stretch is backed by a lush rainforest and free to use.
Hotel Pick:
An hour-and-a-half ferry ride from the main island of Puerto Rico brings you to Culebra, where the first thing to do is kick off your flip-flops and head for Flamenco Beach. With dazzling azure water, this beach is perfect for swimming and snorkeling. The soft white sand met by overhanging palms only completes the photogenic scene.
Culebra Hotel Pick: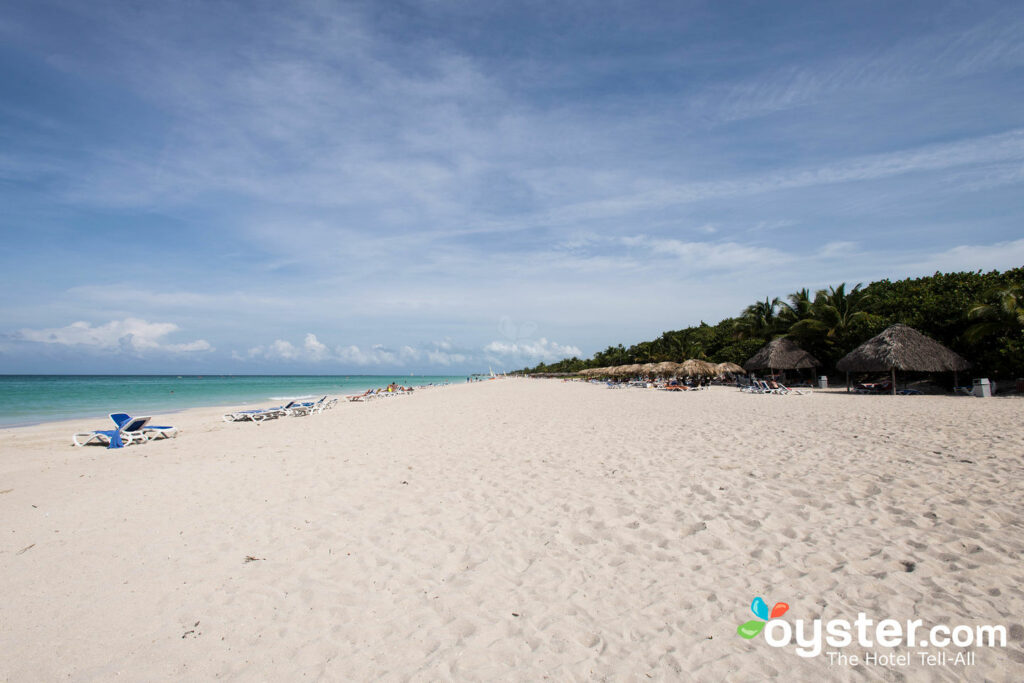 Pristine white sand, inviting warm water, and lilting palms set the scene on Cuba's famous Varadero Beach. Home to plenty of resorts, the beach is popular throughout the year, but thanks to its size, the crowding doesn't detract from the experience too much.
Varadero Hotel Pick: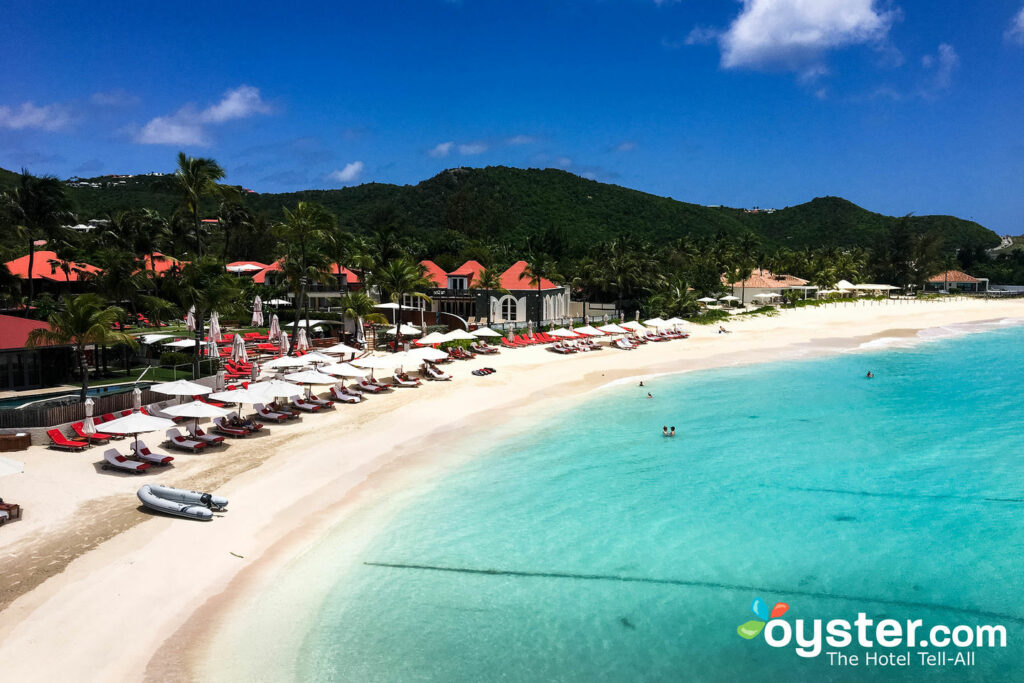 Backed by a plethora of upscale resorts — namely, the Eden Rock — this white-sand beach on the island of St. Barts can get pretty busy at times. Of all the beaches in the Caribbean, St. Jean is also the one where you're most likely to spot a celebrity, so keep your eyes peeled for A-listers like Rihanna and Beyonce.
St. Barts Hotel Pick: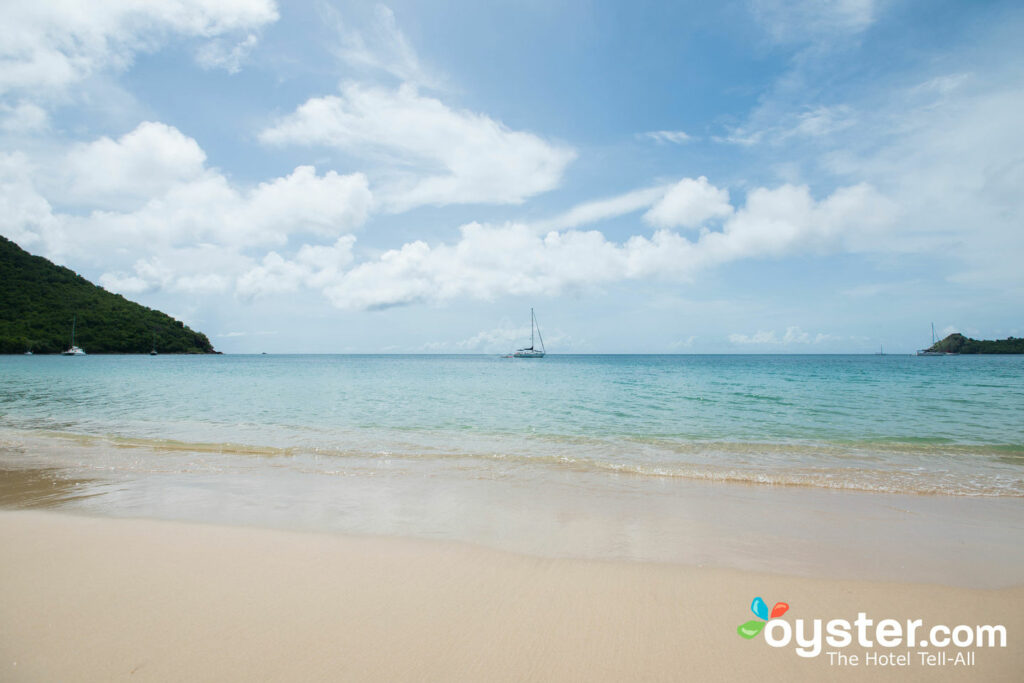 There might be prettier beaches on St. Lucia, but there are none as well-equipped as Reduit Beach. This long expanse of sand is served by an array of beach shacks and all types of water sports vendors who cater to the high numbers of tourists and cruise ship visitors. A pleasant stroll along the beach will bring you to the quieter south end, where there are fewer vendors.
St. Lucia Hotel Pick:
Who says a beach should solely be judged by its sun, sea, and sand game? While Maho Beach on St. Martin is a great place to sunbathe and swim, it is defined by its amazing plane-spotting credentials. If you've seen pictures of huge passenger jets swooping over a tourist-filled beach, chances are it was flying above Maho Beach and into Princess Juliana International Airport.
St. Martin Hotel Pick:
Often considered to be Tobago's most beautiful beach, Pigeon Point Beach is known for its iconic thatched hut that sits at the end of a jetty jutting into turquoise water. Gentle lapping waves and a shallow slope that runs into the water make it a great spot for families, swimming, and snorkeling. One of the more undeveloped islands of the Caribbean, Tobago is a solid pick for visitors who want a more rustic experience — albeit with some resort-style perks.
Tobago Hotel Pick: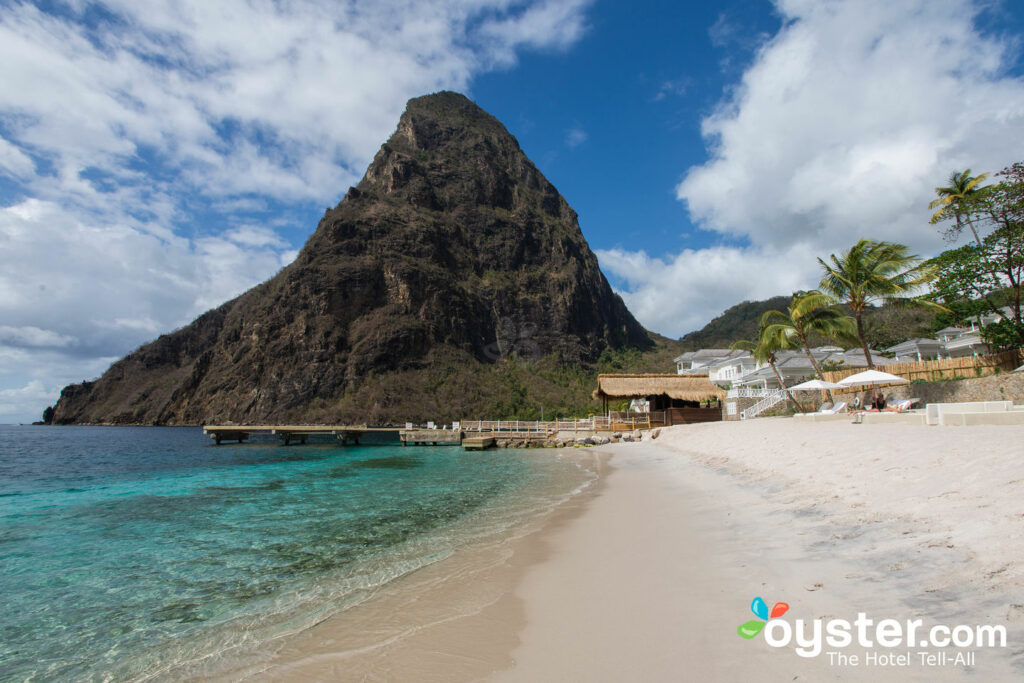 If the sight of a thatched hut on Pigeon Point Beach is famous in Tobago, then the view of St. Lucia's Pitons looming over the beautiful Anse de Pitons is an iconic image of the entire Caribbean. All beaches on St. Lucia are open to the public, so anyone can enjoy this stretch sandwiched between the island's famous volcanic peaks. (The fine white sand was imported to create an even more evocative look.) Go visit the scene that sold a million postcards.
St. Lucia Hotel Pick:
Near the colonial Cuban town of Trinidad (the one with the pastel-hued buildings), Playa Ancon is arguably the best beach on the south side of the island. If you don't want to spend an entire day on the beach, the town is around five miles away and can be reached by a picturesque bike ride. However, chances are, the pristine white sand, great snorkeling opportunities, and general paradisiacal vibe will make tearing yourself away from the beach tough.
Cuba Hotel Pick: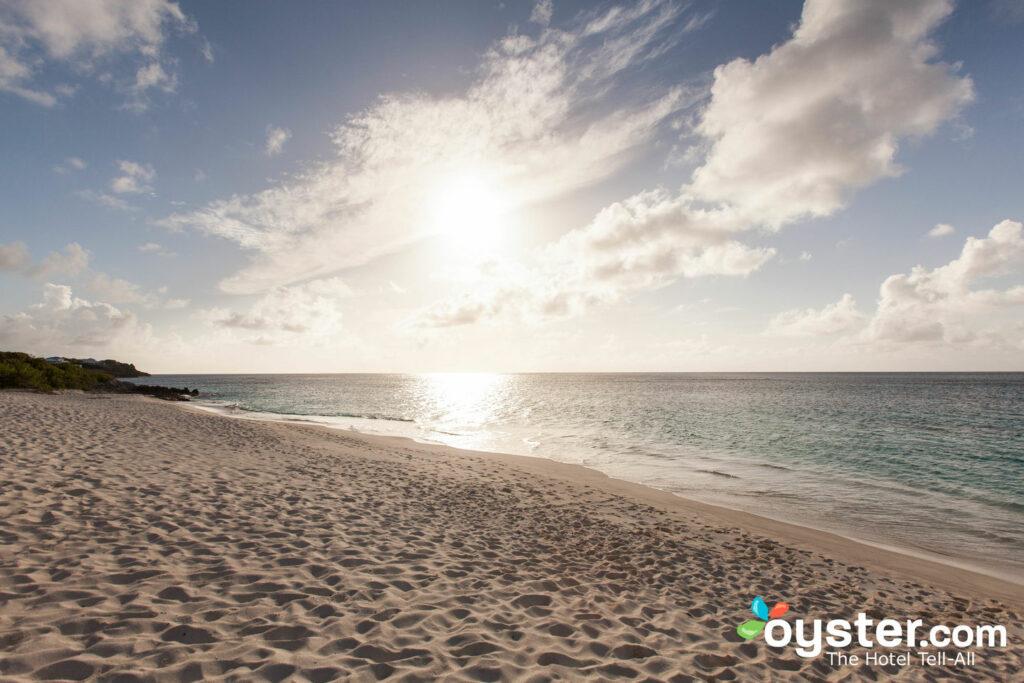 Relaxed, relatively undeveloped, and home to more than one of the best beaches in the Caribbean, Anguilla is a prime pick for travelers looking to relax on the sand. Shoal Bay, a white-sand beach with shimmering turquoise water, offers excellent snorkeling, swimming, and sunbathing opportunities. And despite the cluster of resorts and bars lining the sand, this beach is a beacon for peace and quiet.
Anguilla Hotel Pick:
Calm, quiet, and small compared to some of the others on this list, Little Bay Beach is another one of Anguilla's stunning beaches. Surrounded by high cliffs that create an exclusive, hidden vibe, Little Bay has some of the best snorkeling on Anguilla. Plus, the fact that it's only accessible by boat means that it's relatively free of crowds and any major signs of development.
Anguilla Hotel Pick: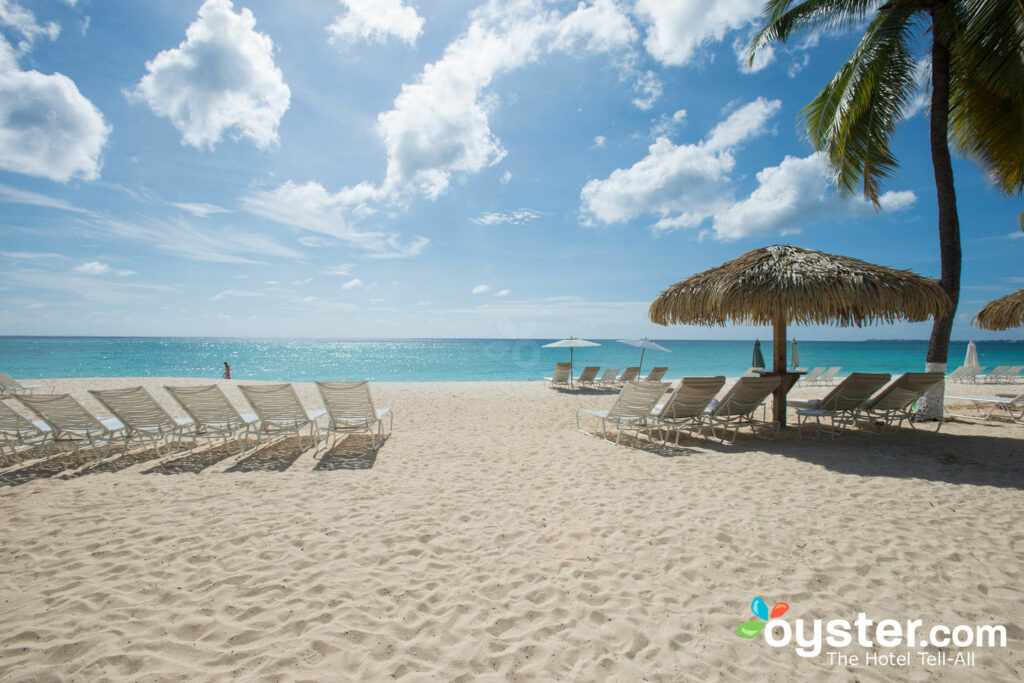 Not to be confused with the beach in Jamaica, the Seven Mile Beach on Grand Cayman is just as impressive. The coral sand and sparkling water — great for snorkeling and diving — attract huge numbers of tourists (thanks, in part, to its public status). Beach bars and resort restaurants provide pit stops along the way, if you fancy walking its entirety.
Grand Cayman Hotel Pick:
Unlike the famous Palm Beach, which is also a great option, Eagle Beach in Aruba doesn't have many high-rise resorts lurking over it, making it the preferable choice in our opinion. Palm trees and knotted trunks of divi-divi trees fringe the enticing, sugar-white sand that also shelters plenty of thatched cabanas for shade. The azure water is crystal clear and the waves are gentle and safe. The low-rise blocks nearby are home to restaurants and bars, and you can also hire jet skis at the northern end of the beach.
Aruba Hotel Pick:
Under the protection of the U.S. National Park Service, Trunk Bay in the U.S. Virgin Islands has a helping hand in ensuring its beauty remains intact. Tourists flock here to soak up the Instagram-worthy scene filled with striking white sand, bright blue water, and lush forests (no filter necessary). Great for divers, it also has a long underwater snorkeling trail with some unbelievable marine life.
U.S. Virgin Islands Hotel Pick:
Nestled between a break in a rocky outcrop, this small stretch of sand is popular among locals and tourists who appreciate its palm-fringed white sand and gently crashing waves. Visitors will find a shack and restaurant right on the beach, so there's no need to abandon this Caribbean oasis in search of an ice-cold beer. Be warned, though: The relatively compact size of the beach means it does get busy.
Barbados Hotel Pick: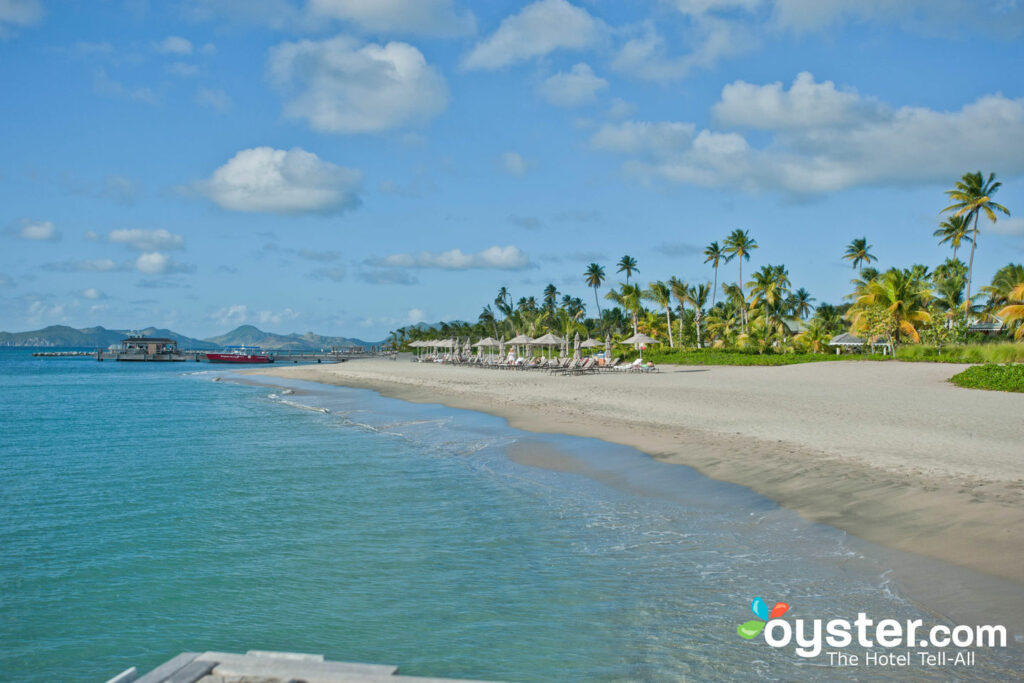 Pinney's Beach, a three-mile stretch in Nevis, offers an appealing blend of quiet spots and livelier areas supported by beach bars and cafes. Wherever you decide to base yourself — whether near the famous Four Seasons Resort Nevis in the north or farther south — soft sand and palm trees provide the setting for an ultimate beach day with a rustic feel.
Nevis Hotel Pick:
With a reputation for attracting the well-heeled clientele from the adjoining Casa de Campo Resort & Villas, Minitas Beach is a beautiful stretch of coastline in the Dominican Republic. As clean as it is stunning, the beach features soft white sand, turquoise water, and rows of relaxing loungers. Thanks to a man-made reef several hundred feet from the shore, the water is calm and safe for swimming — a major plus for families.
Dominican Republic Hotel Pick:
A remote oasis, Half Moon Bay is one of Antigua's finest, most tranquil beaches. Picture crystal clear water lapping sugary white sand backed by lush, tropical foliage and not a high-rise hotel in sight. If an undeveloped coastline is your idea of a perfect setting, then this mile-long, crescent-shaped beach is the perfect escape.
Antigua Hotel Pick: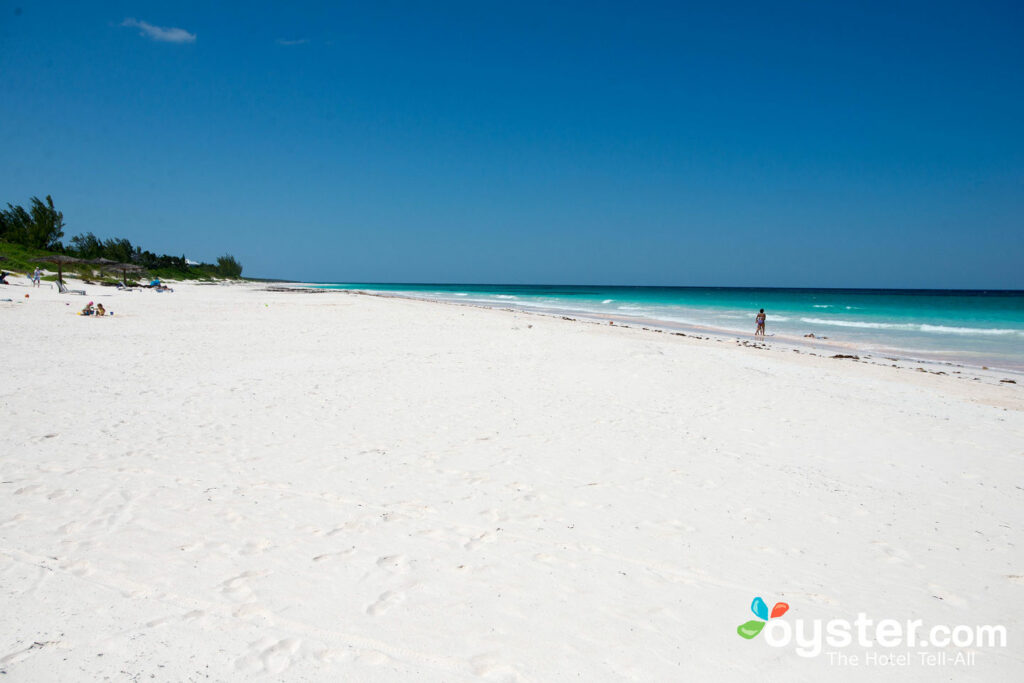 As the name suggests, this pink-sand beach on Harbour Island adds another dimension to an already beautiful location. Getting to Harbour Island by water taxi is a neat way to start the pilgrimage to the beach, which at around three miles long, provides plenty of coastline to explore in between sunning and swimming. To top it off, the sunsets here are particularly stunning.
Bahamas Hotel Pick:
You'll Also Like: