Europe certainly does not lack spectacular coastlines, but with so much of it jam-packed in high season, finding an elusive corner of empty beach can make you feel like you've won the vacation lottery. One way to increase your chances of discovering a tranquil stretch of sand (or pebbles) is to aim for a beach only accessible by boat, even if other sun-seekers have the same idea. So without further ado, here are our picks for top European beaches where the only way in is via the sea.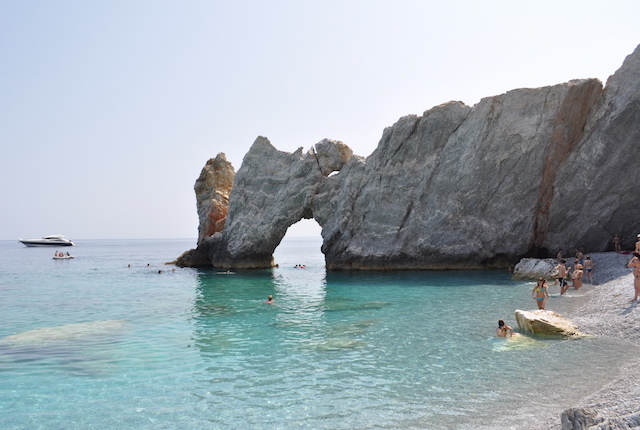 The Greek island of Skiathos is a great place for hiring a small motorboat and exploring the coastline, which has many beautiful — and often empty — coves to be found. For those seeking a remote beach — and prefer a day out with someone else at the helm — the white pebble beach of Lalaria is the place to go. Here, local folklore claims that swimming through the naturally formed rock archway brings eternal youth — a more rejuvenating dip than most. Organized boat trips, which leave regularly from the port of Skiathos Town, usually stop at Lalaria for a couple of hours, where the dazzling limestone cliffs, white pebbles, and crystal-clear turquoise seas make sunglasses a must. Many organized boat trips also visit the nearby Blue Cave en route to Lalaria.
Where to stay: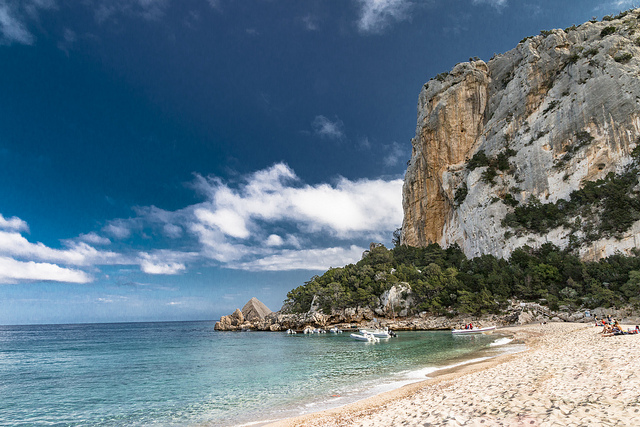 Cala Luna, just one of many breathtakingly beautiful beaches in Sardinia, is close to picture-perfect. Madonna filmed scenes from "Swept Away" here and, while the movie may have been a spectacular flop, the beach most certainly is not. Dramatic cliffs and small caves provide the backdrop to this crescent of white sand, which is lapped by clear, turquoise water. Small boats ferry groups of vacationers back and forth regularly, but the best option by far is to hire your own boat, so you can operate on your own timetable, escape any crowds in high season, and access the tiny coves separate from the main beach without having to swim there. Beyond being remote, a major plus of Cala Luna is that it's popular enough to have a lifeguard and restaurant.
Where to stay:
Praia de Cabanas is located on a sandbar island just off the coast, near the picturesque town of Tavira in Portugal's east Algarve. A few minutes in a water taxi and a short stroll on a raised walkway over the dunes and you find yourself on a vast stretch of beautiful white sand. Sun beds and parasols are available, but there's also miles of beach to explore and find your secluded spot away from others. The beach is particularly popular with locals, and mainly in August when sweltering temperatures make a dip in the chilly Atlantic waters tolerable. Despite being fairly close to town, Praia de Cabanas still has a rugged and remote feel to it, plus the added benefit of an excellent restaurant — with showers!
Where to stay: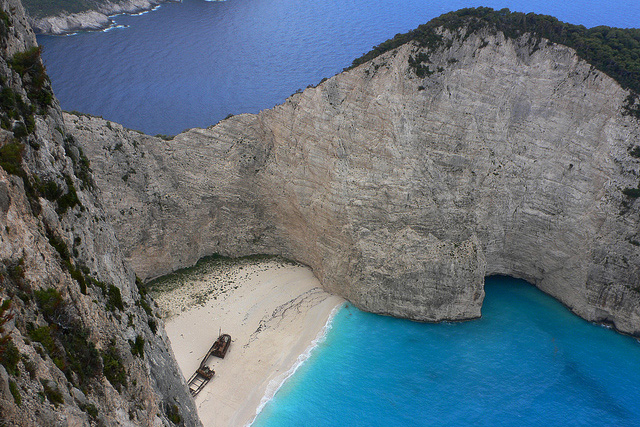 If this pick seems familiar, it's probably because it's one of the most photographed beaches in Greece and used in numerous tourism campaigns and adverts over the years. Completely isolated and impossible to reach other than by sea, this is one beach that's definitely worth the effort to get to. Also known as Shipwreck Cove, this spectacular white-sand beach with crystal-clear waters is backed by towering cliffs and has the rusty shipwreck lodged in the sand. The ship hit the rocks during a storm in 1980 and eventually washed ashore. Unfortunately, the sight of a wrecked ship in a such a stunning setting has made this a very popular beach and it can get packed during the high season. It is, however, well worth the trip — to avoid the crowds and enjoy a swim in relative peace, it's best to go early or late in the day and use private hire boats rather than the tourist shuttles.
Where to stay:
While Minorca's Cala Trebaluger beach is not impossible to reach on foot — it's a long hike with a river crossing — arriving by boat is certainly the easiest option. Backed by thick pine forest and featuring white sands, turquoise waters, and a stream running through the dunes on one side of the beach, the small cove makes for an idyllic setting for sunbathing — that is, unless you have an aversion to being in the company of nudists, in which case you may want to go elsewhere (or just lay back and close your eyes!). Its remote location means there are no facilities on the beach, so make sure you pack a picnic and something to provide some shade during summer months.
Where to stay:
Related Stories:
All products are independently selected by our writers and editors. If you buy something through our links, Oyster may earn an affiliate commission.