Best Boutique Hotels in Buenos Aires
Oyster knows what travelers look for in their hotels. When we review properties around the world, we evaluate how every feature stacks up against the competition, from the rooms to the pools to the restaurants. So if you're planning a trip and need a place to start, you've come to the right place. Take a look at our top picks for boutique hotels in Buenos Aires, and get inspired!
See All Buenos Aires Hotels
1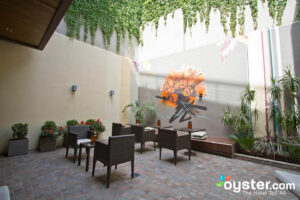 The Glu Hotel, a small, boutique property in the posh Palermo neighborhood, feels like an urban oasis in bustling Buenos Aires. The rooms are spacious, stylish, and clean with a clever layout that somehow offers multiple seating options, a workspace, a living/lounge area, and a king-size bed, and still leaves room for morning yoga on the hardwood floors. The rooms also come complete with balconies and smart extras such as dishes, wine glasses, cutlery, a microwave, and convenient bar seating for improvised in-room meals. The lobby bar and patio are chic spots to enjoy an evening cocktail, or guests can really unwind after a day of sightseeing with an in-room massage treatment. The huge rooms and attentive staff put it a cut above the competition.
2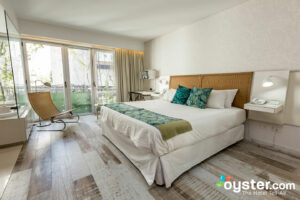 This modern, eco-friendly boutique is the first carbon neutral hotel in Buenos Aires. It has 17 rooms and offers a cozy, wellness-focused experience to travelers, sporting a vertical garden, honesty bar with organic products, and tranquil lobby. Rooms are spacious and bright with plush bedding, iPod docks, and attractive vine-draped balconies. Luxurious bathrooms are the outstanding feature of the rooms, with two-person jetted tubs, separate large walk-in showers, and in some, private saunas. Additional perks include Nespresso machines, free Wi-Fi, and a free organic buffet breakfast. The central location, myriad of extras, and quality accommodations combine to make this our number two pick.
3
This charming, upscale boutique feels like a private home, with 11 beautiful, individually decorated rooms featuring hardwood floors, comfortable beds, and great amenities. Each room has been dedicated to a significant figure in Argentine history -- such as Evita Peron, Che Guevara, General San Martin and Mafalda -- and has themed decor to match. The cozy library is the perfect place to unwind after a long day of sightseeing in the winter, and in the warmer months guests can head up to the rooftop deck, complete with a six-person whirlpool and lounge chairs. There's an attractive breakfast room with classy, homey decor, in which a decent breakfast is served every morning. There's no full restaurant on-site, but the hotel's excellent location in the heart of vibrant Palermo Soho offers easy access to plenty of great restaurants. It's gorgeous, unique style and intimate atmosphere put it toward the top of our list.
4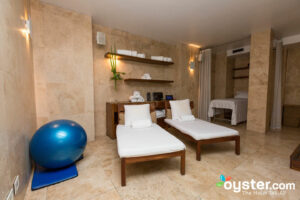 On an attractive, tree-lined street in the La Recoleta neighborhood, the CasaSur Art Hotel is a luxe, boutique property with 36 rooms. Decor is sleek with modern furniture and dark hardwood floors. Comfortable rooms have thoughtful touches of technology, including iPod docks and wall-mounted flat-screen TVs. While bathrooms are relatively small, they are sophisticated with marble vanities and glass walk-in showers. The highlight of CasaSur is an upscale spa complete with whirlpool, and the hotel also offers its own restaurant serving food inspired by India and the Mediterranean. Its desirable location and big rooms with balconies feel make it one of our favorite boutique picks.
5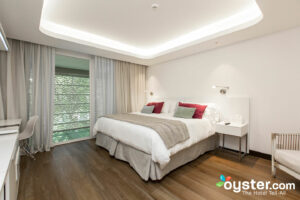 Opened in early 2011, this beautiful boutique hotel is arguably one of the most special and serene properties in bohemian Palermo Hollywood. With just 12 rooms and simple but stylish modern decor throughout, it is a wonderful retreat from busy Buenos Aires, even with a location in the thick of the action. Large, sun-drenched rooms are clean and contemporary, with flat-screen TVs, floor-to-ceiling windows, trendy bathrooms with jetted tubs, and a few colorful accents. The gorgeous rooftop whirlpools with city views and a sauna take R&R to a new level. Book a room facing the tiny back garden for quieter weekend nights.
6
Located in the trendy neighborhood of Palermo Hollywood, the 27-room Fierro Hotel Boutique is a chic and upscale property that stands out for its luxe touches such as towel heaters and free loaner iPads. All rooms are spacious suites with modern furnishings, comfy beds, balconies, and high-tech amenities such as flat-screen TVs and iPod docks. The bathrooms have rainfall showerheads, but lack tubs. Highlights include the rooftop terrace with heated, outdoor pool and renowned restaurant run by acclaimed chef Hernán Gipponi, who uses ingredients plucked from an organic garden on the property. Plenty of restaurants, bars, and clubs are also within walking distance.
7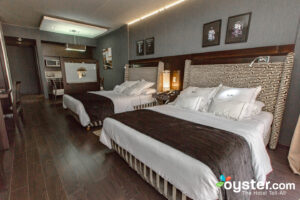 The 57-room Lennox Hotel Buenos Aires is located in the central Congreso area, close to government offices. Quirky decorations and artwork, interesting wall patterns, and unusual color schemes make a stay here a distinct and memorable experience -- from the spacious lobby dressed in sleek shades of black, to the chic, dramatically lit private outdoor garden. All aesthetics aside, the hotel also offers top-notch comfort, luxury, and hospitality. There's a restaurant serving international dishes using local ingredients, a free breakfast buffet with fresh fruits and hot eggs, and a spa for relaxation. And the rooms -- large and stylishly furnished like the rest of the property -- come with kitchenettes, big closets, iPod docks, and quaint dining areas. The location in the Congreso neighborhood isn't ideal for tourists, though, which puts lower on our list.
8
Boutique hotel Palermo Place is in the heart of Palermo Hollywood. Some attractions are within walking distance, such as the Botanical Gardens and the Buenos Aires Zoo, while others in Microcentro and Recoleta are a short drive away. The 26 rooms (four of which are smoking) are well-maintained and spacious, with Juliette balconies, sitting areas, plenty of closet space, and kitchenettes, which feature stainless-steel appliances, utensils, and linens (you can even have the fridge stocked prior to your arrival, for a fee). Throughout, the hotel's decor is simple yet sophisticated, with rich, dark colors and modern furniture. And two outdoor decks provide relaxing spots for sunbathing. The hotel lacks an on-site restaurant, but guests are provided with vouchers for local eateries.
9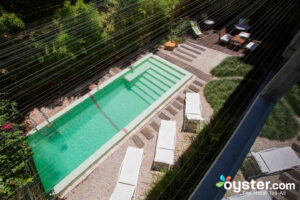 The Mine Hotel Boutique is an upscale 20-room hotel in the hip Buenos Aires neighborhood of Palermo Soho. Though set on a small piece of property, Mine uses its space phenomenally, and features a colorfully modern aesthetic. From the outside, the building has a futuristic vibe, and inside the lobby is a Zen-like open area -- its furnishings are distinct, colorful, and made from a number of natural materials. Each cozy guest room has a different color theme (lime greens, deep pinks, golden yellows) and style (Middle Eastern, Central American, Asian), making each uniquely fashionable. Rooms also come complete with balconies, DVD players, and flat-screen TVs. In addition to Mine Hotel Bistro, the hotel offers a small pool, on-site personal trainers, tango lessons, and a DVD library -- adding up to an amenity-stocked experience that draws a young and active crowd.