Best Beach Hotels in Playa Mujeres, Cancun
Take a look at the best beach hotels in Playa Mujeres.
See All Playa Mujeres Cancun Hotels
1
This 109-room sleek, sexy boutique hotel is a luxurious, adult-only all-inclusive located in the Playa Mujeres region just north of Cancun. It's on a beautiful long white-sand beach -- which can have some seaweed from time to time -- and has three chic outdoor pools with food and drink service. Rooms are huge (starting at 960 square feet), all-white, and have big whirlpool tubs, as well as private balconies -- many with ocean views and some with plunge pools. The 35,000-square-foot spa is gorgeous, with an impressive hydrotherapy circuit, and the fitness center is extensive. Food at the four restaurants is excellent and a la carte, and reservations are not required; 24-hour room service is also available. Among the area's top all-inclusive resorts, the Beloved stands out as the only true boutique; Excellence Playa Mujeres right next door has a similar level of luxury, but it's a much larger resort.
2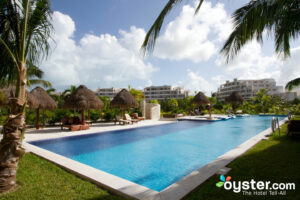 This 450-room luxury all-inclusive is set in the heart of a private resort community to the north of Cancun. Modern, luxurious rooms are huge and have big whirlpool tubs; all have balconies and some have ocean views. Certain categories have swim-up access or private plunge pools. All the features expected for this caliber of resort are here, including seven pools, nine restaurants, 11 bars, and a high-end spa. The secluded location is part of the appeal for many, but may be too isolated for some -- and the white-sand beach, while tranquil, isn't as impressive as those in the Hotel Zone. This is one of the top luxury options in the Cancun area, and is for adults only; families may want to consider the neighboring and similarly luxurious Finest Playa Mujeres.
3
The luxury, beachfront Finest Playa Mujeres opened in 2015 with a bright, modern look that's somewhat of a deviation from the ocean-themed styles usually found in the Cancun area. In addition to trendy decor, the 450 rooms have free minibars, flat-screen TVs, espresso makers, and balconies or terraces -- some with ocean views and others with direct pool access. Excellent features here include a chic spa, modern gym, 10 pools, kids' perks, outdoor activities, and entertainment. The food quality in the 12 all-inclusive restaurants is reportedly quite low and it's often crowded in the main areas, especially with families and children -- but rates include premium liquor and lobster. For an adult-only experience, travelers might want to consider Le Blanc Spa Resort in the Hotel Zone of Cancun, which offers a better dining experience and quiet ambience.
4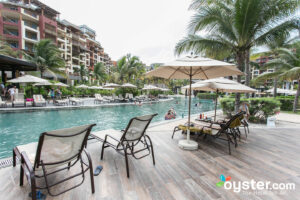 The Villa Del Palmar is one of the area's best upscale spots for a family-friendly, all-inclusive getaway. It's in a private resort community to the north of Cancun on a pretty white-sand beach -- although seaweed can be a problem. There are tons of features, including six restaurants, five pools, and a kids' club with its own splash pool. The 415 spacious, homey suites all have kitchenettes or kitchens, plus balconies, many with ocean views. There are a dizzying array of daily activities to partake in (face-painting or tequila tasting anyone?), and some adult-only areas set aside for relaxation. Those who would prefer a family-friendly all-inclusive in the Hotel Zone may want to compare rates with the Paradisus Cancun. Moon Palace is a pricier but even more features-packed option with a surf simulator and larger pool complex.
5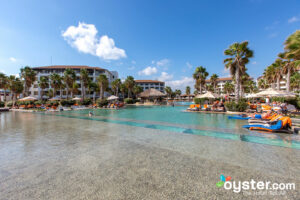 Secrets Playa Mujeres Golf & Spa Resort is a luxury all-inclusive chain property located on the beach in a private resort community about 30 minutes from downtown Cancun. This adult-only resort offers airy interiors and pristine grounds, including an 18-hole golf course. The 424 suites all have private balconies or patios, free minibars, and soaking tubs, as well as direct swim-out access in some units. Two outdoor pools are lined with sunbeds and cabanas, and guests have access to many activities and water sports (fees for some), a plush spa, and a spacious fitness center. There are nine restaurants ranging from traditional Mexican to an international buffet, as well as five bars, including swim-up and beachfront options. Large groups can sometimes overwhelm the facilities. Families could try Finest Playa Mujeres, which has a kids' club and is similarly priced.
6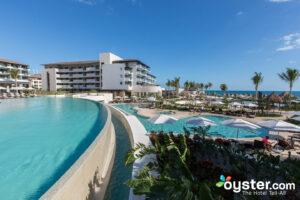 The 502-room, upscale Dreams Playa Mujeres Golf & Spa Resort is a family-friendly all-inclusive located along a white-sand beach in the exclusive gated community of Playa Mujeres. It's a 30-minute drive from downtown Cancun and Hotel Zone, and although the beach isn't quite as nice as those found in the Hotel Zone, it's pleasant. Ample features include multiple pools -- two infinity pools, six whirlpools, and a water park -- an elegant spa, modern gym, live performances and daily activities, and a golf course. Rooms are contemporary, spacious, and beachy, outfitted with sitting areas, flat-screen TVs, rainfall showers, and whirlpools -- many of the terraces. Some are swim-out or have private pools. All-inclusive rates cover 10 dining and drinking options with French, Japanese, and Mexican fare and top-shelf liquor. Unfortunately, food receives mixed reviews. For a better beach, consider Dreams Sands Cancun.