Best Boutique Hotels in River North, Chicago
Take a look at the best boutique hotels in River North.
See All River North Hotels
The ACME Hotel is a boutique in River North aimed at a crowd that's looking for character. The quirky rooms are on the small side, but have high-tech amenities, including plug-and-play hook ups to stream your own content on the generous 46-inch flat-screen TVs. A hot tub, sauna, and free morning coffee service are cool extras that go beyond other hotels in this price range. Rock and roll themed decor and local artwork sets the hotel apart from the competition, along with the on-site Berkshire Room known for its craft cocktails. Another River North boutique alternative, Hotel Felix, lacks the rock attitude, and opts instead for sustainable artwork and an eco-friendly certification.
The 261-room Hotel Palomar is one of the best Kimpton hotels in the city, and the only one in River North, near the Magnificent Mile. Its lovely indoor pool with a sundeck and its free nightly wine hour are both highlights, and the big, stylish rooms are equipped with iPod docks, 37-inch flat-screen TVs, and Etro bath toiletries. All in all, it's a great pick for the price.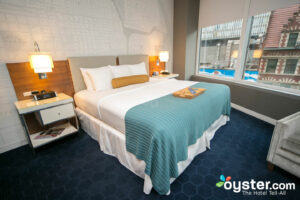 The upper-middle-range Kinzie Hotel is a modern, sleek property, which, despite its having more than 200 rooms, has the ambience of a boutique hotel. Located in the heart of the River North district near the Magnificent Mile, it's a convenient base for business travelers and tourists alike. Extra touches, like evening receptions with free drinks and appetizers, and the free continental breakfast served on every guest floor draw praise from guests. Other highlights include spacious 24-hour fitness and business centers, in-room massage treatments, and valet parking. Rooms are spacious and tastefully decorated, and include honor bars and Keurig coffeemakers, mini-fridges, 42-inch flat-screen TVs, iHome docking stations, safes, large work stations, and free high-speed Wi-Fi for unlimited devices. Rates are competitive for the area but not inexpensive. Travelers could also consider the stylish Aloft Chicago City Center, which has comparable rates.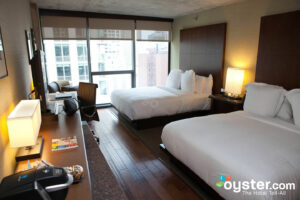 This 216-room hotel is an urban retreat with zen decor, a spa, a stylish restaurant, and popular lounge, located three blocks from the Magnificent Mile. The hotel's serene vibe continues into the luxurious rooms, which feature hardwood floors, large, spa-inspired showers, plush beds, and floor-to-ceiling windows or balconies. It's one of Chicago's most luxurious boutiques.
The Aloft Chicago City Center is a modern and decidedly unconventional upper-middle-range hotel with an energetic vibe. Located in the lively River North district, it's a great central base for both business and leisure travelers. The Magnificent Mile is within walking distance, and there's a subway line nearby. A popular restaurant and bar with live music are in the spacious lobby, and the fitness center is large and well equipped. Valet parking is available, but it's expensive. Like the hotel itself, the 272 rooms are sleek and stylish, with room service, mini-fridges, and coffeemakers. Rates are competitive but like other River North hotels, they can spike quite high at times, so it's wise to comparison shop. The Hampton Inn & Suites Chicago-Downtown nearby tends to have comparable rates and a free hot breakfast.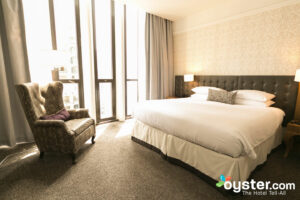 Sophisticated and upscale, the 354-room Hotel Chicago Downtown, Autograph Collection is located in the trendy River North area, across from the House of Blues. A business center, 10,000 square feet of meeting space, and a 24-hour modern gym attract conference organizers. With black-and-white stylish designs, rooms and suites have minibars, coffeemakers, and floor-to-ceiling windows that offer river views in some. In-room massages are provided, but this hotel doesn't have a pool or spa like the costlier Hotel Palomar Chicago.
Chicago's first hotel built to meet Silver LEED certifications for its eco-friendly practices, Hotel Felix merges upscale amenities with renewable furnishings and energy efficiency. It's just off the busy thoroughfares, making it a relaxing spot to stay (with a spa), while it's still an easy walk to the action on the Magnificent Mile, and all of River North's nightlife. The environmentally-conscious will likely appreciate just how thoroughly green this hotel is, if they don't mind small rooms. While it's a central location for tourists, the Felix caters to business travelers, with its comfortable, if somewhat cramped, work spaces, and stylish meeting rooms. The nearby Dana Hotel and Spa doesn't share the sustainable pedigree, but it has similar amenities with larger rooms.