Most Romantic Hotels in River North, Chicago
Take a look at the most romantic hotels in River North.
See All River North Hotels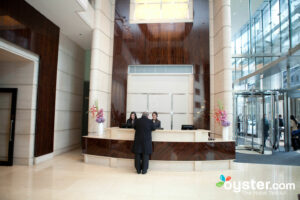 This 339-room Trump is one of the top luxury hotels in Chicago, located in a modern glass tower right on the Chicago river and within easy walking distance of the Magnificent Mile. The sleek, glossy decor is subdued and tasteful, and every amenity -- from the Michelin-rated restaurant, to the big indoor pool, to bright fitness center, to the spa -- is first-rate. The huge, tasteful rooms have limestone bathrooms with soaking tubs and floor-to-ceiling windows (often with phenomenal views). Only The Peninsula and The Waldorf can compare.
This three-pearl chain hotel has a prime location in Chicago's bustling River North neighborhood, surrounded by restaurants and within walking distance of most downtown attractions, including the Magnificent Mile. The public decor is updated and mostly modern and a basic breakfast buffet is included in the room rate, as is speedy Wi-Fi. A pricey market in the lobby sells beverages and snacks, including wine and beer. The 180 rooms are spacious, particularly in the bathrooms, some of which are equipped with roomy stall showers, but the decor is generic. Light sleepers should request an interior-facing room, though they don't get a lot of light. Overall, guests are paying high rates for a standard chain hotel with a superb location. The nearby Best Western Plus River North Hotel has a pool and more modern rooms.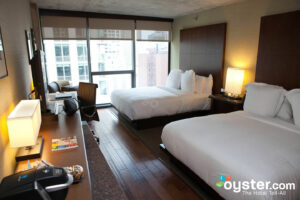 This 216-room hotel is an urban retreat with zen decor, a spa, a stylish restaurant, and popular lounge, located three blocks from the Magnificent Mile. The hotel's serene vibe continues into the luxurious rooms, which feature hardwood floors, large, spa-inspired showers, plush beds, and floor-to-ceiling windows or balconies. It's one of Chicago's most luxurious boutiques.
The flagship for the Godfrey brand, the upscale Godfrey Hotel Chicago is located in the River North neighborhood, an eight-minute walk from the Magnificent Mile. Completed in 2014, the hotel is hip and sexy. It offers a dizzying array of modern luxuries: a sleek all-white marble-clad circular lobby with contemporary seating, stress-reducing in-house spa, an ultra-modern rooftop lounge with a restaurant, two bars, and a hip nightclub when night descends. The hotel's 221 rooms are just as eye-catching as the common areas, with decor that manages to be contemporary without being stark. The party vibe isn't for everyone and there are extra fees for parking and breakfast. It's worth checking rates at the nearby Hotel Felix Chicago for their French restaurant and quieter nights.
The Holiday Inn Chicago Mart Plaza River North is a stylish, upper-mid-range hotel in the heart of downtown, perched atop the Chicago Sun-Times building. Its peculiar position means that guests have to go through two different lobbies, but the upside is incredible city views from the upper floors that the hotel occupies. The rooms are all large, although some still have loud, aging air conditioners. It's an ideal spot for guests attending events at the Merchandise Mart, or for tourists who want to be near the downtown Loop at a reasonable price. For even more budget-conscious travelers looking to avoid steep valet fees, the nearby Best Western Plus River North Hotel has free parking but can't compare with this landmark location's amenities.
This no-frills motel in Chicago's restaurant-rich River North neighborhood attracts budget travelers who value the convenient location and thrifty rates. Its 48 guest rooms could use a style infusion, but they're clean and equipped with flat-screen TVs and free Wi-Fi. Some also have microwaves and mini-fridges, while suites add sleeper sofas and kitchenettes with two-burner stoves. There's not much in terms of features here, but the property does offer free parking, a rarity in the area, as well as free breakfast at a neighboring restaurant for bookings made directly through its website. For something a step up, the stylish Freehand Chicago has both hostel dorm rooms and private rooms, plus it offers free breakfast and has a bar, cafe, and a communal kitchen.
Chicago's first hotel built to meet Silver LEED certifications for its eco-friendly practices, Hotel Felix merges upscale amenities with renewable furnishings and energy efficiency. It's just off the busy thoroughfares, making it a relaxing spot to stay (with a spa), while it's still an easy walk to the action on the Magnificent Mile, and all of River North's nightlife. The environmentally-conscious will likely appreciate just how thoroughly green this hotel is, if they don't mind small rooms. While it's a central location for tourists, the Felix caters to business travelers, with its comfortable, if somewhat cramped, work spaces, and stylish meeting rooms. The nearby Dana Hotel and Spa doesn't share the sustainable pedigree, but it has similar amenities with larger rooms.