Most Romantic Hotels in Downtown, Miami
Take a look at the most romantic hotels in Downtown.
See All Downtown Hotels
1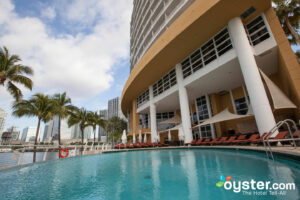 Secluded on an island overlooking Brickell Bay, the 326-room Mandarin Oriental offers a private retreat for couples, business travelers, and anyone else seeking an escape from the crowd. Chic, Asian-inspired decor, a three-level spa, and modern fitness center help soothe jangled nerves, while oversized rooms with water views offer ample opportunity to decompress. Unfortunately, all is not bliss here: Occasional reports of rude, untrained staff members and spotty housekeeping have disrupted the inner peace of some guests and South Beach is a cab ride away.
2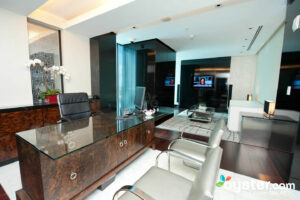 Located on the topmost floors of the JW Marriott building, the 44-room Hotel Beaux Arts, Autograph Collection is a luxury property in Downtown Miami's Financial District. Aside from an exclusive dining and lounge area, all features are shared with the JW Marriott, making the high-tech, luxe rooms here the biggest differentiators between the two hotels. Rooms have iPads, marble bathrooms with separate bathtubs and showers, and floor-to-ceiling windows with excellent views. A daily fee gives guests access to an indoor basketball court, virtual golf and bowling, an outdoor pool, and gym. An upscale Mediterranean restaurant, casual cafe, and coffee bar are on-site as well. For a larger pool and more kid-friendly environment, consider the Four Seasons Hotel Miami.
3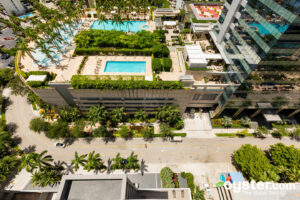 Fortune House is an upscale, condo complex with 150 one- and two-bedroom condos complete with full kitchens and living areas. Decor varies from unit to unit -- some have more modern furnishings than others. The hotel has a heated, outdoor pool with a covered barbecue area and an attractive bar decorated with exotic plants. There's also a restaurant and an impressive fitness center. One downside is the location, which is far from the beach -- a 15-minute drive away -- but business travelers will appreciate being housed in the Financial District and near a Metromover stop. Families may prefer Newport Beachside Hotel and Resort, a property with apartment-style suites on Sunny Isles Beach.
4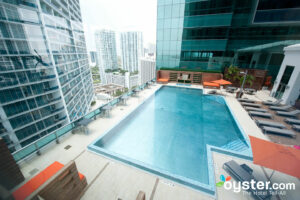 The 313-room JW Marriott Marquis is reminiscent of a luxury hotel in Vegas: Everything is big, from the light fixtures to the bathrooms, and the array of amenities is so extensive guests might not have to leave the premises -- there are three restaurants, a pool, a basketball court, a virtual bowling alley, a 3D theater room, a golf school, and a huge fitness center. A good choice for business travelers, the hotel is one of the most modern hotels in Downtown Miami, and all rooms come equipped with desktop computers and giant 52-inch flat-screen TVs. For even more luxurious digs, you may consider Hotel Beaux Arts, Marriott's boutique hotel on the top floors of the building.
5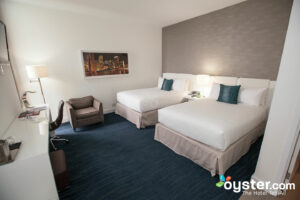 The modern and sleek YVE Hotel Miami attracts business and cruise ship travelers because of the close proximity to the port of Miami and downtown area of the city. There's an on-site restaurant and bar, Biscayne Tavern, that serves gourmet burgers and seafood dishes. Rooms are clean with modern furniture and soothing colors (whites, blues, and grays), but some are on the smaller side.
6 Hotel Urbano is a 65-room, upper-middle-range boutique property located near the causeway to the island of Key Biscayne. There are few restaurants within walking distance, but the shopping and dining districts in Brickell and Coconut Grove can be easily reached by car or cab. Rooms are modern and generally less expensive than hotels found within Miami's urban core.