Best Kid-Friendly Hotels in Downtown, Miami
Take a look at the best kid-friendly hotels in Downtown.
See All Downtown Hotels
1
The Four Seasons is synonymous with top-notch service, and the 221-room Four Seasons Miami is no exception. This hotel is cooly elegant and immaculately maintained, with an elite fitness center, sophisticated steakhouse, and two large and lovely pool areas. Modern rooms are spacious with big, luxurious bathrooms; some have expansive water views. It's an ideal choice for a conference or business traveler crash pad, but the Financial District location makes it a bit less ideal for a romantic retreat or kid-friendly vacation. Note that fees like Wi-Fi and valet parking can add up quickly.
2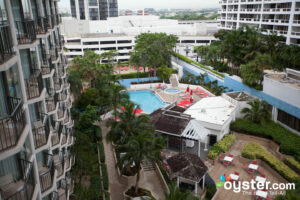 This towering, 601-room Downtown Marriott caters mostly to business travelers. The large pool, modern fitness center, business center, and free Wi-Fi throughout the hotel make it a great value pick. Though more stylish, the Epic and Intercontinental hotels both have similar amenities, but often cost considerably more.
3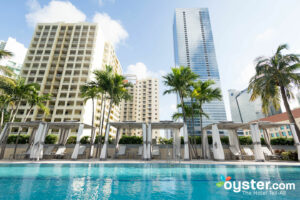 Taking up 17 floors of a 36-story skyscraper downtown, this Hilton luxury offshoot has some swanky touches -- a rooftop pool, a top-notch spa and gym, 500-thread-count linens, and spacious standard rooms. The Conrad also has a great restaurant and The Bar at LvL 25 has sweeping views of Biscayne Bay and is a popular spot for happy hour. It should be noted that the hotel is geared toward business travelers so families wanting to spend time on the beach should look elsewhere. For a similar stay, compare rates with the neighboring JW Marriott.
4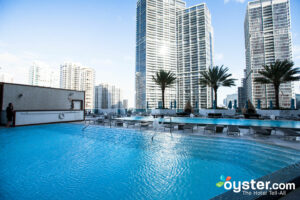 Opened in 2009 by the Kimpton hotel group, EPIC is a luxurious Downtown hotel that attracts business professionals and leisure travelers who want to be removed from the South Beach scene. All guests will likely appreciate the two 16th-floor pools, spa facilities, daily wine hour, and upscale dining options. The 411 guests rooms sport comfortable beds, spacious bathrooms, and balconies with excellent Biscayne Bay or city views, but furniture is showing some wear. For a similar stay, compare rates with the nearby Conrad Miami or Intercontinental.
5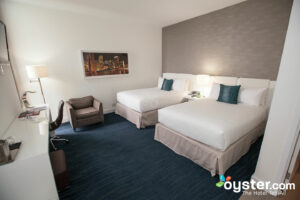 The modern and sleek YVE Hotel Miami attracts business and cruise ship travelers because of the close proximity to the port of Miami and downtown area of the city. There's an on-site restaurant and bar, Biscayne Tavern, that serves gourmet burgers and seafood dishes. Rooms are clean with modern furniture and soothing colors (whites, blues, and grays), but some are on the smaller side.
6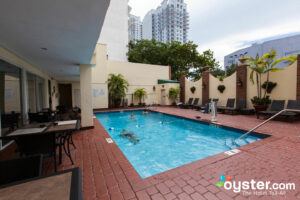 The 200-room Holiday Inn Port of Miami-Downtown is a city gem for budget-conscious travelers, offering a prime location, outdoor pool, casual bar and grill, gym, and even same-day dry cleaning. Classic rooms have flat-screen TVs and mini-fridges, and some have Brickell Key views. However, some rooms do have outdated and worn decor, and the mid-range chain style isn't for everyone. For newer and better-looking rooms, try the Courtyard by Marriott Miami Downtown.
7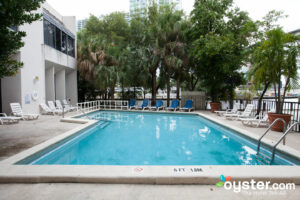 The 149-room River Park Hotel & Suites Downtown/Convention Center is an no-fuss budget hotel with classic decor, a pool, and a prime Miami River location that appeals to budget-conscious guests and cruise ship travelers. Traditional suites offer sitting areas and kitchenettes. However, some furnishings are outdated and worn and there's no Internet in the rooms, only the lobby. Compare prices at the nearby Hampton Inn & Suites Miami/Brickell-Downtown, which has more modern rooms.
8
What the budget Leamington Hotel has going for it -- aside from rock-bottom prices -- is its downtown location close to the Bayside Marketplace and the Port of Miami, a major cruise ship port. The 105-room hotel itself is barebones basic, and could use a refresh. Its only common area is a breakfast room in the lobby, where a continental breakfast of coffee and various breads is served for free. Rooms come with free Wi-Fi, AC, flat-screen TVs in some, and while they have bright accent walls, they show some wear and tear, and guests have complained about cleanliness, particularly in the bathrooms. The nearby River Park Hotel & Suites Downtown is similarly priced and offers a little more in the way of decor, but it's farther from the cruise port and doesn't have in-room Wi-Fi.