Best Value Hotels in Williamsburg, VA
From Colonial Williamsburg to Busch Gardens, the Williamsburg, Virginia area has an embarrassment of riches when it comes to attractions — but you don't need to be loaded to book a great hotel here. Plenty of comfortable venues offer tidy digs at rates well below $200 a night. Some even bump down to the $100 mark or lower, particularly during the off season. Below are our picks, all offering low rates and plenty of extra perks adding to their overall value.
Formerly a Days Inn, the three-pearl Comfort Inn Williamsburg Gateway offers modern and clean accommodations that are only a short drive from Colonial Williamsburg and other area attractions. The property remains bright and fresh following a 2015 renovation, with a lovely lobby and tidy grounds. Generous freebies include a hot breakfast, parking, and Wi-Fi. It also has an outdoor pool and fitness center (although both are smallish). But for many guests, the real highlight is the comfortable and well-equipped rooms with microwaves, mini-fridges, and coffeemakers. Two-bedroom, two-bathroom suites also are available.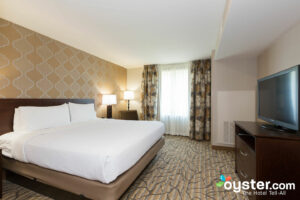 For travelers that don't mind a short drive to the historic center, the three-pearl Holiday Inn Hotel & Suites, Williamsburg-Historic Gateway has plenty of appeal, particularly for families. Renovated in 2016, this hotel is a step up from many properties in the Holiday Inn chain. More than half of its 96 guest rooms are spacious suites, some of which offer two bedrooms and two full bathrooms. They're also nicely outfitted with mini-fridges, microwaves, Keurig coffeemakers, and free Wi-Fi. There's a full-service restaurant and bar, plus a small 24-hour gym and indoor pool with a whirlpool.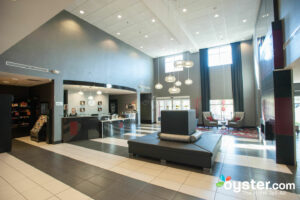 Built in 2010, this 77-room, all-suite hotel is one of the best values in the area, considering the amount of space and range of amenities on hand. Major draws include a free hot breakfast and an indoor pool and whirlpool, and there's even a game room on the premises with a pool table and air hockey. Rooms are surprisingly spacious, and well-equipped with coffeemakers, mini-fridges, and microwaves. Decor feels fresh and modern, too, particularly compared to other budget options. The location is another major draw as its central to top Williamsburg attractions. Families are the norm here, especially during the summer, though business travelers are also drawn in by the ample perks.
Comfortable and convenient, the three-pearl Hilton Garden Inn Williamsburg is a great choice for tourists visiting the area's attractions, although it isn't within walking distance of Colonial Williamsburg. The lobby has some charming accents, and its 119 pleasant guest rooms are nicely equipped, with flat-screen TVs, Keurig coffeemakers, microwaves, mini-fridges, and free basic Wi-Fi. The hotel offers a hot breakfast buffet for a modest fee and a bar, plus evening room service is available from a local restaurant. Other highlights include an indoor pool and a fitness center. While both are on the small side, they're welcome perks for the price point.
The Hampton Inn & Suites is a dependable brand often providing good value, and this outpost is no exception. Located less than a mile from Colonial Williamsburg and 10 minutes from Busch Gardens, this mid-range hotel caters to tourists and business travelers on a budget. Guest rooms provide plenty of helpful extras such as mini-fridges, microwaves, and coffeemakers, plus comfy beds. A free breakfast buffet, indoor pool, and modern fitness center adds to its appeal, and the free Wi-Fi and parking don't hurt, either.