The term "boutique hotel" can be applied to a host of very different properties -- whether quaint or trendy, traditional or avant-garde. But they all have at least one thing in common: They're intimate, and fewer rooms means fewer guests get to experience them, so staying at one can feel like discovering a secret hideaway. But secrets are no fun if you don't get share them -- so we're spilling the beans on 11 of our favorite boutiques across Europe.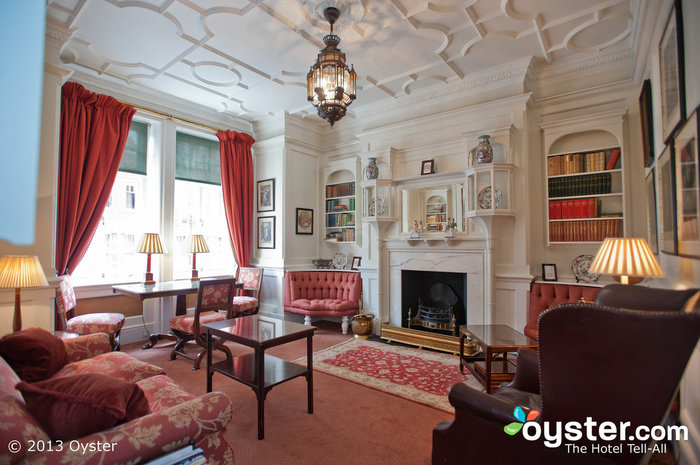 This 35-room combo of Edwardian townhouses is warm and intimate with a country home feel, and in a great location for exclusive West End shopping. With wonderful boutique perks such as the free English afternoon tea (guests at other hotels will have to pay at least a £15 premium to enjoy such a tradition), free pre-dinner champagne, and free hot chocolate before bed, it's hard to find much at the Draycott to complain about. Unless, of course, your priorities are a pool and fitness center, both of which the hotel lacks.
With a sweeping private entrance surrounded by green lawns and an impressive fountain, the upscale Saint James is a rare find in Paris — in fact, the 19th century manor is considered the only chateau-hotel in the city. It's fitting that the hotel is located in the wealthy 16th arrondissement (and yes, valet parking is included). The 48 rooms and suites are large by Paris standards, and decorated in plush luxurious fabrics. But the common areas are more impressive — especially the black and white grand staircase on the main floor.
This exclusive 15-room luxury boutique hotel embodies contemporary style at its best, fitting right in in a city that treasures design. Rooms are avant-garde, from the clean, white and beige decor, to the modern under lighting, to the remote-controlled blinds, to the Bang & Olufsen sound system. An amazing spa with Turkish baths shouldn't be missed, and the hotel's Michelin-starred on-site restaurant is a highlight.
This upscale boutique hotel, with just 12 rooms, is housed in a gorgeous historic mansion less than 10 minutes from the Trevi Fountain. Despite its small size, the hotel goes above and beyond with the amenities, offering a gym, spa, lovely outdoor garden, excellent free breakfast, and free Wi-Fi. The rooms blend elegant decor (antique furniture and artwork, patterned bedspreads, crown moldings) with modern technology (iPod docks, flat-screen TVs). The luxurious, large marble bathrooms are the highlight — all have separate showers and tubs. Many of the rooms overlook the hotel's private courtyard.
Canal House Hotel is a sumptuous 23-room boutique hotel towering above a canal in Amsterdam's Canal Ring district. The lovely brick front suggests something more traditional, but the interior is flashy and fashionable. Swanky rooms are among Amsterdam's most luxurious, and are decked out with rich purple fabrics and dark woods. More modest travelers might have an issue with the open layouts of some room types, though parts of the bathroom are enclosed. Throughout, bathrooms feature gorgeous tiling and modern basin sinks; many have soaking tubs as well as walk-in showers with rainfall showerheads.
This intimate, family-run boutique is ideal for those seeking an authentic stay in Florence within easy reach of tourist sights. Built centuries ago as the home of a Florentine merchant family, this property was inherited through marriage by the Niccolinis in 1891. They have kept its historic charm intact, having preserved the wood-beamed ceilings and frescoed walls. Each guest room has a unique layout, but all are furnished with antiques, flat-screen TVs, and stocked mini-fridges. Many have large windows that feature stunning views of the iconic Duomo cathedral across the street.
Hotel Les Amures is a quaint luxury boutique with a fabulous location in Old Town. The 32 rooms in this 17th century mansion are charming and high-end, with details such as wood-beamed ceilings, faux-fur throws, and stone walls that create a chalet-like vibe. The style extends into the restaurant, breakfast room, and common spaces — beamed ceilings are present throughout, and there's even a suit of armor in the lobby. The hotel attracts well-heeled couples and even the occasional celebrity (George Clooney stayed here).
The Tigerlily is housed in an historic Georgian townhouse, but inside, it's thoroughly modern. This stylish 33-room boutique attracts guests with its gorgeous rooms and convenient New Town location, within walking distance of sights, restaurants, and shops. The hip bar and restaurant, where guests and locals can enjoy tasty cocktails and organic meals, features funky chandeliers, bright velvet furniture, and patterned wall panels. The rooms are high-tech, with flat-screen TVs at the foots of the beds and pre-loaded iPods, and have wood floors and sophisticated contemporary style.
The historic Solar Do Castelo is different than any other hotel in Lisbon. The rooms are quaint (if not luxurious), but the real reason tourists stay at this hotel is the location; not only is it convenient to numerous sights and neighborhoods in the city, but it is the only hotel within the walls of the medieval village surrounding St. George's Castle. It's quiet, and rich in history — the hotel has preserved a large part of the architecture, as well as adding a small museum of artifacts off of the lobby. And a real highlight is the outdoor terrace, where peacocks congregate. None of the 14 rooms are decorated the same, and some feel more upscale than others. But all offer free Wi-Fi and plenty of charm.
The boutique Hotel Palazzo Stern is housed in a restored historic building on the Grand Canal, with sections dating back to the 15th century. The room decor is in a traditional Venetian style, with crystal chandeliers and luxurious curtains, but it's not overly stuffy. Amenities include flat-screen TVs and Wi-Fi, and beautifully updated bathrooms come complete with towel warmers. The small bar and a whirlpool on the rooftop terrace are highlights.
RELATED LINKS
All products are independently selected by our writers and editors. If you buy something through our links, Oyster may earn an affiliate commission.