Once you've covered Tokyo's major sights and had your fill of its big city bustle, it's time to hop on a train and plan a day-long getaway. This is easy to do, thanks to Japan Railway's efficient network: There's a surprising variety of destinations within easy reach of the capital. In no time you can be in a completely different scene exploring temple towns, pottery villages, Zen-like gardens, tiny islands, and blissful beaches. Here are 11 enticing day trips to take from Tokyo.
1. Chichibu-Tama National Park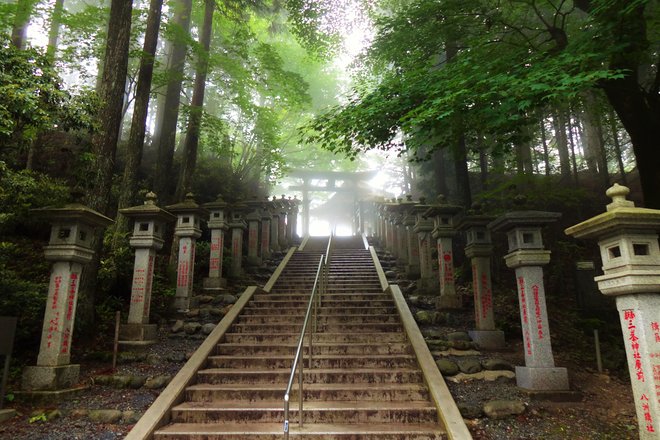 Nature lovers and outdoor enthusiasts are often drawn to Chichibu-Tama National Park (just 75 miles west of Tokyo) for the exceptional hiking possibilities that take trekkers through river valleys and mountain landscapes. A popular climb is to the top of Mount Kumotori — at 6,620 feet, this is the highest mountain in the Tokyo Metropolitan area, and Mount Fuji can be seen from here on clear days. A less demanding but equally rewarding hike is up the 3,609-foot-high Mount Mitsumine. The scenic forest pathway to the top takes hikers up a flight of stairs to an ancient Shinto shrine at summit of the mountain.
Another impressive sight (that doesn't require a vigorous hike!) is Hitsujiyama Flower Park with looming Mount Buko as a backdrop. This is where a sea of "shibazakura" (moss phlox) is in bloom every spring, creating a stunning carpet of pink and white blossoms. This sight can only be enjoyed in late April and early May, which is also when the park's 1,000 cherry trees bloom, creating a magnificent natural spectacle.
About 70 miles north of Tokyo lies Nikko, an 17th-century UNESCO Heritage Site of 103 shrines, temples, and other historical buildings. The complex is set in a national park of dense forests, mountain landscapes, waterfalls, lakes, and hot springs. This is a popular day trip with Tokyoites who come to escape the hustle and bustle of the city and take in the special spiritual vibe here. The lavishly decorated Toshogu Shrine is embellished with wood carvings and gold leaf and is the most popular attraction here. But there are other fascinating sights, like the the Shin-kyo Bridge, painted a bright red and spanning a rushing stream, and the Kanman-ga-Fuchi Abyss, a forest path lined with a neat row of jizo stone statues which represent the figure of Buddha as a monk.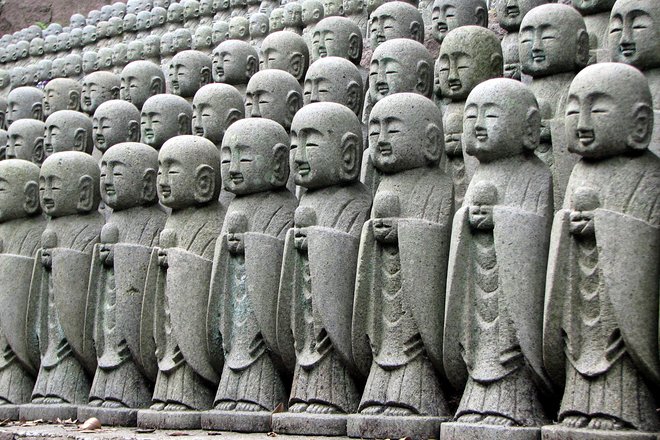 This small seaside town is a former Japanese capital and is famous for its giant 15th-century bronze statue of the Great Buddha of Kamakura (Kamakura Daibutsu) — this is Japan's second tallest Buddhist statue at 44 feet. Another important attraction is the massive Tsurugaoka Hachiman-gu, Kamakura's largest Shinto shrine, while the more peaceful Jomyo-ji temple is worth visiting for its beautiful Zen-style garden and traditional teahouse. The town's many other Buddhist temples, shrines, and monuments can be easily explored thanks to Kamakura's own mini railway system, which shuttles visitors around from one sight to the next. Kamakura is located only 37 miles southwest of central Tokyo, making this an easy day trip.
4. Mount Fuji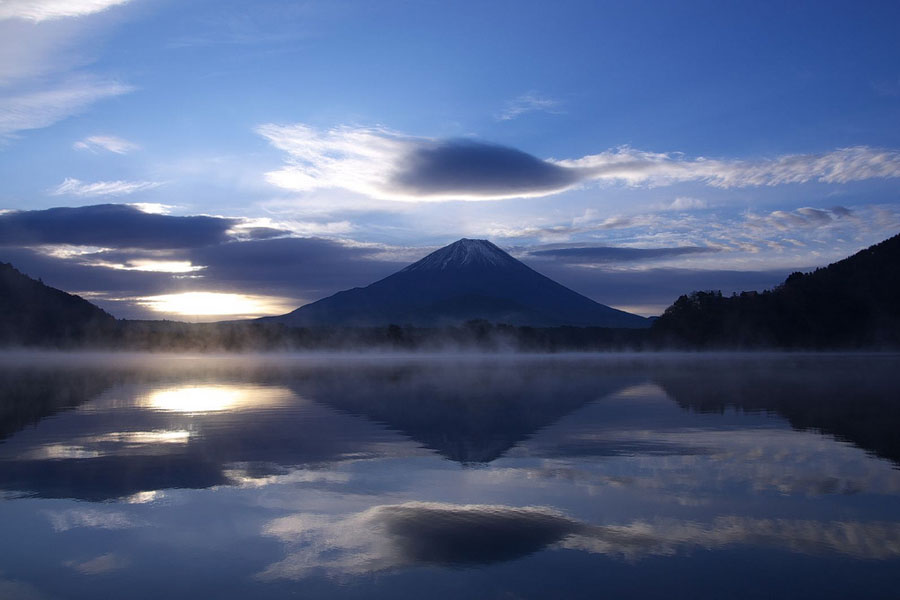 Mount Fuji is Japan's most iconic image and its highest mountain at 12,388 feet. Interestingly, this cone-shaped volcano was recognized by UNESCO in 2013 as a cultural heritage site instead of a natural one because the mountain is considered to have "inspired artists and poets and been the object of pilgrimage for centuries."
Located 62 miles southwest of Tokyo, a day trip to Mount Fuji is certainly doable, but those wishing to scale the mountain will have to set aside more time and plan their ascent carefully. The climb is actually a challenging one, and the climbing season is only limited to the months of July and August, with most climbers making the ascent at night to arrive at the summit in time for sunrise.
But outside the climbing season, the scenic lakes situated at the base of Mount Fuji provide the perfect vantage point to admire the majestic mountain. Many visitors also make a visit to the 400-year-old Fujiyoshida Sengen Shrine set in a dense forest on the north side of the mountain. This is where hikers traditionally offer their prayers before passing under the wooden "torii" gate and beginning their ascent.
5. Enoshima Island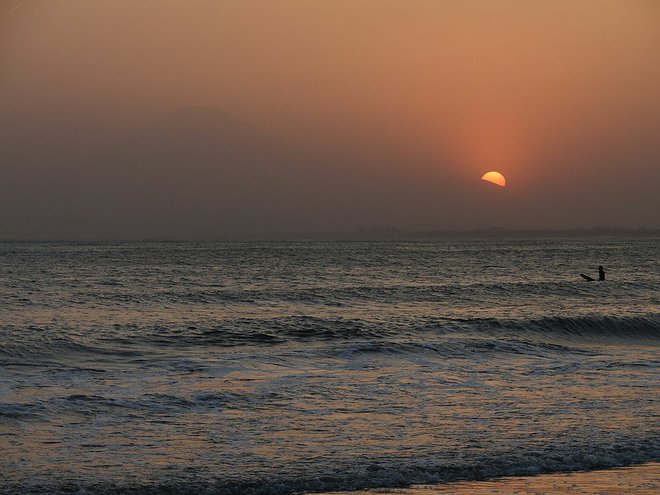 This tiny 1.5-square-mile island is located 36 miles southwest of Tokyo. It can be reached on foot or by car via a causeway that links it to the mainland. Once on the island, visitors will find beaches, hot springs, a botanical garden, and the Iwaya Caves, where statues of the Buddha and a mythical dragon are concealed underground. A climb up the Sea Candle lighthouse rewards visitors with panoramic views over the island. Another must-visit is the Enoshima Shrine dedicated to Benzaiten, the Buddhist goddess of music. A popular local delicacy the island is known for is "shirasudon": rice topped with a tiny worm-like white fish called "shirasu."
Most travelers to Japan know Narita as the home of one of Tokyo's major international airports, situated about 38 miles east of central Tokyo. But Narita itself is worth a stopover for its many atmospheric temples and picturesque streets lined with traditional buildings. The airport even has organized tours for passengers on a layover, which include a guided two- or three-hour tour of the area.
A must-visit is the 1,000-year-old Naritasan Shinshoji Temple set in vast and quiet grounds full of multi-tiered pagodas. A "goma" fire ritual is performed here every day, during which prayers and chanting are offered to the gods. A highlight is the open-air museum at nearby Boso no Mura, which is a replica village from the Edo period (17th to 19th centuries), made up of traditional merchant houses and workshops showcasing local handicrafts.
7. Izu Peninsula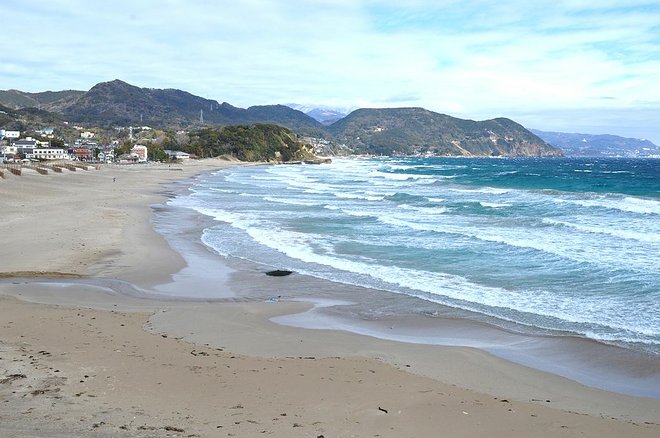 The Izu Peninsula is a popular resort destination thanks to this coastal region's mild climate and its many beaches and hot springs. The towns of Atami, Shuzenji, and Ito are known for their "onsen" resorts where locals love to go to soak in the natural hot springs while enjoying the sea air and mountain scenery. The eastern coast of the peninsula attracts beach lovers and surfers, while the more rugged west coast is popular with hikers looking to take in the impressive views of Mount Fuji from here. With only a distance of 100 miles to cover from Tokyo, the Izu Peninsula attracts plenty of weekend leisure travelers.
8. Mashiko
Charming, rural Mashiko is synonymous with pottery. Here, a community of potters work their wheels creating the town's famous ceramic pottery, called mashiko-yaki. It's fired in giant kilns that can be spotted outside the town's many workshops. The town's main street is lined with shops where the potters' wares can be purchased, as well as galleries and museums showcasing the local artisans' crafts. At the Mashiko Museum of Ceramic Art, visitors can even try their hand at the wheel. The town is at its busiest during its biannual pottery fair held here every May and November. With only 86 miles to cover from Tokyo, Mashiko is an easy day trip.
9. Kawagoe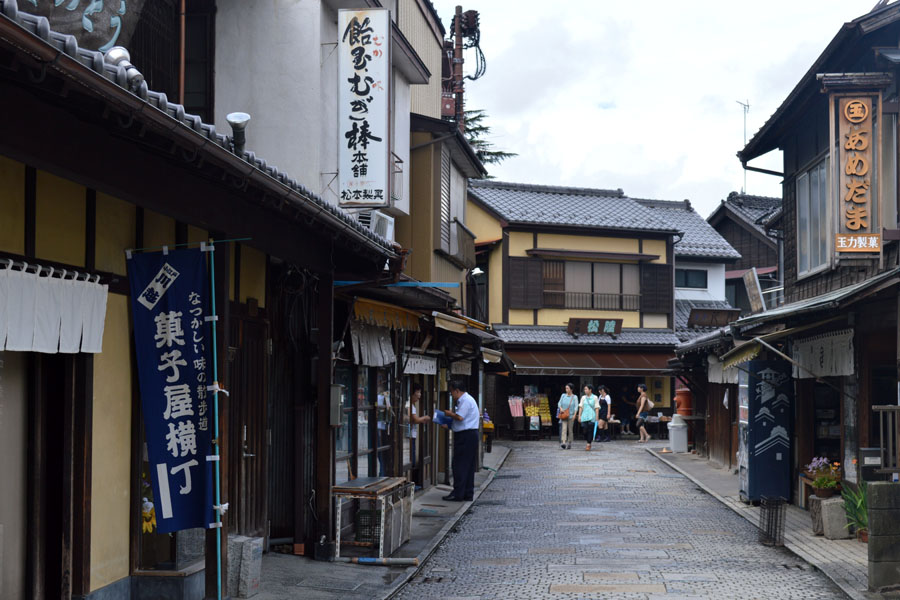 Just 32 miles northwest of Tokyo is Kawagoe, a former city of castles dating back to the Edo period. The warehouse district is worth exploring for its many fine examples of historic warehouses built of clay and traditional merchant houses with sloped roofs covered in glazed ceramic tiles. Always crowded with shoppers is the narrow "candy alley" lined with stores selling traditional Japanese sweets like sugared coated and deep fried "karinto" biscuits, small cakes made of red bean paste and sweet potato, and flavored rice crackers.
Kawagoe's most visited attraction is the Kitain Buddhist temple, built on the remains of an Edo-period castle — the only remaining vestiges of the city's many erstwhile castles. In a small courtyard on the temple grounds are 540 stone statues depicting "gohyaku rakan," the Buddha's disciples. Each figure has a different facial expression: Some are laughing or scowling, while others are pouting or weeping.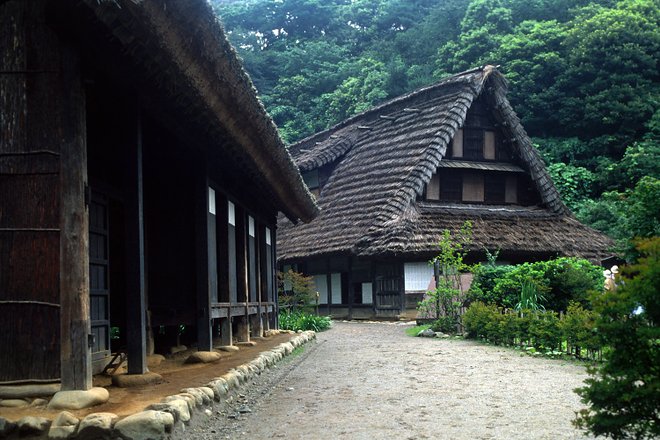 Twelve miles southwest of Tokyo is Kawasaki, a largely industrial city that also offers visitors a taste of traditional Japan and its rustic architecture of times past. Located here is Nihon Minka-en, an open-air museum comprising a collection of 25 traditional Japanese buildings and houses from the Edo period. These were brought from all over the country and reassembled here, with the oldest building dating back to 1688. Visitors can see intricately restored examples of traditional farmhouses, merchant houses, samurai dwellings, a water mill, a Shinto shrine, and even a kabuki stage.
Kawasaki is also known for one of Japan's most outlandish festivals. Each April, the "Kanamara Matsuri" is held here, also known as the "Festival of the Iron Phallus." This is a day-long festival celebrating fertility that involves parading giant penises through the city streets all the way to the local Kanayama shrine, where worshipers come to ask for protection from sexually transmitted diseases, increased fertility, long marriages, and healthy births.
11. Mito
A trip to Japan is incomplete without the experience of visiting one of its atmospheric Zen-like gardens. One of the country's three most famous gardens is located in Mito, just 74 miles from central Tokyo. The Kairakuen Gardens (meaning "a garden to be enjoyed together") were first planted in 1842 and cover an area of 18 acres with bamboo groves, woods of fragrant cedars, and 3,000 "ume" plum trees. These bloom in late February and early March, creating brilliant canopies of white, pink, and red blossoms and attracting crowds of visitors.
Need a place to stay in Tokyo? Check out our reviews and photos of 376 hotels.
You'll Also Like:
All products are independently selected by our writers and editors. If you buy something through our links, Oyster may earn an affiliate commission.