For most Americans, traveling abroad has become much more affordable than it was five years ago. Not only has the U.S. economy finally bounced back after the devastating financial crisis of 2008, but the ushering in of 2016 has seen the dollar increasing in value against most major currencies. However, many economists have suggested that the greenback's strength may be fleeting -- so you might as well capitalize on it now and visit these four countries where you'll get a substantial bang for your buck!
Caribbean vacations are often dismissed by shoestring travelers and bargain hunters as prohibitively expensive, but you can save a small fortune by foregoing tiny atolls where the economy is based entirely on tourism in favor of larger islands where other industries reign supreme. Occupying the eastern half of the island of Hispaniola, which it shares with Haiti, the Dominican Republic is one such place. According to Lebawit Lily Girma, author of the forthcoming Moon guide to the Dominican Republic, "Traveling on a lower budget in the Dominican Republic is possible — the bonus is getting a more authentic picture of the country, immersing yourself in the culture, and meeting Dominicans, who are very friendly. There are comfortable, scenic guesthouses — for example in the hills of Puerto Plata or in beach haven Las Terrenas — at under $50 a night."
The Dominican peso to U.S. dollar rate has been on a steady decline for the past five years; this time in 2011, the rate was around 38.7 pesos to the dollar, whereas a dollar will now get you closer to 45.7 Dominican pesos. It's also one of the cheaper places to get to, especially if you're coming from the East Coast of the U.S. If you're flexible with departure dates, you can currently find round-trip flights from New York to Santo Domingo for around $350.
Great Value Pick in Las Terrenas:
Although Hungary is a European Union member state, it isn't part of the Eurozone, so you'll need to be prepared to stock up on the
local currency — the Hungarian forint — when you arrive. The currency has been
on a steady decline against the U.S. dollar for quite some time: five years ago, when
the U.S. was still recovering from the financial crisis, a dollar would buy you
198 forint, whereas today the rate is closer to 277 to one.
Restaurant food is
generally cheap here and there are plenty of affordable hotels and even hostels
with private rooms in spots such as Budapest, making it a good spot for budget
travelers with more time than money. However, even those wanting a more
luxurious experience will find that a room in a high-end Budapest hotel costs a
fraction of what it might in other major European cities — even the Budapest
iteration of the generally expensive Four Seasons chain, the Four Seasons Hotel Gresham Palace, has rooms for under
$350/night in the off season. Best of all, Hungary is full of thermal springs — many of which are in Budapest — and a day at the spa, complete with a private
changing cabin, shouldn't set you back more than $20/person.
A Luxe (But Still Manageable) Stay in Budapest:
3. India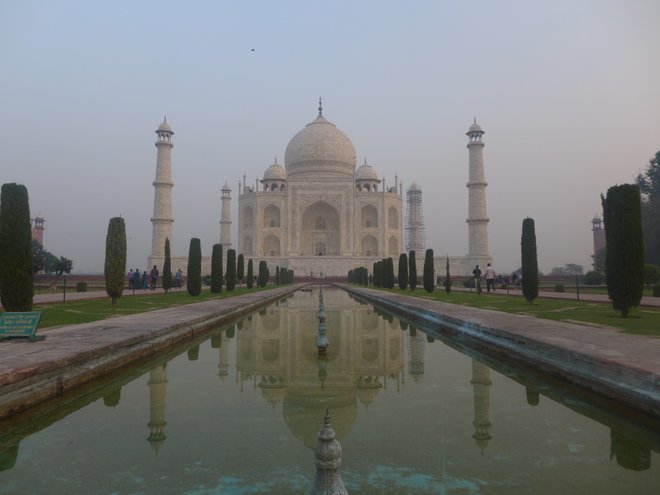 India has long been a favorite amongst budget travelers, though even those with a bit more cash to splash will find some excellent bargains here.
Though crowds and not-always-punctual transportation services make it among the
more challenging places to travel on this list, it's a spot where you
can count on your dollar going far. While prices for goods in services have
gone up in recent years, so has the strength of the dollar: just five years
ago, a buck was the equivalent of around 45 Indian rupees; today the exchange rate is
around 67 rupees per dollar.
Most tourist hubs have more than enough budget
guesthouses to go around, and it's not unheard of to pay under $10/night for a
room with a private bathroom outside of the major cities. And if you're more
after bargains than barebones budget travel, you'll find plenty of affordable
mid-range places to eat, sleep, and shop that will cost you a fraction of what
they would back home. Just beware: fine-dining establishments and bars and some
upscale hotels in India tack on various taxes, which means your bill could be
upwards of 20 percent more than you'd bargained for.
Political turmoil in the past few years has caused some travelers to balk at the idea of visiting Egypt, but as of the publish date, the U.S. Department of State does not have any warnings against visiting the region. Cairo and popular tourist destinations such as Alexandria and the Nile River Valley are generally safe, with excellent infrastructure to boot.
Attractions are affordable overall; it's just over $10 to visit the Pyramids of Giza and many of the major attractions in Luxor, including the Karnak Temples and the Valley of the Kings, are similarly priced. It's also a cheap place to stay, and you can find plenty of clean, oftentimes beautiful spots to lay your head for around $25/night, such as the historic Philip House Hotel on the Alexandria coast. Flights between major cities such as Luxor and Cairo are also reasonable (budget around $100 each way), but where you'll really save is on souvenirs; visit any of the local souks (bazars) and get ready to bargain. You should be able to leave with more scarves, Egyptian god statues, cotton garments, and locally produced essential oils than you'll know what do with — without feeling a strain on your pocketbook.
A Splurge-Worthy Hotel in Cairo:
Related Links:
All products are independently selected by our writers and editors. If you buy something through our links, Oyster may earn an affiliate commission.