With fall comes a cool and crisp breeze, leaves changing colors, Halloween, and lots of pumpkin-inspired food, drinks, and events. And while there are plenty of pumpkin spice lattes to sip, pumpkin pie and cream cheese to devour, and pumpkins to pick and carve, there are also many other wacky events that star the orange bulbous fruits. This season, mix up your visit to the pumpkin patch and make your way to one of these quirky, fun gourd-themed adventures, instead.
1. Ludwigsburg Pumpkin Festival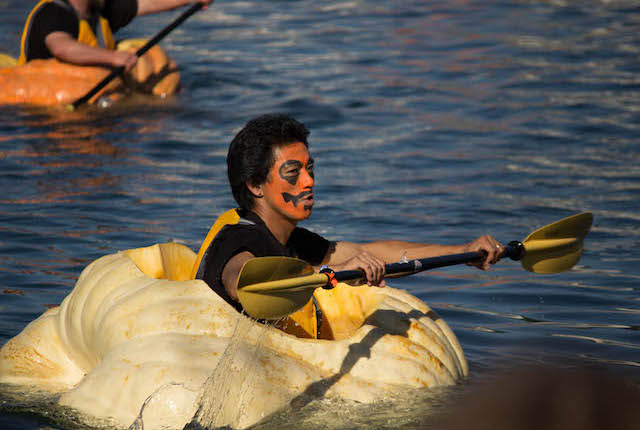 Never heard of Ludwigsburg in Germany? Don't worry, you'll never forget it after this. Each year, from September to the beginning of November, the city holds a huge pumpkin festival. Expect themed foods like a pumpkin burger and pumpkin popcorn, the biggest pumpkin soup in Germany, a pumpkin weigh off, and pumpkin sculptures that take the shape of trains, animals, and people. But that's not even the best part. The event also features the Pumpkin Regatta, during which participants climb into huge hollowed-out gourds and race with paddles on Castle Lake.
2. The Great Pumpkin Farm Fall Festival
https://www.instagram.com/p/80sUcDBFKY
With hayrides, a corn maze, and pumpkins on sale, The Great Pumpkin Farm in Clarence, New York might seem like a traditional pumpkin patch experience. Upon arriving, however, you'll see that it's anything but traditional. The farm hosts a fall festival that includes a zombie train, where riders can shoot targets with paintball guns. There's also a haunted barn, pumpkin slingshots, pumpkin Olympics, and a costume contest. Don't miss the world pumpkin weigh off and a hands-free pumpkin pie eating competition, where professionals attempt to go for a new world record. Molly Schuyler holds the world record, after devouring 47 slices in 10 minutes in 2015. And if you'd rather join in on the fun, there's an amateur contest held the day before, on October 22.
3. The Great Jack O'Lantern Blaze
A trip to The Great Jack O'Lantern Blaze will have you in the Halloween spirit in no time. Here, guests can walk down the Pumpkin Promenade and admire 7,000 carved jack o'lanterns that are designed and hand-carved by a team of talented artisans. From aquatic creatures to dinosaurs and colorful clowns — all in jack o'lantern form — you'll be thoroughly impressed. Located at the Van Cortlandt Manor in Croton-on-Hudson, New York, the event also includes a Pumpkin Planetarium, where you can marvel at a mesmerizing ceiling made up of intricately carved and lit pumpkins.
4. The Great Highwood Pumpkin Festival
https://www.instagram.com/p/uUS-HlntT4/
Ever wanted to be part of the Guinness World Records? Give it a shot by attending The Great Highwood Pumpkin Festival. From October 7 to 9, participants attempt to beat the world record of 30,581 jack o'lanterns being carved and lit at the same time. The organizers ask visitors to bring their own carved pumpkins and candles. So, what's in it for you? Those who bring a carved pumpkin will receive a free weekend pass to the event. The best part: the festival, which works with the Make-A-Wish Foundation, has a goal of raising $600,000 to help grant 100 wishes to Illinois children with life-threatening medical conditions.
5. Rise of the Jack O'Lanterns
Those who can't make The Great Jack O'Lantern Blaze in New York can head to the Rise of the Jack O'Laterns, which is held in New York, New Jersey, Boston, and Los Angeles. Here, 5,000 fresh jack o'lanterns are arranged along a scenic path and set to a musical score. Expect to stumble upon life-sized dinosaurs, dragons, safari animals, and more along the way. And if you want to see how the magic happens, stop by the live carving stations to watch the artists create the displays.
6. Pumpkin Smash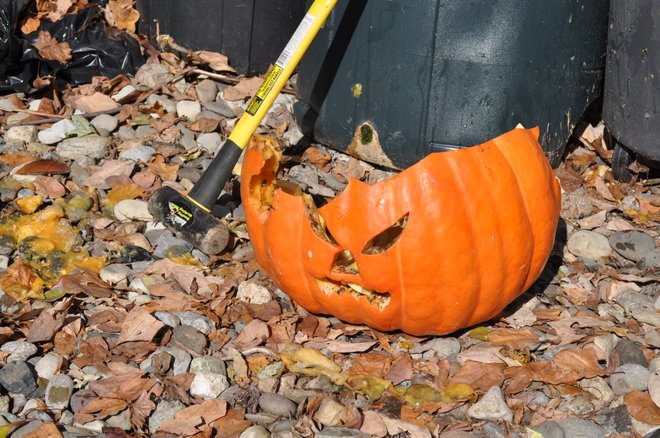 Come November, there are several events that bid adieu to pumpkin season. There's a free Pumpkin Smash at the Santa Barbara Zoo on Thanksgiving Day, where visitors can watch elephants, gorillas, and other animals play with the gourds. Clear Creek County of Colorado also hosts a free Pumpkin Smash (BYO pumpkin) on November 5. Here, guests will get schooled on composting etiquette while being able to smash pumpkins with mallets, baseball bats, and even slingshots. The Carnegie Science Center in Pittsburgh rolls jack o'lanterns off the roof and features exploding demos of pumpkins throughout the day. Regardless of which you choose, it's a good way to say farewell to the season.
Related Stories:
All products are independently selected by our writers and editors. If you buy something through our links, Oyster may earn an affiliate commission.