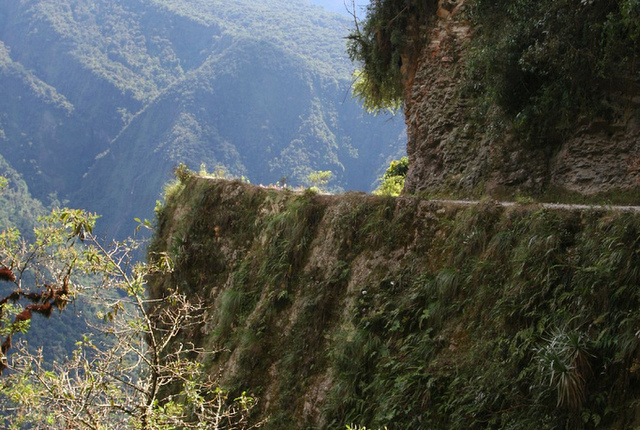 Bolivia's Yungas Road has been dubbed the most dangerous road in the world. See a photo of it (like the one above) and you're immediately hit with a feeling of impending doom. So imagine approaching the dirt road, twisting and turning at an altitude over 15,000 feet, from behind the wheel. Fortunately, travelers don't have to -- in 2009, construction of an alternative road was completed. Today, those traveling along Yungas Road are exclusively thrill-seekers.
But what about those scary roads that travelers basically have to confront? The ones that lack alternatives, snake across rural towns to remote destinations, undergo unpredictable weather conditions, or even are known for high murder rates in the wooded areas they cut through? They may not make the list of the most dangerous roads in the world, and some residents and professional truck drivers amble along them daily, but these six drives around the world are actually more dangerous than you think.
1. Kahekili Highway, Maui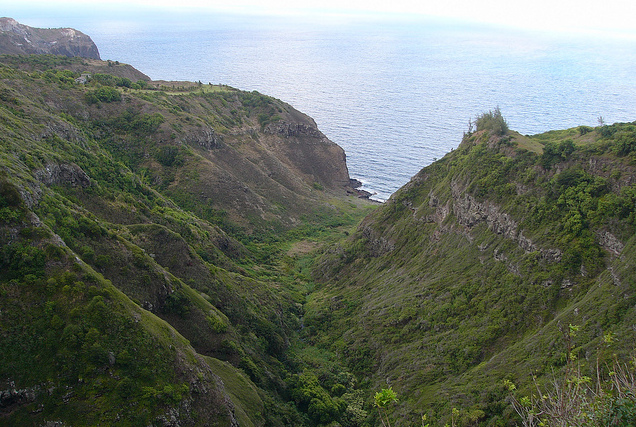 Some refer to this road as the "death highway of Maui" (yikes), and many car rental companies state in their agreements that renters are not covered if they drive this highway. Snaking along the northern coast of West Maui, Kahekili Highway is considered a scary — but scenic — way of taking in Maui's beauty, and it's how tourists can visit quaint spots like Turnbull Studios and Sculpture Garden. Though it's a narrow 20-mile (now paved) pass, it allows traffic in both directions, and hazards such as a lack of lighting, falling rocks, and poor visibility make it particularly treacherous.
"I went on a family vacation to Maui a few years ago and we decided to try to drive Kahekili Highway…as an alternative to the Road to Hana. We thought it would about on par in terms of narrow, windy roads — we were wrong," says Kelsey Blodget, Oyster.com's executive editor. "Picture one lane in the cliff face with a sheer drop below and no guard rail. There were parts where it felt like there was not an inch to spare past the tires of the car. I've never been so scared in a car in my life. There are definitely scenic parts, but the Road to Hana has a lot more to offer in terms of sightseeing and felt far less dangerous."
2. Gap of Dunloe, Ireland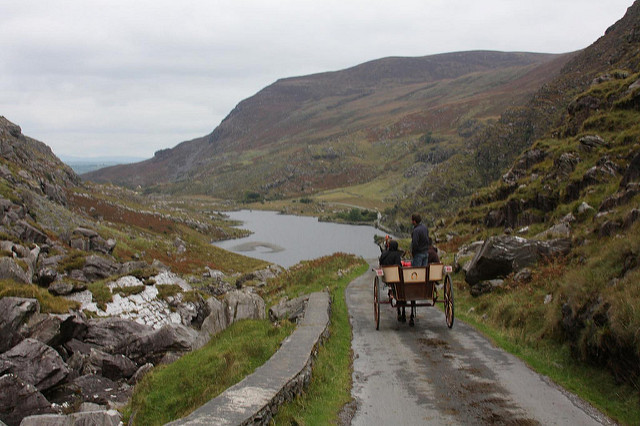 A country defined by quaint rural roads, Ireland reports staggeringly low car fatality rates compared to the U.S., and even neighboring Great Britain; in 2015, there were only 159 fatal collisions reported in Ireland. However, roads — particularly those in the countryside — can be winding and relatively unfinished, with no paving or lighting. And for foreign tourists, driving on the left-hand side of the road can pose additional difficulty. One road known for its difficulty to navigate is the Gap of Dunloe in County Kerry, the county which, subsequently, had the second highest road death rate in Ireland in 2013. Though the road is a popular tourist attraction thanks to its stunning scenery, most tourists choose to traverse the narrrow mountain pass in a horse-drawn carriage — and it's much safer to go when the weather is nice.
3. Highway 16, British Columbia
Though 18 cases of the murder or disappearance of missing women have been linked to a section of British Columbia's Highway 16, known as the "Highway of Tears," from 1969 to 2006, it didn't receive significant media coverage until "The New York Times" reported the story in May 2016. Winding through wilderness and passing through small indigenous towns, this highway is surrounded by thick forest — meaning murderers and kidnappers, most of whom preyed on aboriginal female hitchhikers, have yet to be caught. Plus, many advocates believe that the cases haven't been given proper attention due to racism against the indigenous communities in the area. A billboard along the highway warns women not to hitchhike, a practice many resort to as the area has extremely limited public transportation.
4. Million Dollar Highway, Colorado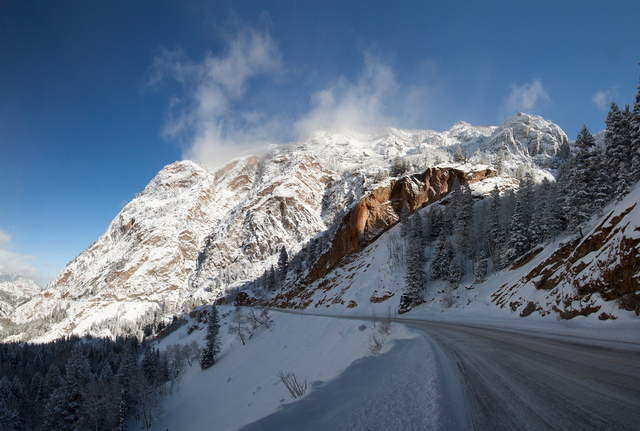 Million Dollar Highway, a 25-mile stretch along Colorado's Highway 550, is breathtaking; some confuse the origin of its "million dollar" moniker with its million-dollar views. Instead, it's dubbed such as locals claim they'd have to be paid a million dollars to drive that stretch in the snow. Understandably so; soaring 11,000 feet above sea level, the road — which lacks guardrails — curves along the mountains at a steep grade. It also boasts North America's highest avalanche hazard (per mile). Nonetheless, with about one road-related death per year, Million Dollar Highway causes a below-national-average number of accidents.
I've personally taken this drive, though, and it at least felt as if I defied death on the long way between a friend's home and the slopes of Telluride. We were traveling south, which meant we were on the mountain's edge as 16-wheeler tractor trailers came barreling north on the inside lane. Fortunately, I was not at the wheel — because my eyes were closed nearly the entire time.
5. Route 622, Iceland
https://www.instagram.com/p/BHANRGJNjnI/
A country of nearly 40,000 square miles with fewer than 330,000 residents, Iceland has one of the lowest population densities of any country in the world. So it's not so surprising that roads here — particularly those in the great wide open — are not the best maintained. A dangerous one that many travelers encounter is Route 622 in Westfjords, a northwestern region of Iceland. Visitors in 4x4s willingly face dangers such as rough terrain, tight cliffside turns, avalanches, and landslides in order to take in the stunning mountain and coastal views. Travelers should be aware that, due to various weather conditions, the road can close unexpectedly.
Route 622 may be the most dangerous, but Iceland's roads can all be treacherous at times, especially when the weather turns (which it often does). Maria Hart, editor at Oyster.com, shares her experience traveling to a remote cabin on a recent trip to the country. "On our trip out there, we took a little detour to explore the incredible twisting roads that twirled up the side of the cliffs. Unfortunately, just as we started to ascend a soft, misty rain began to fall, she says. "The rain mingled with the icy ground and rose into a dense fog, completely enveloping the car. It was like being in a horror movie. Once that happened, this picturesque mountain path felt more and more like a death trap — with no guard rails to stop us from tumbling over the side. Eventually, we inched the car back down the mountain, but my heart was in my throat the whole time."
6. Highway 1, California
Spanning over 655 miles, this coastal drive starts up in the northern parts of Mendocino County and snakes down to Orange County, running concurrently with U.S. 101 along the way — including in a stretch across San Francisco's Golden Gate Bridge. It's considered one of the country's most scenic routes, and it truly is beautiful — but drivers can easily get distracted by the views, and additional hazards, including mudslides, steep drop-offs, hairpin turns, and narrow shoulders. At times quite steep and/or twisting, Highway 1 can be particularly difficult to navigate in foggy weather; unfortunately, there have already been several deaths along the highway this year.
Alisha Prakash, editor at Oyster.com, took the drive with her boyfriend several summers ago during a cross-country road trip. "On one side, there are drop dead gorgeous hills and mountains. On the other, you have the Pacific Ocean. Sounds gorgeous, doesn't it? Well, it was — except for the fact that on the ocean side of things (at most a few feet away from the tires), there was no guard rail," she explains. "With nothing standing between our overworked Honda Civic and a long cliff drop, I began to panic. 'Don't worry — everyone will be driving at a turtle's pace,' my boyfriend assured me. Spoiler alert: We were both wrong. While I chose to drive at a speedy 15 mph (yes, really), plenty of folks had no qualms about honking, only adding to my jittery nerves. At the end of it all, I did earn some major bragging rights. And the stunning views along the way were pretty killer, too."
Still traveling with that carry-on from high school? It's time for an upgrade. With a TSA-approved lock, USB port, 360 degree spinning wheels, and a super hard exterior shell, this bag is built to be the last you'll ever buy.
Related Links:
All products are independently selected by our writers and editors. If you buy something through our links, Oyster may earn an affiliate commission.