If there's one way to describe Budapest, it's 'the best of both worlds.' Buda, the quieter and more residential area, lies on the west side of the Danube River, and its flatter, livelier counterpart, Pest, sits on the east. In 1873, the two became one. Often called the "Paris of the East," the Hungarian capital is home to picturesque architecture, soothing Turkish bathhouses, romantic views, vibrant nightlife, and flavorful cuisine during all four seasons. But it's more than just a pretty face. Under its gorgeous façade lies layers of rich and complex history, too. And while there's really no bad time to visit Budapest, there's something about the winter that makes it especially magical. Here are seven reasons why.
1. It's the perfect time to hit the Turkish baths.
When the temps touch a staggering two degrees, soaking in a warm thermal bath will feel especially satisfying. The baths, a staple of the city, offer refuge from the frigid outdoors with their saunas, steam rooms, and heated pools that are fueled by natural springs. Szechenyi, Europe's largest medicinal bath, dates back to 1913 and is open year-round. Even on the coldest days, you'll likely find locals and tourists relaxing in the saunas as well as taking a dip in the indoor and outdoor pools, which can become a sizzling 80 to 100 degrees. The stunning Gellert and Kiraly are two other popular bath options, too.
2. And fill up on the hearty fare, hot mulled wine, and beer.
Nothing tempers the sting of the blistering cold weather like a steaming plate of sweet paprika-packed gulyas (or goulash). Rich and flavorful, the stew-like dish consists of beef, veggies, and potatoes served with a slice of bread. A piping hot cup of mulled wine, which can be found in many of the Christmas markets around the city, will also keep things toasty. But beware: one sip of the palate-pleasing potion of red wine, sugar, spices, and fruits and you'll be hooked.
If you're a beer-drinker, make your way to one of the city's ruin pubs. Located in formerly abandoned buildings, these spots are popular for those looking for a place with cheap brews and a friendly atmosphere. Many have outdoor areas and live music. Szimpla Kert, the first ruin bar, features kitschy furniture, an outdoor garden, and affordable booze. Here, there's nothing a beer jacket won't be able to cure when it comes to the cold.
3. The Christmas markets are magical.
The upside to the sun setting so early? All the pretty lights that decorate the Christmas markets. There are plenty of fairs peppered around the city, doling out treasures like ceramics, toys, arts and crafts, artisan foods, produce, and more. We recommend making your way to the one on Vörösmarty Square. Whether you're doing some last-minute shopping or popping in for a quick snack, strolling through this market will make you feel like you've stepped into classic holiday movie.
4. Sight-seeing feels more romantic.
Sure, St. Stephen's Basilica, Matthias Church, and Buda Castle look spell-binding any time of year, but the architecture gets an added touch of romance when it's topped with a powdery blanket of snow. Plus, the buildings are just as pretty from the inside as they are on the outside. Heroes Square (a statue complex), the Great Synagogue (the world's largest), and the sweeping panoramic views from the Chain Bridge as well as Fisherman's Bastion have a uniquely enchanting look when it's frosty. And when you need to warm up inside (trust us, you will), there's plenty to do and see, too. Catch a ballet or opera at the beautiful Hungarian State Opera House, soak in some culture at the Museum of Fine Arts, or enjoy an organ concert at St. Stephen's Basilica.
5. You can stay toasty in the historic coffee houses.
Spending plenty of time inside sounds pretty good when it means holing up in one of the city's cafes (or kávéház). The coffee culture in Budapest originated during the Turkish invasion in the 16th century and only continued to flourish in the 19th century. The kávéház served as a meeting place for writers and artists back in the day. Today, customers can sip on coffee, indulge in a pastry, and savor the décor. And you'll have plenty of options to choose from, like the boho atmosphere at Művész Kávéház or something a little more sophisticated and refined at Gerbeaud.
6. Some activities you can only indulge in during the winter.
Come winter, tourists and locals flock to the City Park Ice Rink for a fairytale-like experience. The majestic Vajdahunyad Castle serves as the backdrop for folks gliding on the frozen lake with friends and family. The rink, which opened in 1870, is the largest (and one of the oldest) in Europe, giving the popular wintertime activity a dose of history, too.
7. You'll feel like you have the place to yourself.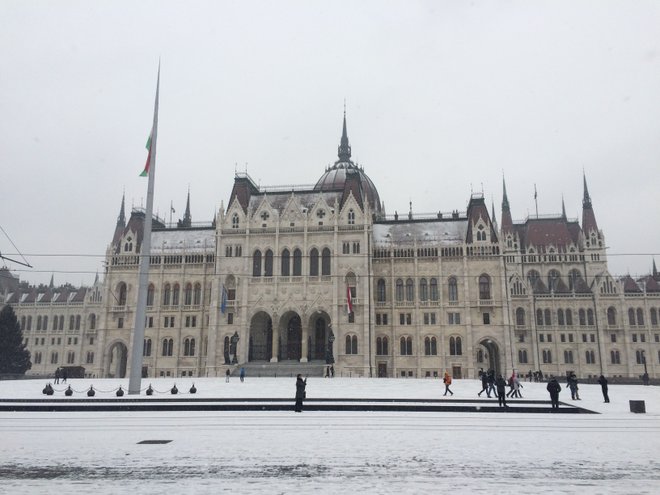 It's no surprise that Budapest attracts millions of people every year, but come cold weather, things don't feel as such — in a good way. Ruin pubs, museums, and other popular attractions are teeming with tourists in the summer, but in the winter, things get far less crowded. Lines are shorter and you don't have to wait long to capture a selfie in front of any monuments. Not only is the city less packed, but flights, hotels, and tours are also slightly less expensive in the off-season. In other words, you'll have more money to spend on a second (or third) round of goulash and mulled wine.
Related Stories:
All products are independently selected by our writers and editors. If you buy something through our links, Oyster may earn an affiliate commission.