When traveling around the world, tourists often have famed art museums on their lists of must-see attractions. But what if the hotel they're staying in is basically a museum unto itself? The following hotels all offer top-notch amenities and services, but they all also have such stunning art collections, you won't even need to step foot out of the lobby to get your culture on (although we'd still highly suggest it). Here are eight hotel art collections that are worth a visit.
Housed in a beautiful historic townhouse in Knightsbridge, the Egerton Hotel features numerous period pieces, such as antique chandeliers, mirrors, and grandfather clocks. The artwork is equally, if not more, impressive. The common spaces boast original artwork by Matisse, Picasso, and Toulouse-Lautrec, as well as prints from the Illustrated London News. Guests staying in the blue Deluxe King Room can take in a Toulouse-Lautrec lithograph, hanging on the wall opposite of the bed, every morning right when they wake up.
A favorite among celebrities, the Gramercy Park Hotel is filled with beautiful things. From an intricately beautiful matador jacket to Warhol's Diamond Dust Shoes to the left of the front desk, the lobby and common spaces include a variety of works from numerous time periods and movements. However, it's clear which are the curators favorites; the hotel has numerous pieces by Warhol, as well as Richard Prince, a contemporary American artist whose works have been compared to the likes of Warhol and Jackson Pollock.
Undergoing a major renovation in 2009, The Jefferson is one of the nation's capitals most distinguished and elegant hotels. With a decidedly Jeffersonian theme, the hotel's private collection includes a marble bust of Jefferson by Houdon, political cartoons dating back to the 18th century, Native American engravings, historic documents signed by Jefferson himself, 18th century maps, as well as other beautiful pieces of art. The lobby also features a beautiful skylight from 1923.
The Joule is one of the coolest — and most luxurious — hotels in downtown Dallas. Wood paneling and antique, industrial touches in the lobby (including two giant cogged wheels) are a nice juxtaposition to the hotel's extensive contemporary art collection. Some of New York photographer David Levinthal's famed Polaroids lead the way to the cantilevered rooftop pool and the lobby prominently displays The Eye Flower by pop artist Richard Phillips. The hotel also recently acquired a bronze statue by British artist Tony Cragg.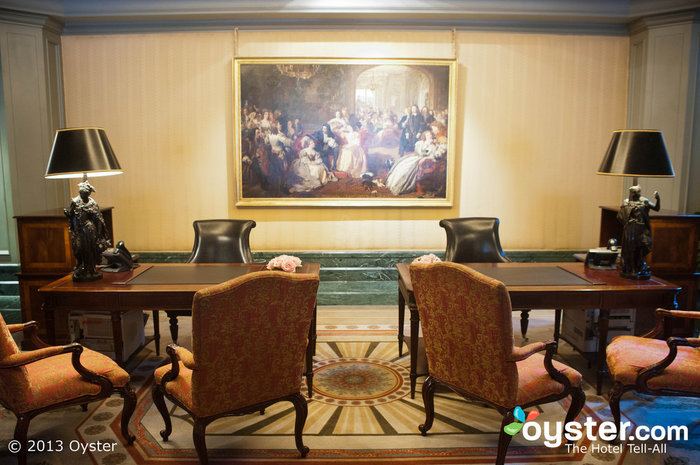 A regal hotel with a regal name, New Orleans's Windsor Court has hosted numerous celebrities — and even royals — over the years. It's art collection, worth multi-millions, is so impressive that the hotel's free app includes a guided audio tour of the artwork. Most of the works of art depict Victorian court life painted by famed British portraitists. Notable pieces include William Powell Frith's King Charles II's Last Sunday, formerly displayed at the Royal Academy of London, Nicolas de Largilliere's Portrait of the Prince of Wales and His Sister, and several portraits by Joshua Reynolds.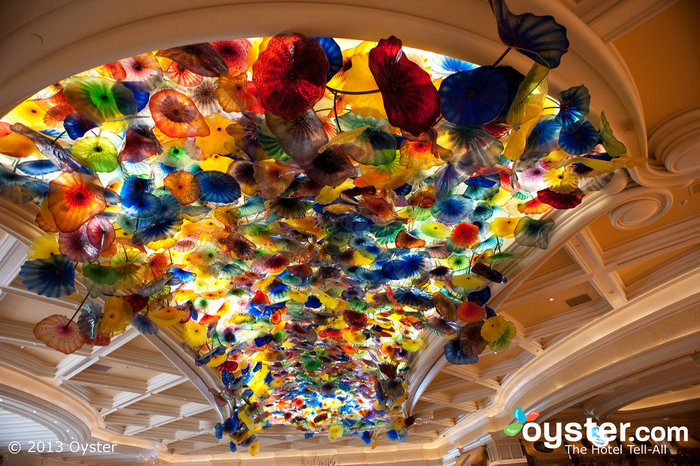 Guests of the Bellagio come face-to-face with museum-quality art upon entering the hotel's massive lobby, where an (almost) equally massive blown-glass Chihuly adorns the ceiling. But everything's bigger and Vegas, and the Bellagio even boasts it's own museums with a rotating collection; the current Andy Warhol exhibit will run through October of this year. The hotel's aptly-named Picasso restaurant also features numerous original works by the artist.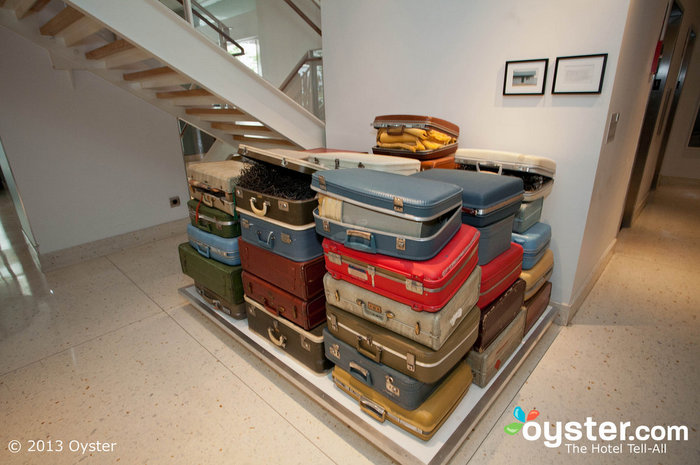 The James is one of Chicago's top luxury hotels, and is located in River North, a block from the Magnificent Mile. The public spaces are modern and sometimes quirky, especially the lobby which features local artist Joel Ross's Room 28 sculpture, which he created by stuffing the entire contents of a motel room into fifty vintage suitcases. Rooms also feature photographs by well-known contemporary artists Wolfgang Ludes and Michael Kenna.
A charming boutique in Beacon Hill, Fifteen Beacon has common spaces filled with contemporary pieces, such as an abstract painting by Jules Olitski. Rooms are also outfitted with fine art, including pieces by the likes of Martha Lloyd, Joe Greene, and Ben Freeman. But perhaps most impressive are the mosaics housed in the on-site restaurant Mooo, which date back to about the fourth or fifth century.
RELATED LINKS: