When it comes to hotels, few things top the penthouse. The only thing more satisfying than pressing the coveted PH button in an elevator is actually spending the night in one of the suites-in-the-sky. After all, with unrivaled views, impeccable design, and over-the-top amenities (butler service, anyone?), there's no shortage of luxury to make you feel like you're on top of the world, er, building. That being said, this lavishness doesn't come without an intimidating price tag—24 hours in the creme de la creme of hotel rooms can sometimes run guests more than a year's worth of rent. But oh man, those views. For a taste of the high life (get it?), we rounded up nine snazzy penthouses around the world. Oh, did we mention they have insane views?
Add this little tidbit to your arsenal of trivia to whip out at dinner parties: superstar Lenny Kravitz moonlights as an interior designer. The musician, who also happens to be the brains behind Kravitz Design, teamed up with Philippe Starck to decorate the 1,044-square foot penthouse inside this Miami Beach see-and-be-seen property. As you'd expect, the details exude a rockstar vibe (think chandelier, faux-python armchair, checkerboard floors, and art-filled walls). And the oversize tub, kitchen, wet bar, and ocean views from a private rooftop terrace are worthy enough of an encore alone.
Billed as the largest suite in the U.S. (and priciest in the world!) just last year, this 12,500-square foot, two-level New York penthouse lives up to its name. For $75,000 a night (no, that's not a typo), the 1927 hotel shells out quite a bit of bang for your buck: that is, five bedrooms, several fireplaces, a library, conservatory, and 2,500-square foot terrace with Central Park views. Designed by French interior designer Jacques Grange, the extravagance even extends to the six bathrooms, which come with heated floors, an infinity deep-soaking tub, and custom-made Italian toiletries, plus master bedrooms with his-and-hers dressing areas and custom-built walk-in closets. A lavish 24-seat dining room and full-size kitchen is available, but for those who don't want to test their cooking chops, there's the option to dine out at Jean-Georges Vongerichten's Mark Restaurant—or even have an exclusive menu prepared by the Michelin-starred chef himself.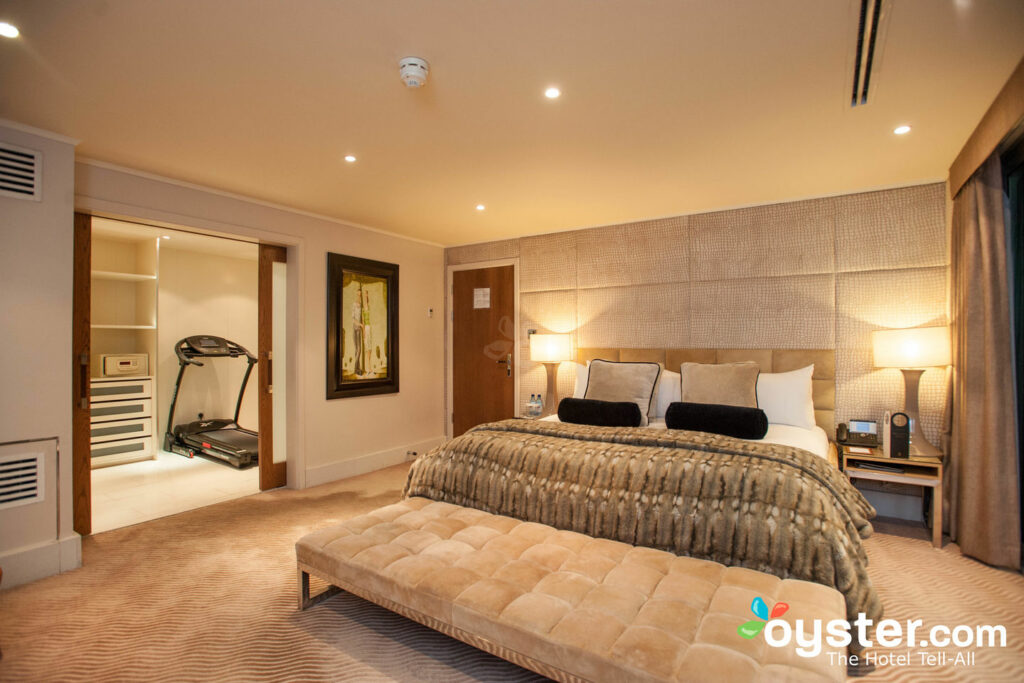 Leonardo DiCaprio and Brad Pitt might be among the celebrities that were spotted at this London location, but the real star here is the two-bedroom penthouse suite. Those lucky enough to follow in the actors' footsteps will have access to a functional fireplace, walk-in closet, massive limestone bathroom with his-and-hers sinks and a deep soaking tub, a 10-seat dining room, private kitchen, plenty of natural light pouring in from floor-to-ceiling windows, and a balcony with sweeping views across the city skyline. A circular bed (plus one regular) rounds things out nicely.
Perched on the 17th floor of Sean MacPherson's hotel, this 1,500-square foot pad is oozing with a downtown-cool feel. Inspired by the Lower East Side in the '80s, expect to be met with details like handmade silk rugs on hardwood floors, Moroccan lamps, bronze stools, floor-to-ceiling windows, and Indo-Portuguese style beds. A fully equipped kitchen, vintage vinyl collection and record player, and 1,000-square foot terrace towering over Manhattan and the Brooklyn Bridge give guests three more reasons to never step foot outside the hotel.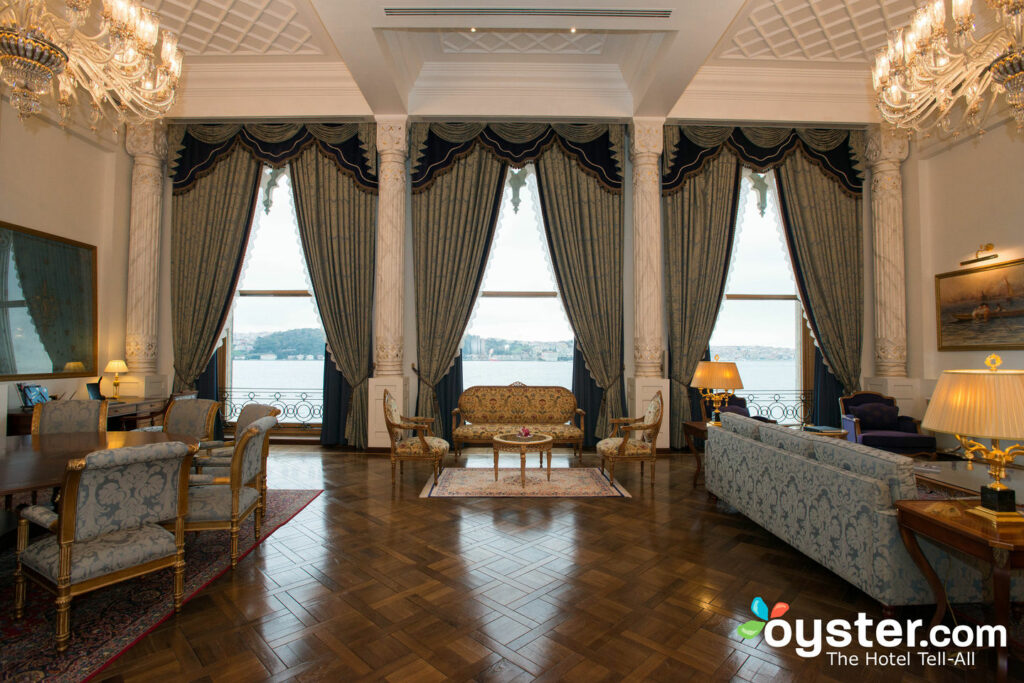 File this under: things that leave you speechless. Located on Istanbul's Bosphorus Strait, this 4,930-square foot, waterfront-view space will make you feel like royalty—it was home to Ottoman sultans back in the 17th century. That type of next-level luxury still lives on at the hotel by way of gilded faucets, a handmade hammam, crystal chandeliers, Turkish paintings, and a private steam room. It even ups the ante on pampering and provides guests (like Madonna, Oprah, the queen of Jordan, among others) an on-call butler.
Triple the floors, triple the luxury: Sprawled across a trifecta of levels, this airy 2,500-square foot Adam-Tihany designed suite is sleek without being stuffy. Two bedrooms, two-and-a-half bathrooms, a full kitchen, fully stocked bar, living and dining rooms, and pool table entertain to the max, while the glass-sided staircase that leads to a private, furnished terrace with Dallas views (literally) elevates your stay.
Designed by famed architect Antoni de Moragas, this 15-room hotel wasn't declared an official architectural Barcelona monument for no reason. Consider the evidence: once the U.S. consulate, the 19th-century mansion—also home to the Michelin-starred restaurant helmed by chef Jordi Cruz—houses a penthouse that feels simultaneously luxurious and like your home-away-from-home. Inside, the spacious and soundproof space boasts remote-controlled lights and blinds, a large flat screen TV, and other high-tech gadgets. But the real talking point here is on the outside, where guests can kick back in the hot tub while soaking in the drop-dead gorgeous views.
Spanish designer Patricia Urquiola fused leather, velvet, and wood with Tai Ping silk, wool rugs, and Bassano ceramics. The result: a sumptuous 2,542-square-foot penthouse sitting at the apex of Barcelona's Mandarin Hotel. A private kitchen, eight-seat dining room, and dedicated butler service add enough wow factor, but the double balconies overlooking views of Passeig de Gracia don't hurt, either.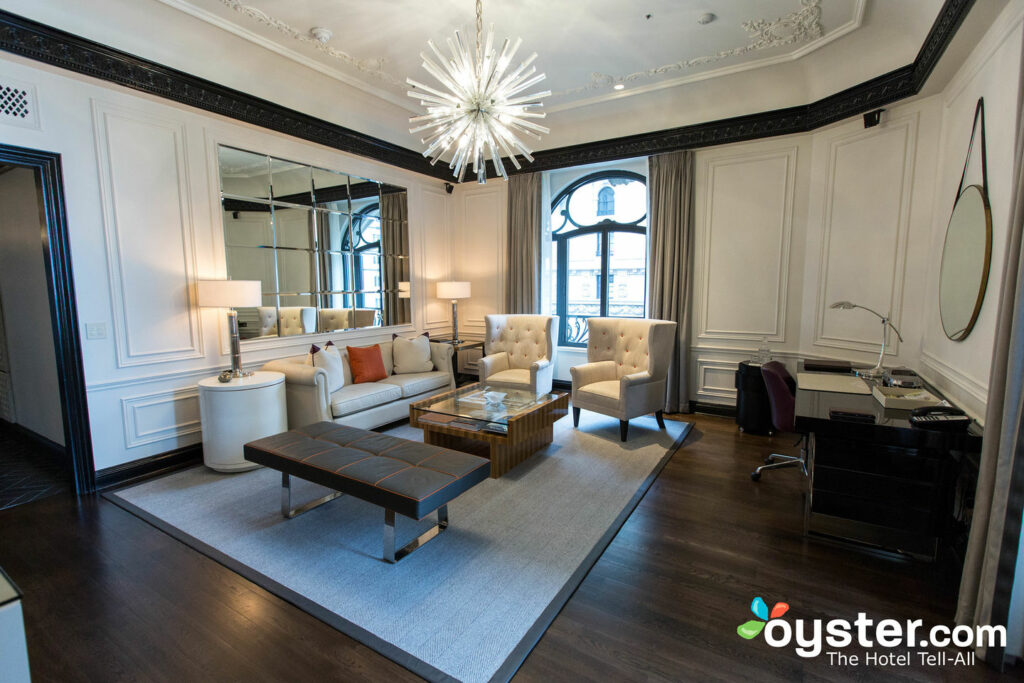 In a word: masculine. Topping off the iconic hotel chain, this 15th-floor penthouse suite is packed with automobile-centric accents (a wheel-inspired metallic silver mirror, herringbone curtains trimmed with actual seat belts), courtesy of a design collaboration with carmaker Bentley Motors. The 1,700-square-foot space kicks things into even higher gear with butler service, an in-suite champagne bar, living room with top-to-bottom windows that look out onto Fifth Avenue, and plenty of leather detailing, from the sofa to the entry foyer's black leather-tile floor. It's no wonder celebs like Serena Williams have praised it.
Related Links:
All products are independently selected by our writers and editors. If you buy something through our links, Oyster may earn an affiliate commission.