There's no gift like the gift of travel. If we could have anything at all this holiday season, it would be to hit the sand at one of these uber-luxe hotels (we can dream, can't we?). So go ahead and dream away — or, if it's in the budget, start planning your posh beach getaway now. (We'll try to contain our jealousy.)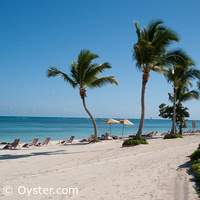 Designed by Oscar de la Renta, the 15-room Tortuga Bay hotel offers amazing service (including preferential treatment at Punta Cana Airport), an on-site nature reserve, several superb restaurants, a world-class golf course, and serene beach. Of course, since Tortuga Bay is a hotel, unlike De La Renta's house just down the road, all this luxury comes at a price — a high price. Those willing to fork over the big bucks will be treated to amazing views, beautiful rooms, and perhaps the best service found anywhere in the D.R.
An immaculate, art-filled property fronting Wailea beach, the Four Seasons stands at the pinnacle of the area's resorts, offering a slew of amenities, spacious rooms — some with outstanding views — and a top-notch staff. Thoughtful extras, like loaner Kindles by the pool and free refreshments, make guests feel pampered. It's nearly perfect, except for an unexceptional spa facility, a cramped business center, and expensive, though excellent, dining.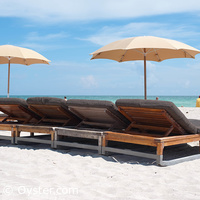 Paradise doesn't come cheap. Striking but sober mood-lit design; impeccable service; huge, immaculate rooms; three pools, each a different temperature; and a prime beachside location make the Setai one of the best hotels in Miami. Its restaurants are more about design than food, but several of Miami's best restaurants are just half a block away.
Bringing tranquility to otherwise-crowded Paradise Island, the 105-room Ocean Club's personal butlers, beautiful pools (one for adults, one for families), private, well-attended beach with gorgeous turquoise water, restaurant from Jean-Georges, and access to Atlantis' water park, casino, and other attractions make it one of the Caribbean's best resorts. But its small standard rooms, and, at times, less fawning service can be disappointing for the price.
Half Moon takes its name from the two miles of spectacular, crescent-shaped beachfront — with soft, white sand and warm, clear water — that span the 400-acre property. Drawing everyone from Queen Elizabeth to 50 Cent, Half Moon strives for timeless, understated luxury (even at the swim-up bar). The 400-room resort offers attentive service, quality cuisine, and seemingly limitless activities like golfing and horseback riding.
One of only two L.A. hotels right on the sand (along with Casa del Mar next door), Shutters on the Beach has an atmosphere of formal opulence, with expensive artwork in its lobby and restaurants and airy rooms that belong in a billionaire's beach house. Add in doting service and a top-notch spa, and it's no wonder Shutters is a magnet for celebrities who want to soak up the sand and sun in style.
The stunning new 312-room W South Beach — located on the beach, on the northern outskirts of South Beach — blends cute comforts, intricate design (that spares no expense), and flawless service. Large, modern rooms; terraces angled to overlook the ocean; elegant landscaping around the pool; a freshly-opened spa — the W tops the Miami greats.
Built from a historic sugar plantation, this profoundly serene 166-room resort sits on 170 acres of a protected national park dotted with seven remote beaches. Even with a quaint pool and rustic rooms that lack TVs and phones, Caneel's attentive service and unparalleled setting make it one of the Caribbean's best resorts.
All products are independently selected by our writers and editors. If you buy something through our links, Oyster may earn an affiliate commission.