Scotland never fails to impress with its romantic castles, rugged Highlands, friendly locals, and idyllic lochs. Edinburgh entices visitors with its successful meshing of the ancient and modern, centered around the imposing Edinburgh Castle. On the other hand, lesser-appreciated Glasgow boasts an array of museums and an edgy music scene. However, it's the tiny stone villages dotting Scotland's picturesque farmland and coastline that give visitors a glimpse into traditional Scottish life and culture. With 790 islands and a vast countryside, there are enough remote villages and towns to occupy a lifetime of excursions. That being said, we've assembled a list of some of the best small towns and villages Scotland has to offer.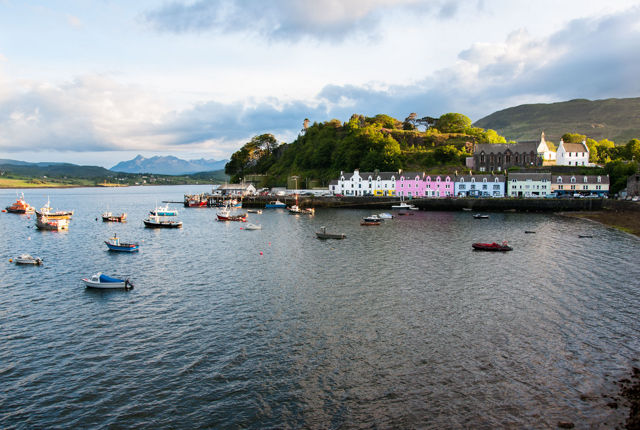 Lying just off the mainland's western coast, Isle of Skye encapsulates many quintessential Scottish experiences: Scotch distilleries, rugged mountains, lochs, castles, and a charming coastal town of Portree. With a population of roughly 2,500, Portree is the main hub on Skye. There are several restaurants, pubs, and bed-and-breakfasts here, as well as bus connections to outlying towns and villages. Portree's sheltered harbor lies on Loch Portree, which is in fact a bay opening into the Sound of Raasay. The pastel-hued homes lining the harbor along with the craft shops exude quaintness. The local Aros Community Theatre in Portree hosts ongoing events, often highlighting Gaelic traditions, such as dance, music, and art. Though Portree is incredibly charming, the real perk is its proximity to the craggy coastline and the remarkable rock formations at Quiraing and Old Man of Storr. This is prime hiking and walking territory, granted you don't mind a bit of misty rain.
2. East Linton, East Lothian
Located approximately 30 minutes away by car from Edinburgh, East Linton is manageable to visit even on a short trip to Scotland. The modest town of 1,731 people is set among lush farmland. The downtown area consists of a handful of stone houses lining the streets. The main draw to the area is nearby Hailes Castle, which dates back to the 14th century. A footpath along the River Tyne passes by Hailes Castle, providing access the impressive ruins. Due six miles north, the larger coastal town of North Berwick also merits a trip. Here, visitors will find Dirleton and Tantallon Castles, as well as the Bass Rock seabird colonies. A handful of other historic sites dot this charming swath of countryside — notably the Preston Mill & Phantassie Doocot Mill.
Pittenweem is one of a string of charming fishing villages in the East Neuk of Fife — "Neuk" being the Scottish word for nook or corner. The region encompasses the jutting landmass lying between Edinburgh and Dundee. Pint-sized Pittenweem lies along the impressive Fife Coastal Path, which runs 117 miles from the Firth of Forth up to the Firth of Tay. Day hikes between towns or trekking from one B&B to the next are both possible. Pittenweem is often overlooked by visitors who head to Anstruther or Crail instead, but the village has more going for it than a quirky name — it's home a sandy coastline and a slew of nearby castles and historic monuments.
4. Kelso, Roxburghshire
Located in the Scottish Borders region, this market town is home to the historic Kelso Square, the largest market square in all of Scotland. The town, having developed around the Kelso Abbey, dates back to the 12th century. The abbey now stands in picturesque ruins, but it was once one of the finest monastic houses in Scotland. Other historical attractions include the Smailholm Tower and Floors Castle. The former is a 65-foot stone tower offering views of the surrounding countryside, not to mention an exhibit on legendary playwright and novelist Sir Walter Scott, who found inspiration here as a child while growing up on a nearby farm. The latter is the home of the 10th Duke and Duchess of Roxburghe, complete with a vast painting collection, riverside and forest trails, and an exquisite walled garden.
5. Millport, Great Cumbrae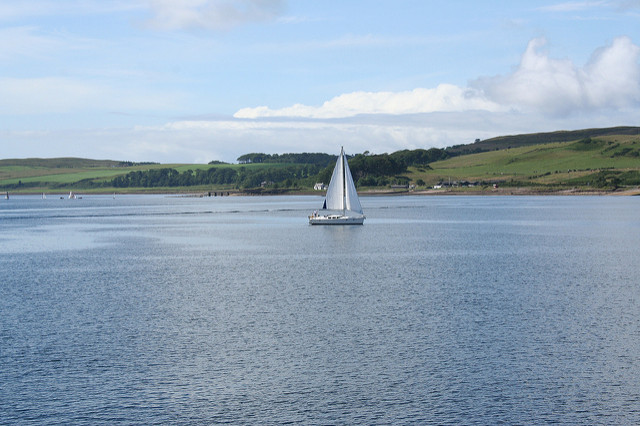 Millport is the only town on the tiny and stunning island of Great Cumbrae, situated just off Scotland's western coast in the Firth of Clyde. This incredibly accessible island is less than a 10-minute ferry ride from the mainland town of Largs. The 10-mile circular loop encompasses the entire island, which is perfect for cycling and exploring the rugged coastline. Overall, Millport packs a punch for such a small town: it features Britain's smallest cathedral (Cathedral of the Isles), a history museum in an outstanding Gothic building, and an aquarium.
6. Tobermory, Isle of Mull
Isle of Mull, the second-largest island of the Inner Hebrides, is especially popular in the summer months. Its natural wonders don't disappoint, especially the basalt cliffs at Burg, the peaks of Ben More, the white-sand beaches, and the numerous lochs. For those who wish to spot minke whales, harbor porpoises, and other marine life, whale-watching tours depart from Mull's western shores. Tobermory is the main town on the island, known for its painted homes and buildings along the waterfront, including a range of pubs, cafes, and even a distillery. There's also a pair of castles on the island: Duart, dating back to the middle ages, and Torosay, which is actually a noble home designed in castle fashion with a complementary garden of equal grandeur.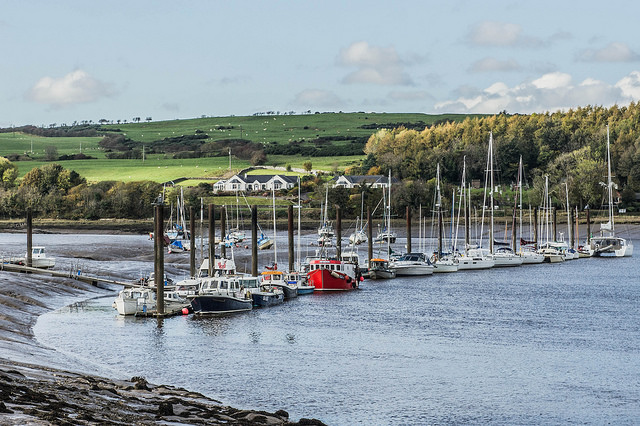 Located in southwestern Scotland on the estuary of the River Dee, Kirkcudbright (pronounced "kir-coo-bree") functions as a lively fishing port. The town of just 3,352 is home to an impressively active artist community. The Kirkcudbright Art and Crafts Trail sees up to 150 artists and craft makers opening their businesses, studios, and homes to the public. Outside the festival dates, Kirkcudbright supports a variety of galleries, art workshops, restaurants, and cafes. The surrounding countryside complements the small town's cultural flare, with extensive hiking trails, water sports, fishing, and cycling routes. Plenty of accommodations, from campsites to bed-and-breakfasts to hotels, make Kirkcudbright an excellent base for exploring the greater southwestern region of Scotland.
8. Plockton, Ross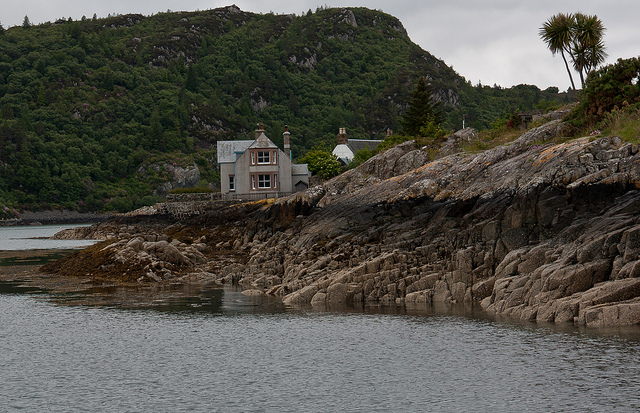 The village of Plockton lies on the shores of Loch Carron in Scotland's western Highlands. Train connections from Inverness (the largest city in the Scottish Highlands) transport passengers through some of the Highlands' finest landscapes, and make a visit to this charming coastal village doable without renting a car. The most iconic image of Plockton is its string of cottages facing the bay. Visitors may be surprised to also find small palm trees growing on this same stretch of waterfront, however, Plockton experiences a mild climate thanks to the North Atlantic Drift. Beyond strolling the village, Calum's Seal Trips lead excursions to spot regional marine life, including seals and dolphins. There are plenty of walking trails in the area and a day trip to nearby Skye presents the chance to hike some of Scotland's most picturesque landscapes. Plus, between Plockton and neighboring Kyle of Lochalsh, there are plenty of B&Bs, pubs, and other amenities for overnight visitors.
9. Stromness, Orkney
The Orkney Islands are an archipelago of 70 stunning, windswept islands off Scotland's northern coast, with a modest population of just over 20,000. Stromness is located on the largest island of the group, Mainland, and is the second-largest town, with roughly 2,200 people. Orkney is steeped in history — most notably, the Heart of Neolithic Orkney, a UNESCO site, consists of a preserved Neolithic village and a set of standing stones that's arguably more interesting than Stonehenge. Check out Stromness' Pier Arts Centre for upcoming exhibitions and events. Other highlights include extensive wildlife, with sizable puffin, seal, and other seabird populations along the island's rocky shores and jagged cliffs. There isn't a ton to do in this remote corner of Scotland, but cozying up in a cottage in Stromness' compact cobblestone center and cycling the countryside make for a solid holiday package.
Crovie, small even by village standards, rounds out our list. The village, which can be reached in just over an hour's drive from the city of Aberdeen, was founded by peasant families who were relocated to make room for the landlord's sheep. It was built so snuggly along the North Sea coastline that it consists of a single row of homes connected by a footpath leading to neighboring Gardenstown. Cars must be left at the south end of the village. Being just a few yards from the water's edge, Crovie was once a thriving fishing village, but the economy is now largely based on cottage rentals. Nearby Gardenstown has a bit more going on in terms of restaurants and amenities, but Crovie's unique location between the unforgiving sea and the steep grassy hillsides is something to behold.
Let's get real, Scotland can be incredibly chilly. Be sure to bring along an easy-to-pack jacket for your trip to ensure maximum warmth in the cold Scottish breeze.
You'll Also Like:
All products are independently selected by our writers and editors. If you buy something through our links, Oyster may earn an affiliate commission.