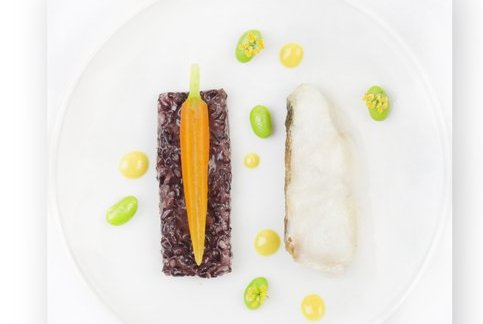 Airline travel is great for many things: long-distance transportation, disconnecting for a while, and getting incredible views of the world below. Dining options, on the other hand? Not so much. Often the butt of jokes (like school lunches), airplane food is known for being unappetizing, lacking in variety, and (to add insult to injury) costing a pretty penny these days. Sure, you can order kosher or vegetarian meals, but you're pretty much stuck with a snack box or hot mush. But, as airlines look to stand out from the crowd, more and more are providing meals worthy of a Zagat rating.
In early
March, Air France will partner with a celebrated culinary mastermind who will
be designing the menus in La Premiere (first class) and Business class cabins
on flights from the United States to Paris. "Our vision is to provide passengers with
experiences that redefine the in-flight experience, and outstanding culinary
experiences are essential because of their global appeal," Eric
Caron, Vice President and General Manager USA, Air France KLM
tells Oyster.com. "Air France and KLM has partnered with
internationally-renowned Michelin-starred chefs for several years now, but we
continue to expand our program with partner chefs across all cabins of service
because the response from passengers has been enthusiastic, and demonstrates a
real demand for quality culinary options on board."
And Danny
Meyer's Union Square Hospitality Group recently announced it's expanding its
food service on Delta Airlines and will provide Chef Carmen Quagliata's Union
Square Cafe food. "We want passengers to say, 'This is great food' — not,
'This is great food for an airline'," John Harenda, vice president of
operations for USHG's catering arm told the New York Times. A Delta rep added
that the airline is hoping to change the conversation around what airline
food is.
Singapore Airlines also expanded its "Book the
Cook" program — where you can decide 24 hours before take off
what you're in the mood for and the meals include local ingredients from your destination — to Premium Economy passengers. "Customers
can choose their culinary favorites and still have a variety of options because
the menu changes every couple of months," James Boyd, VP of
PR ​for Singapore Airlines tells
us.
Other airlines provide
similar services where handcrafted and decadent meals are provided. Turkish
Airlines, Austrian Airlines, and Etihad Airways use catering company DO & Co's "Flying
Chef" to provide gourmet food options and an onboard oversight of food
presentation for business class passengers.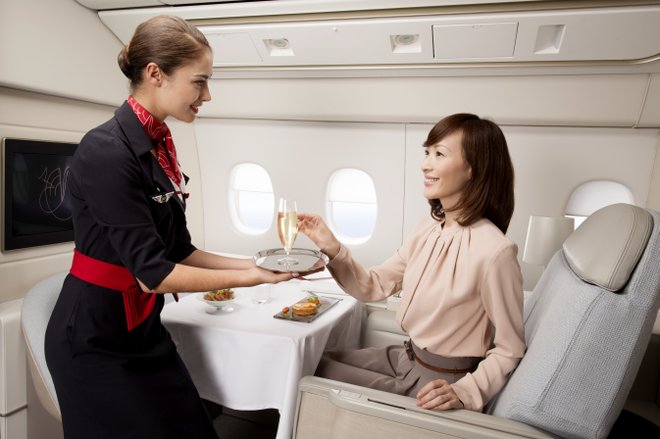 This arms
race of added amenities and perks suggests airlines are using food as a way to
attract more customers. Frequent flyers are often faced with limited food options that
quickly become repetitive and suffer from the-same-old thing syndrome. "Other airlines are following suit because
passengers today are increasingly discerning when it comes to what is offered
to them in-flight, and no longer want to accept the notion that airline food
has to be bad," adds Caron.
The
airlines are certainly going above and beyond to make sure they're staying
ahead of the crowd. "Twice
a year we have chefs present their 'runway collection' of concepts for the
airline," adds
Boyd. "We're trying to meet the requirements of fine dining
establishment in New York or Los Angeles and incorporate that sensibility into
fine dining during flight."
Related Stories:
All products are independently selected by our writers and editors. If you buy something through our links, Oyster may earn an affiliate commission.