'Tis the season to shop until you drop, and we've got a list of travel gifts that will please even the most frequent of fliers. Being avid travelers ourselves, we've stuck with tried-and-true products that take a load off travel stress. Whether you're looking for something for your travel-loving parents, sister, spouse, best friend, or even yourself, we've got a gift idea for you -- and it's under $50 to boot.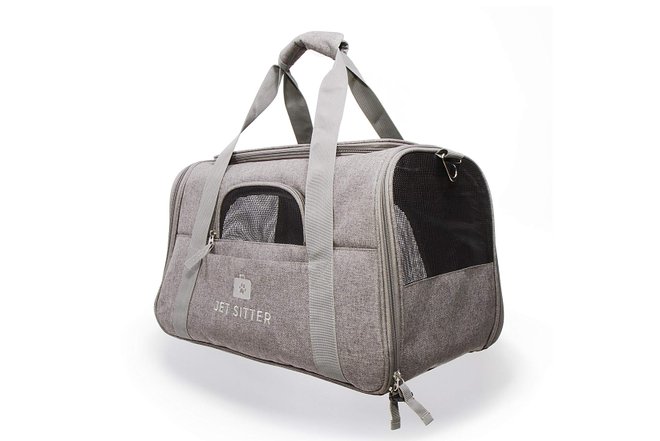 Airlines don't always make it easy to travel with pets. Travel is stressful for both humans and their furry friends, but this cute carrier adds a little comfort on both ends. It's sized for most cats and small dogs under nine pounds, and is pre-approved by United, Spirit, Southwest, JetBlue, American, Delta, Alaska, Allegiant, and Frontier Airlines. The material is made from a scratch-resistant resin and mesh on all four sides ensures good airflow for your world-traveling BFF. Convenient zipper side pockets are perfect for holding paperwork, toys, and passports, and there's even a built-in leash on the inside. Plus, the plush interior cushion is probably much more comfortable than a coach seat these days.
Not only is this super-comfortable eye mask perfect for blocking out bright lights on a plane or inside a hotel room cursed with sheer curtains, but it also has built-in headphones so you can drift off to your own tunes without having to wear uncomfortable earbuds. There's even an external volume control, so you don't have to take off the mask and fiddle with the bright screen on your iPod.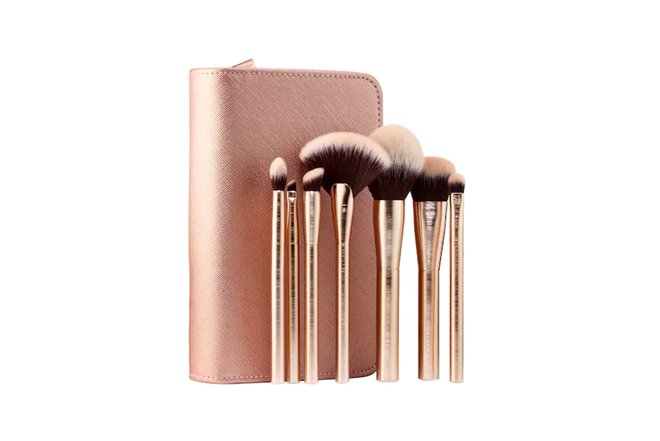 The year is almost up, which means it's the time to either replace someone's makeup brush set or gift them their first. This rose gold set has all the basics and then some to help create a flawless and flattering look on the road. Brushes have a shorter handle, which make them great for travel. The set includes a buffing foundation brush, crease brush, pointed powder brush, angled liner brush, fan brush, and a flat shadow brush. Bonus: The brush bristles are all vegan.
For those unfamiliar with The New York Times' famous "36 Hours" column, it features quick itineraries with city's most worthy spots to see in — you guessed it — 36 hours. They spotlight places all over the globe, but this book zeroes in on their European picks. It's a thoughtful gift for both business travelers and first-time backpackers who are trying to cover a lot of ground in a short amount of time. Though it's a bit heavy to take on a trip, it's a great resource for planning. Plus, it makes for a good coffee table addition.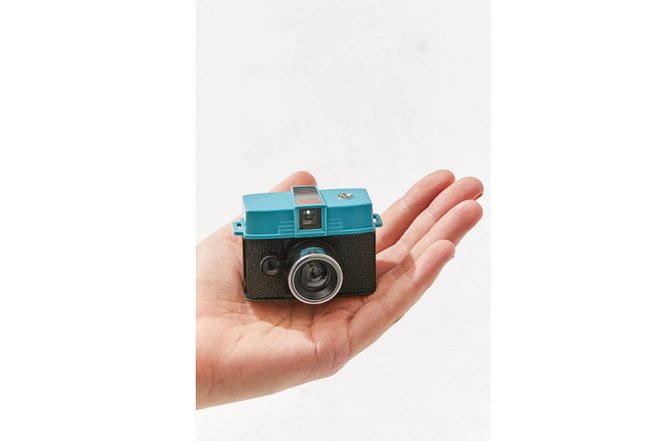 Remember when people brought actual cameras loaded with film to document their travels? There was something so special about having to carefully select the shots. Then there was the anticipation of waiting to see the results. This adorable film camera brings back that nostalgic experience. Practically pocket-sized at 5.75 inches x 2.5 inches x 5.5 inches, it makes for a great stocking stuffer, too. The camera has a fixed aperture of f8 and comes with a 24mm lens. Pics are square. The only downside? It takes 110mm film, which can be hard to find. However, if you've got a friend or family member who loves artsy, unique items, this is a great gift.
Long flights, lots of sun, and whipping winds can really take a toll on a traveler's complexion. This highlighter sampler set from Sephora is the perfect way to brighten up dull skin. With liquid, powder, and stick highlighters from stellar brands like Benefit, Artist Couture, and Fenty Beauty, this is a great starter kit for travelers who want to look glam while on the road. We love this five-piece kit because it comes with its own bag, though you can also just toss one or two products into your own makeup bag and hit the road.
Soothing sounds can help folks fall asleep when in an unfamiliar destination. Sadly, packing up a noise machine from home and carting it around from hotel to hotel can be cumbersome. That's why we love this mini sound machine. It looks just like a smooth stone, but functions as a speaker with sound options that include campfire crackles, rolling waves, a bird-filled rainforest, and more. It's a fantastic way to drown out city noise at night or add a level of zen during soaks in the hotel tub. One USB charge lasts up to eight hours.
Stiff neck from a long flight? Sore muscles after that mountain hike? Leg cramp from sitting on a train too long? No problem. Roll it out with this foam-covered water bottle. There are three sizes and each bottle is tested for up to 350 pounds of weight. This is not only a great way to reduce the use of plastic bottles, but it relieves muscle tension. It's a great gift for active travelers who enjoy hitting up the gym or indulging in adventurous activities on vacation.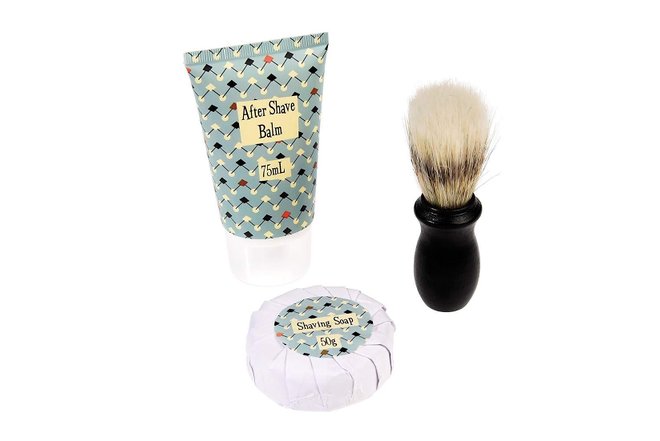 Luxury shaving products have saturated the market over the last few years as men are finding out there's more to a great shave than a plastic razor and bottle of shaving cream. This travel shaving kit is a fun, retro way to keep up a shaving routine while traveling. It includes a soft shaving brush, a bar of shaving soap, and an after-shave balm. There's no razor included, but you can pair this gift with a cool straight razor or pack of disposables as a stocking stuffer.
There are a ton of travel-sized beauty products for women, but what about men? Dry cabin air and travel conditions impact everyone, and this luxe Kiehl's grooming travel kit targets on-the-go men from head to toe. It's great for all skin types and helps harness unruly hair, dry skin, and beards, thanks to shampoo and conditioner, face wash and moisturizer, shaving cream, and an exfoliating body bar. It also comes with its own travel-sized bag, so it's easy to toss into a suitcase and go.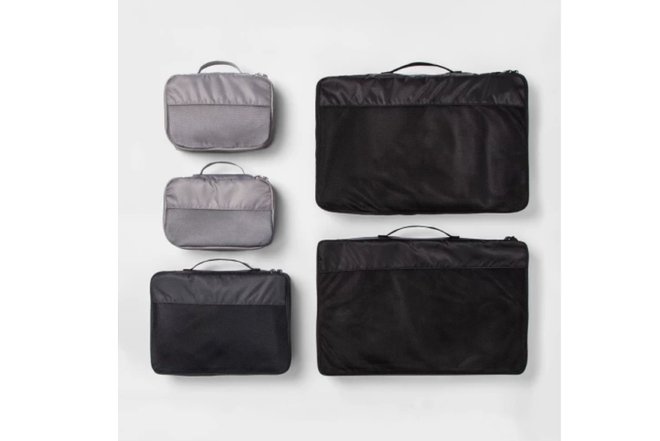 Can't afford an entire set of luggage for your favorite jet-setter? A good set of packing cubes is the next best thing. If you're unfamiliar with packing cubes, they are separate compartments that help organize the contents inside a suitcase. For example, instead of trying to squish all of your socks and underwear into one section of the suitcase, you can simply throw them into their own cube for easy access. This set comes with two large cubes, two small cubes, and one medium-sized cube, all with zippers and mesh sides so you can see what's inside. They work best in larger checked luggage, but we have definitely crammed a few in our carry-ons just to avoid extra fees.
Speaking of multi-functional travel products, we love this neck pillow-slash-jacket. It can go from one to the other with a simple roll and stuff. The neck pillow is perfect for the plane, and it's nice to know there's a jacket lurking around, in case of chilly weather at your destination. And if you're traveling to a destination where you know a jacket won't be necessary, stash other clothing items, like socks or bathing suits, in the neck pillow to save suitcase space. Works like a charm.
You'll Also Like:
Oyster.com is a participant in the Amazon Services LLC Associates Program, an affiliate advertising program designed to provide a means for sites to earn advertising fees by advertising and linking to Amazon.com. Oyster also participates in the SkimLinks and SkimWords affiliate programs.
All products are independently selected by our writers and editors. If you buy something through our links, Oyster may earn an affiliate commission.