Back for its twentieth year in a row, Lollapalooza is bringing in crowds like we've never seen. From Kanye West to Arcade Fire, Grant Park will be the place to see and be seen in Chi-Town come August 5th. If you're looking for a good time with great friends and rockin' accommodations, these hotels are calling your name. You'll be able to party all day and night, and walk a few steps to a heavenly bed.
Essex Inn 3 pearls, $157/ avg. per night
This 254-room Essex Inn is a decent value pick across the street from Grant Park, near the Museum Campus. Some of the bright, comfortable (if chain-like) rooms have great views of the lake, and the huge indoor pool and state-of-the-art fitness center are both pluses. It's true that leisure travelers can usually find comparable hotels farther north for similar rates, but the free Michigan Avenue shuttle to popular sites helps compensate for the South Loop location.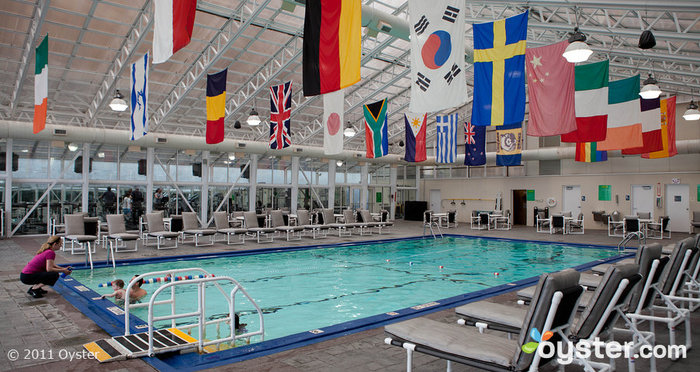 Essex Inn, Chicago
Hilton Chicago
4 pears, $199/avg. per night
The historic, 1,544-room Hilton Chicago once hosted presidents and dignitaries, but today it's just a massive chain hotel in South Loop. The grand lobby still impresses, and faux old-world rooms have high-tech amenities (flat-screen TVs, digital concierges).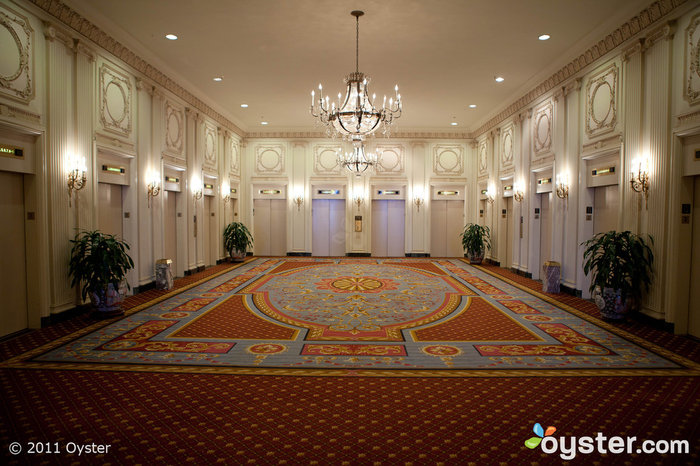 Hilton Chicago
Congress Plaza Hotel
2.5 pearls, $136/avg. per night
This historic, 851-room hotel across from Grant Park is the cheaper alternative to the neighboring Hilton Chicago — and you get what you pay for. The lobby is elegant, but features are few and rooms are basic.
Congress Plaza Hotel, Chicago
The Palmer House Hilton Hotel
4 pearls, $199/avg. per night
This 1,639-room historic hotel in the Loop has a storied past, and a breathtaking lobby with a painted ceiling and glittering chandeliers.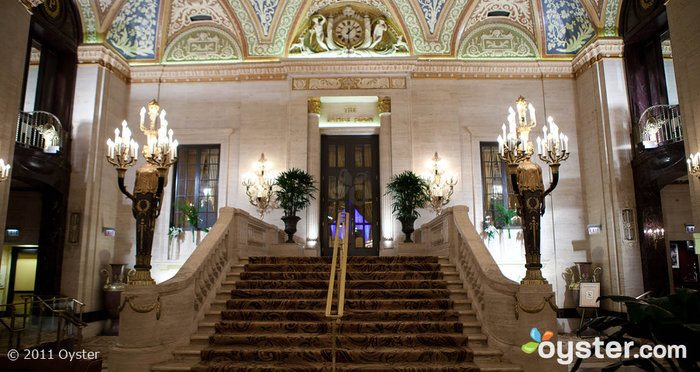 The Palmer House Hilton Hotel
Burnham a Kimpton Hotel
4 pearls, $227/avg. per night
This 122-room boutique located in an 1896 building pays homage to its past with cool historic details, including wrought iron, mosaic tiles, and marble stairs. But as in many old buildings, the rooms are teeny tiny, starting at just 175 square feet. At least they come with 37-inch flat-screen TVs, Aveda toiletries, and bold, but stately, decor. Freebies like nightly wine tastings also help compensate.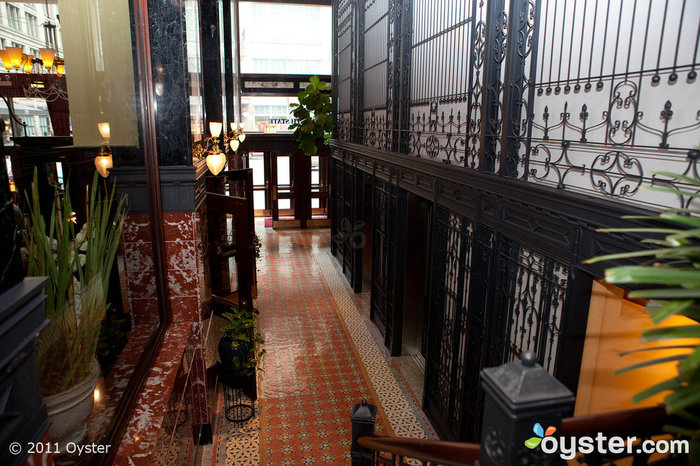 Burnham a Kimpton Hotel, Chicago
Allegro Chicago Hotel
4 pearls, $247/avg. per night
This 438-room Kimpton hotel is located in the heart of the Theatre District, and surrounded by the corporate offices of the Loop. The decor is bright and modern, and freebies include a nightly wine hour and in-room yoga accessories. Though some rooms are on the small side, all have modern amenities: 37-inch flat-screen TVs, iPod docks, Aveda toiletries and mini-bars. For bigger rooms and bathrooms (but fewer freebies), consider the nearby Fairmont.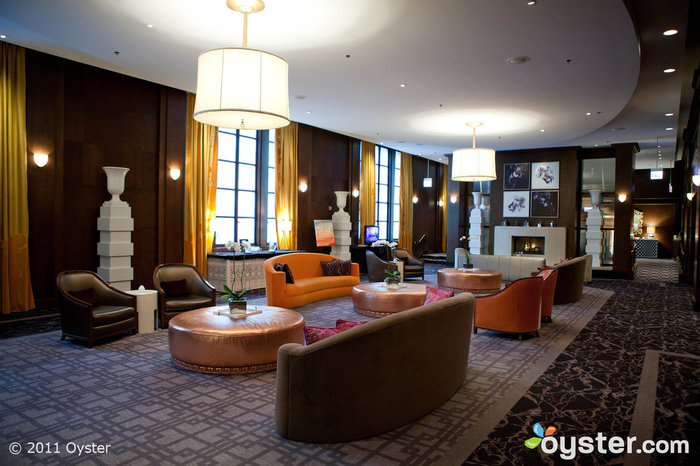 Allegro Chicago Hotel
Hotel Monaco Chicago
4 pearls, $195/avg. per night
The 192-room Kimpton is located inside a former hat factory in the Loop, and its stylish decor is a mix of Art Deco elegance and bright, quirky boutique flair. Solid freebies, including evening wine tastings and morning coffee and tea, help to create an intimate experience. All in all, it's one of the city's best boutiques.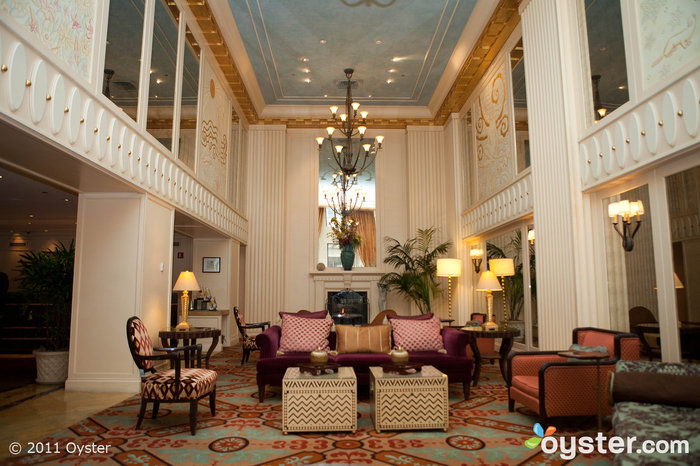 Hotel Monaco Chicago
Fairmont Chicago, Millennium Park
4 pearls, $215/ avg. per night
This 687-room luxury hotel is in the Loop neighborhood, near Millennium Park and Lake Michigan. Big rooms have separate soaking tubs and showers (which even pricier hotels like the Ritz-Carlton lack), iPod docks and 42-inch flat-screen TVs. Add an excellent Asian restaurant, a wine bar, a spa, and stunning design by David Rockwell, and you've got one of Chicago's most luxurious hotels in this price range.
Fairmont Chicago, Millennium Park
Trump International Hotel & Tower Chicago
5 pearls, $303/avg. per night
This 339-room Trump is one of the top luxury hotels in Chicago, located in a modern glass tower right on the Chicago river and within easy walking distance of the Magnificent Mile. The sleek, glossy decor is subdued and tasteful, and every amenity — from the Michelin-starred restaurant, to the big indoor pool, to bright fitness center, to the spa — is first-rate. The huge, tasteful rooms have limestone bathrooms with soaking tubs and floor-to-ceiling windows (often with phenomenal views).
Trump International Hotel & Tower Chicago
You'll also like:
All products are independently selected by our writers and editors. If you buy something through our links, Oyster may earn an affiliate commission.