Hey, we get it. Nobody's perfect. And that imperfection runs particularly wild among hotel guests, which we now know thanks to the results of Expedia's first Hotel Etiquette Study released last week. To run the study, the travel company commissioned a research agency to survey 1,022 Americans on their top travel habits and frustrations -- and the results were both painfully true and hilarious. We were surprised that more people didn't fess up to eavesdropping on other hotel guests or that so many people risked hefty fines by breaking the law...but we'll let them off the hook since we're guilty of a few naughty hotel habits ourselves.
Now it's your turn: how many of these bad habits can you -- or will you -- claim? Read through and let us know in the comments section below.
1. Hoarding Free Toiletries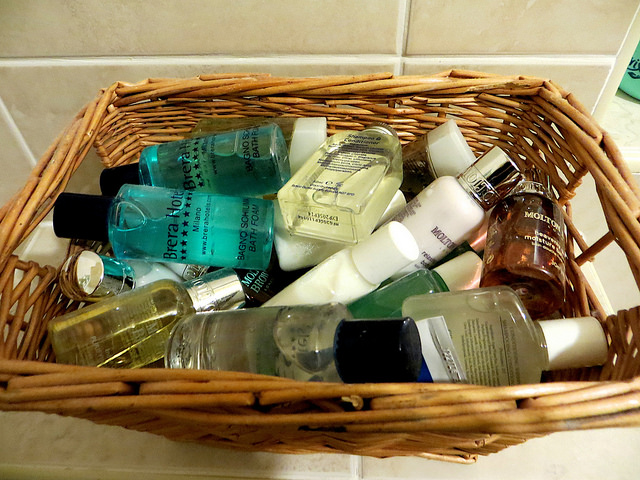 It seems there's something about those mini-bottles of shower gel, shampoo, and — bless them — conditioner that turn hotel guests into kleptos. It's true: As soon as we walk into a room, one of the first things we check out are the toiletries. We feel like the quality and quantity of toiletries are a true testament to how much (or little) a hotel really cares. Plus, it always feels great to get free stuff — and well, you've kind of already paid for it, right? At least that's how we justify it.
Thankfully, we're not alone. According the survey, 26 percent of guests admit to hoarding precious toiletries to take home with them. No wonder more and more hotels seem to be switching to large, refillable bottles of beauty supplies. This latter method also means much less waste and is better for the environment, so while we'll miss pouring out our toiletry treasures from our suitcases after a long trip, it's better in the long run.
2. Eavesdropping on Other Guests
Okay, sometimes you just can't help it. The neighbors next door are talking so loudly that you can hear every word of their bizarre arguments, conversations about touristy explorations, or even stories of sex-capades (yikes!) without even trying. But have you ever intentionally hugged the wall with your cheek or thrown your ear against the shared door in your (non)connecting room? Maybe you even turned down that episode of "Investigation Discovery" to get a better grasp of the plot line next door? If so, shame on you — or perhaps, congratulations! You are in league with the two percent of people who actually answered that question honestly.
3. Lighting Up in a Non-Smoking Room
We already know that smoking can be a costly habit, but when it comes to lighting up in a non-smoking hotel room, those cleaning fees can add up very quickly. While the average fine for breaking this rule ranges from $150 to $250, we've seen penalties as high as $1,000. Perhaps that's why only five percent of people in Expedia's survey have dared smoke amongst the "No Smoking" signs in their rooms.
4. Snatching a "Souvenir" from the Room
So, we can hang when we justify stuffing your bag with toiletry kits, but what about people who feel inclined to snag their own unauthorized "souvenirs" straight from their hotel rooms? While the survey wasn't specific to the item — it could be a shot glass, a snazzy decor accent, a towel, the hairdryer, or even a pillow — eight percent of people admit to snatching, ahem, stealing, items from their hotel rooms.
We definitely want to hear from anyone who has ever done this: Did you get caught? What happened? Spill the deets — and don't worry, you can tell us anonymously in the comments section below.
5. Reserving a Beach Lounger in the Early Morning
If you have done this, I wouldn't admit it. This really, really pisses people off. We can't even tell you how many impassioned conversations we've overheard (not eavesdropped!) that involves people complaining about the other six percent of guests who try to claim beach loungers with the ole "throw a towel down" trick. On the one side, we've heard people argue that this behavior is disrespectful and unfair to other guests who repeatedly get stuck in the sand because they didn't wake up at the crack of dawn to secure a spot — and that it's "first-come, first-served", not "first-reserved, first-served." On the other side, early morning towel throwers feel they deserve, and even earned, the right to their chairs precisely because they woke up so early. What's your take?
6. Sneaking Extras Guests into the Room
This is quite a common practice, particularly among girls' getaways, bachelor parties, and even touring bands. One or two people will check into the hotel room. Then, after the keys are handed over and they are shown to their room, the rest of the crew will sneak in after them, crashing on the floor, on the sofa, on the coffee table — anywhere there's a wee bit of space. While most cases wouldn't be this extreme (we hope), nine percent of people in the survey said they have "shoehorned multiple people into their room overnight without telling the hotel."
What's the highest number of people you've crammed into a regular double-occupancy hotel room? We think ours is about 10 — we may have been on a few tours with young bands in the past, but shhhh!
You Might Also Like:
All products are independently selected by our writers and editors. If you buy something through our links, Oyster may earn an affiliate commission.