Start with a romantic bridge, add in some cobblestone streets, mix in majestic castles plus charming hilltop views and you have a recipe for a fairytale vacation. Prague, also known as the City of 100 Spires, might seem like a compact city from the outside, but it packs in a lot, from historical landmarks, beautiful architecture, delicious restaurants, and top-notch nightlife. So how do you tackle a destination that has it all? Here, we shared a sample three-day itinerary to help travelers make the most of their vacation.
Day One
Check into the hotel
There are plenty of charming hotels to choose from, but for one that's smack dab in the middle of the action, we recommend Buddha-Bar Hotel Prague. Although the space is packed with ornate details (lampshade chandeliers, red leather chairs), it still feels welcoming and cozy. Guests can take advantage of the full-service spa, fitness center, and luxurious Asian-inspired rooms with soaking tubs. And although there's a funky restaurant on the property (think pop art design, high ceilings, and turquoise chairs), Old Town's cafes and shops (plus major highlights like the Astronomical Clock) are just a short, seven-minute walk away.
Old Town Square
Street performers, pricey cafes, shops, and gorgeous architecture — Prague's Old Town Square, which has been around since the 10th century, has a little bit of everything. From St. Nicholas Church to the Church of Our Lady Before Tyn, which features two spectacular Gothic spires, there's no lack of photogenic fodder to fill your camera with. Take it all in, then walk over to the Astronomical Clock above the Old Town Hall. Installed in 1410, this medieval landmark hosts a 45-second show every hour. Hordes of tourists gather to watch the 12 Apostles move past the windows above the clock. If time is on your side, climb to the top of the Old Town Hall tower for one of the best views in the city.
Jewish Quarter
A short walk from Old Town Square lies the Jewish Quarter, known as Josefov. The area holds six synagogues, including the Spanish Synagogue, Old-New Synagogue (where the story of the Golem was born), and Pinkas Synagogue, as well as the Old Jewish Cemetery. Reserve a few hours to explore the history, architecture, and stories that come with the area.
Alternatively, you could opt for a free Discover Prague walking tour, which kicks off right in the heart of Old Town Square. The entertaining and informative walkabout delves into Prague's history and legends (Kafka, Mozart, and more). Prepare to cover plenty of ground, including all the aforementioned attractions (Astronomical Clock, Church of Our Lady Before Tyn, the Jewish Quarter) plus others like the Charles Bridge, House of the Stone Bell, House of the Black Madonna, and much more.
Eat
All that walking will have you working up an appetite, so head to Lokal, a Czech pub with a modern twist. Fuel up on hearty fare prepared with fresh, local ingredients plus suds like the Czech Pilsner Urquell while rubbing shoulders with locals.
Christmas Market
If you happen to be visiting during the holiday season, the Christmas market in Old Town Square is the perfect way to cap off the evening. Browse the many wooden stands selling treasures like jewelry, toys, ceramics, candles, tree ornaments, gloves, and more. In addition to picking up a few presents, visitors can also sample traditional fare like klobasa sausage and trdelnik, a warm sugar-coated pastry, while sipping on a cup of hot mulled wine.
Day Two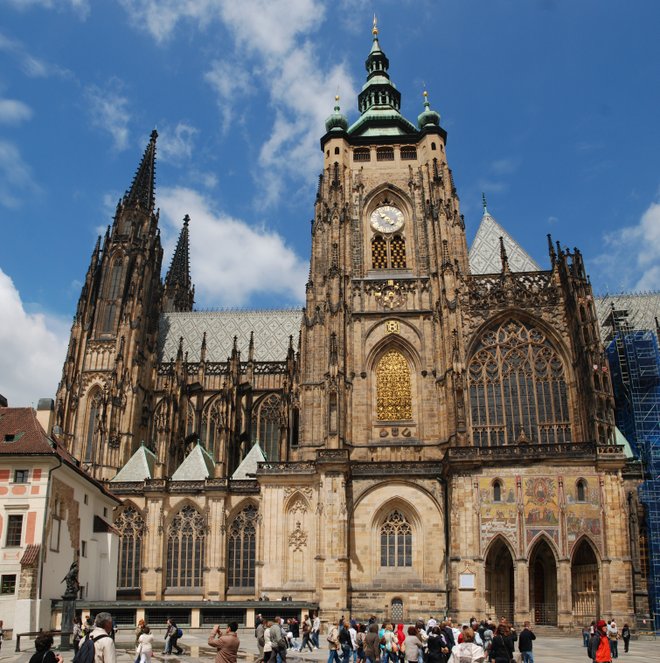 Charles Bridge
Spanning the Vltava river, this historic 15th-century bridge is a can't-miss during any visit to Prague. Stroll past the stunning statues and soak in the gorgeous views on both ends (Old Town sits on one side, while Prague Castles lies on the other). Don't miss the sculpture of St. John of Nepomuk — legend has it touching it brings good luck. Tip: visit during the evening, when crowds are thinner and the towers and domes are lit in a mesmerizing kaleidoscope of colors.
John Lennon Wall
Music and art lovers will appreciate this John Lennon-inspired wall in Prague's Mala Strana district. Covered in graffiti, the landmark, which got its first coat of paint in 1980 following John Lennon's assassination, not only serves as a memorial for the music legend, but also stands as a symbol for peace and free speech.
Prague Castle
You may not be a king or queen but visiting the 9th-century Prague Castle will certainly make you feel like one. The official residence of the President of the Czech Republic, the area also houses historic buildings, museums, galleries, and plenty more. Fun fact: it's 1,870 feet long and 426 feet wide, making it the largest ancient castle in the world, according to the Guinness World Records. At the heart of the complex is St. Vitus Cathedral. Marvel at the structure's façade or better yet, buy an audio-guided tour inside. Step through the bronze doors and you'll be met with a Gothic, stained glass interior that's so magical you'll think you've stepped inside your own fairytale.
Golden Lane
Post-Prague Castle visit, make a pit stop at this picturesque street, which is lined with small, charming houses and souvenir shops. Rumor has it, writer Franz Kafka once called this place home, too.
Petrin Hill
For another gorgeous view, walk to Petrin Hill, which features plenty of greenery plus a lookout spot that was inspired by the Eiffel Tower. Brave the 299 steps (or take the funicular railway) for a panoramic shot of Prague. Note: the funicular railway is closed until March 2016 for construction.
Eat
Pivovarsky Klub will satisfy grumbling stomachs. Go for the extensive list of beers (there are about 240 bottles plus six on tap) and stay for the food, including goulash, schnitzel, bread dumplings, and other Czech staples.
Post-dinner plans
Prague is as vibrant during the day as it is come sun down. After stuffing your gullet with plenty of grub, dance the night away at Karlovy Lazne, a five-story disco club that also happens to be the largest in central Europe, or sip a wide range of cocktails by flickering candlelight at Hemingway Bar, a intimate watering hole inspired by the author.
Day Three
Beer Museum
Among the many things Prague is known for, beer ranks high. In fact, the Czech are responsible introducing the world to the Pilsner. Here, you'll peruse old equipment and get a whiff of different hops. Top off the experience with a flight of four types of local Czech beer. Travelers can also get their fix at one of the many breweries dotting the city. Try the Strahov Monastery Brewery, a microbrewery that serves refreshing pours with a side of sweeping city views, or the 147-year-old Staropramen, the second largest brewery in the Czech Republic. U Medvidku, one of Prague's oldest breweries, is also a top lunch option, courtesy of its unique brews and tasty local food. Na zdravi — that's cheers in Czech.
The Dancing House
Although New Town is far from new (it was founded in 1348), it does offer upscale shops and restaurants that might be scarce in Old Town. At its focal point is Wenceslas Square, which is bustling with cafes, bars, and more. Another one of its main attractions is The Dancing House. Designed by Frank Gehry and Vlado Milunic, this funky, curved structure is affectionately known as the Fred and Ginger building — as in dancing duo Fred Astaire and Ginger Rogers. It's about a 20-minute walk from Prague's Old Town Square, but note: although you can gawk at it all you want from the outside, the inside isn't open to the public.
Eat
You'll be joining a top-notch guest list that has previously included Franz Kafka and Albert Einstein when dining at Cafe Louvre, which opened in 1902. Open morning, afternoon, and evening, the eatery serves up range of plates, including salads, goulash, cakes, pastries, and more. Fill up on some tasty fare, play a round of billiards, and scope out the art gallery on the first floor.
Related Stories:
All products are independently selected by our writers and editors. If you buy something through our links, Oyster may earn an affiliate commission.