Are you on Santa's Naughty or Nice list this year? We've seen a lot of good and bad behaviors during our travels over the last year -- and maybe dabbled in both as well! So we know every dirty little secret, or shiny gold star, that you've been part-and-parcel to on vacation. But if you're not sure where you stand in Santa's twinkling eyes, we're here to help. You can find out whether your favorite hotel amenities will get your stockings stuffed full of goodies or weighed down by coal this holiday season with our quiz. So check out which list you're on!
The Naughty List:
1. Have you stripped down?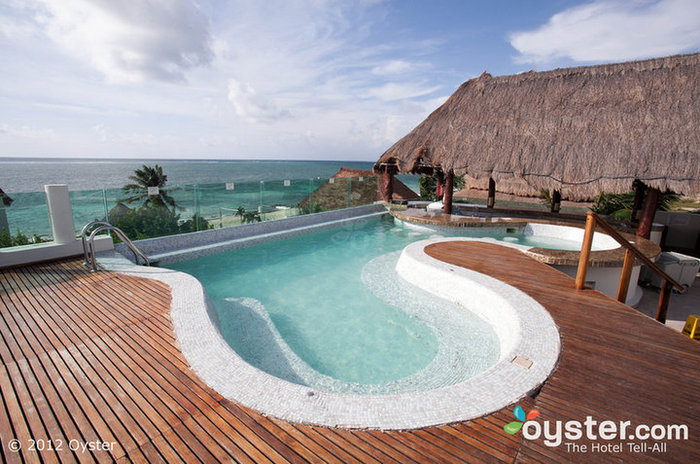 For some travelers, itsy bitsy bikinis or revealing Speedos just don't cut it — a vacation isn't a vacation without a little nudity. Luckily for them, some hotels are redefining casual dress with policies that let guests bare it all (or almost all), like the couples-only, clothing-optional Desire Resort & Spa Riviera Maya. A little voyeurism never hurt anyone — but don't be surprised if your nude antics land you on the naughty list this winter.
2. Did you light up?
Stoners across the country rejoiced this year as Colorado and Washington became the first states to legalize the recreational use of marijuana. So we wouldn't be surprised if more people than usual lit up in celebration — all over the world. Our friends in Jamaica know all about ganja, as we learned during our visit. And across the pond, thousands visit Amsterdam for a chance to hotbox one of the country's many famous "brown cafes." So chances are, you may have toked up legally this year, but that doesn't mean jolly ol' St. Nick is going to pass up mistletoe for Mary Jane anytime soon.
3. You ordered that 24K gold vibrator, didn't you?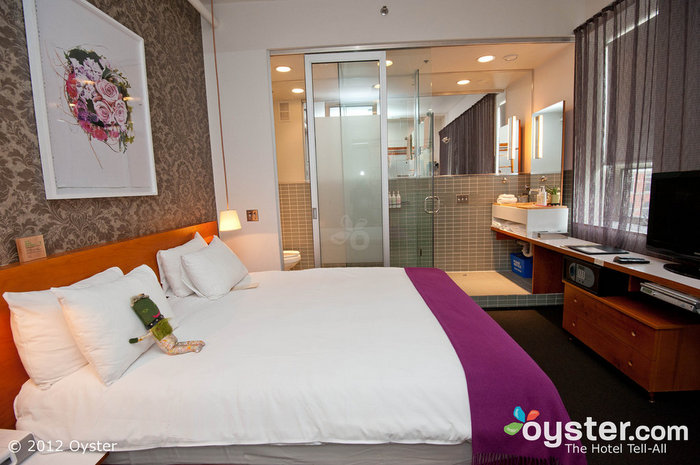 The Drake Hotel in Toronto features a variety of mood-inducing pleasure menus featuring "packs" with suggestive (and enticing) descriptions such as " some cheeky fun to get your night started" and "this one is for the thrill seekers." The priciest — ringing in at $400 — comes with a 24-karat-gold waterproof vibrator for some serious (and seriously luxurious) sexy time. Other hotels offer similarly wanton amenities, including New York City' Bryant Park Hotel which once tweeted, "One of our guests last night purchased $1,975 from our pleasure chest sex toy menu-WOW." Hopefully, St. Nick didn't see you when you were "sleeping" that night.
4. Did you get wet and wild?
Heating things up while cooling down might seem like a contradiction, but at these raunchy hotel pool parties, that's exactly what happens. Las Vegas might be best known for its extravagant affairs — even LMFAO has put in appearances at the MGM Grand's Wet Republic — but people get down and dirty poolside across the country. It might be fun at the time, but just keep in mind that your gift-giver lives in the North Pole: pool parties aren't really a thing in the Arctic.
5. Were you busted?
Our favorite hotels have seen some shocking (and some not-so-shocking) drug-related events go down this year. The upper-middle-range Crowne Plaza is a premier pick in Times Square — and in November, the NYPD announced that it was the site of a $5 million coke bust. The traffickers attempted to pass as tourists, wheeling the 100-plus pounds of cocaine out of the hotel in rolling suitcases before getting arrested. Prince Harry had his own run-in with illegal substances during his nudie game night at the Wynn Las Vegas earlier this year, while the likes of Lilo and Amanda Bynes saw themselves banned from the Standard Hollywood for alcohol-related incidents. Naughty, indeed.
The Nice List:
1. Did you know your history?
From movie star residents to ghoulish hotel guests, we've had some strange bedfellows during our travels to some of the world's most historic hotels. The election saw us visiting some of our favorite presidential properties, such as The Jefferson in Washington, D.C., while 007's return in Skyfall inspired us to visit these Bond-approved hotels. We also rediscovered our Irish roots at The Shelbourne Dublin and got spooked this Halloween at these scary hotels down South. If you're as in the know as us, we'd say you have a pretty good chance of finding presents under your tree this year. After all, Santa loves a smarty-pants.
2. Were you pet-friendly?
Leaving your pup (or cat, bird, kimodo dragon, etc) at home is never easy, on your or your pet. So guests who bring their furry friends with them on vacation get brownie points this holiday season, especially since hotels around the world are making it easier for man's best friend to come along for the ride. Whether you're toting around a contender for Best in Show or not, hotels like Fowl Cay are ready to pamper your pooch. And if you're looking to connect with Fido on a deeper level, some hotels even offer pet psychic services on occasion. If you went above and beyond for your four-legged friend this year, it's safe to say you're both getting gifts this Christmas.
3. Did you work it out?
Making a commitment to healthy living is a typical New Years Resolution. Actually committing to working out everyday, though, is a bit harder after that first week in January. Thankfully, hotels are upping the ante when it comes to fitness centers, offering attractive spaces with excellent machines and killer views like this one at the Ritz-Carlton Laguna Niguel. If you stayed fit this year, consider yourself one step closer to making it on the Nice List.
4. Did you cast your vote?
The lead-up to Election 2012 was fraught with heated debates, fat cat fundraisers, and lots and lots of gifs. We laughed, we cried, we threw things at our television sets and — hopefully — we all voted. America has an embarrassingly low voter turnout, so those who did turn out to cast their vote are certainly going to look good in St. Nick's eyes. Especially since those that did hand in their ballot brought about some amazing new laws.
5. Were you good to the environment?
These days, almost every hotel asks guests to save the planet by reusing their towel. But a growing number of properties are taking their environmental friendliness way beyond the bare minimum, by using recycled materials, energy efficient lighting and cooling systems, and more. Belize's Turtle Inn, for example, was built with an environmentally sound design using regional materials, grows an organic garden, and supports local vendors. There's never been a more important time to go green — Santa needs a world to fly around every Christmas Eve, after all.
RELATED LINKS: