Presidential hotel history: The sites of gunshots, scandals, and more
Given how much time presidents spend on the road, it's no surprise how many noteworthy events — famous and infamous both — have taken place at hotels. With the presidential seal of approval, these hotels are obviously topnotch but it also means that many of them are rich with history–secret entrances, assassination attempts, and the occasional scandal (you can never be sure what's going on in the room next door…) Here's our list of presidential hotels and the events (some of which rocked the country's politics) that went down in them.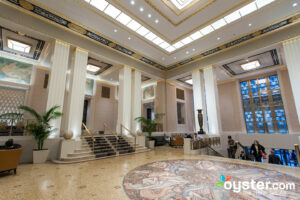 Every President since FDR has stayed in the presidential suite at the legendary Waldorf. They used to arrive via a now-defunct secret train platform underneath the hotel at 49th Street that some say was specially designed for Roosevelt so his aides could carry him to a hidden elevator that went directly to his room.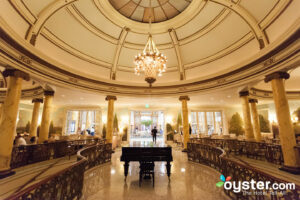 Known as the "White House of the West" (at least to the hotel's PR team), the Fairmont has hosted nearly every U.S. president since William Taft. Democrats in particular have gravitated to the Fairmont (whereas Republican presidents have traditionally crashed at the St. Francis, several blocks down the hill). Truman visited the Fairmont in 1945; Kennedy stayed here nearly two decades later, Clinton three decades after that.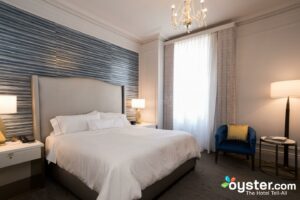 Nearly every president has visited the St. Francis since its opening a century ago. That's the part they proudly tell you about, both in the lobby and on the website. What they don't tell you is that the St. Francis is also where some less boast-worthy history has taken place. Victor Hirtzler, the St. Francis's legendary chef in the 1910s, managed to cook a dinner that had massive political repercussions. In short, a 1916 banquet in honor of Woodrow Wilson's presidential opponent, Charles Evans Hughes, was held despite a strike by the culinary workers union. The union turned against Hughes, who subsequently lost California by the tiniest of margins, which in turn tipped the election in Wilson's favor. In other words, if it weren't for a banquet at the St. Francis, there wouldn't have been a League of Nations. Seriously. More than half a century later, a woman named Sara Jane Moore fired a shot at Gerald Ford as he was leaving the hotel--the St. Francis folks don't have a plaque for that either.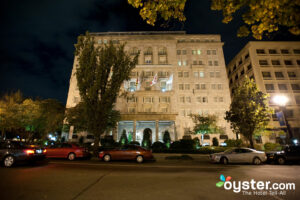 The Hay-Adams was built in 1927, for the not-too-modest sum of $900,000, over the former homes of best friends John Hay (Abraham Lincoln's private secretary and later a secretary of state) and Henry Adams (the author and descendant of John Quincy). Supposedly, the ghost of Adams' wife, who committed suicide on this site in 1885, still walks the halls, trailed by the scent of mimosa. In its early years, luxuries like steam heat, circulating ice water (now chilled Fiji), and, in 1930, Washington's first air-conditioned dining room drew notable politicians and the hotel has been a long-standing host to D.C.'s most powerful visitors since -- in 1986, for example, Carl "Spitz" Channell met donors at the hotel to raise money to arm Nicaraguan rebels (leading to the Iran-Contra affair). More recently, Obama stayed at the hotel for two weeks with his family prior to his first term inauguration.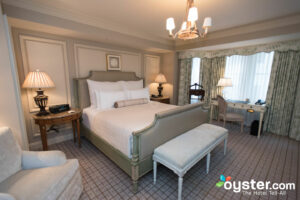 The Jefferson made its debut in 1923 as the Jefferson Apartment, a luxury residential building. In 1955, it was converted to a hotel, and has remained one of D.C.'s most prestigious ever since. Incorporating lesser-known aspects of Thomas Jefferson's life, the custom-made toile draperies in the rooms depict scenes from Monticello and other buildings he designed, the library holds an impressive collection of some of his favorite works, and the private dining room includes a working dumbwaiter (a Jefferson invention) that transports wine from the hotel's 1,000-bottle collection in the basement. Also, in the spirit of the Founding Father with such an ignominious sex life, Clinton strategist Dick Morris regularly met with call girl Sherry Rowlands at his Jefferson suite, where he allegedly sucked her toes and let her listen in on phone calls with President Clinton (who also shares Jefferson's love for women who aren't his wife).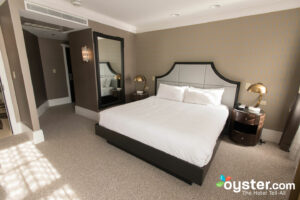 Since opening in 1925, the Mayflower has established an impressive reputation as one of D.C.'s "power hotels" for its inaugural events, high-profile guests, and, more recently, prominent affairs -- the famous photo of President Clinton and Monica Lewinksy embracing at a 1996 campaign event was taken here and New York governor Eliot Spitzer's resignation-inducing prostitute hookup happened in Room 871.
President Calvin Coolidge cut the hotel's ceremonial grand-opening ribbon eight decades ago, and since then, the hotel has been visited by every U.S. president (Reagan had his hair cut there) and numerous celebrities (Audrey Hepburn, Elizabeth Taylor, and Cher) were frequent guests. In 1999, the hotel -- formerly known as the Carlton Hotel -- changed hands and became the second St. Regis in the world.
A hotel has stood on the site of the Willard Continental, two blocks from the White House, since 1816. But it wasn't until Henry and Edwin Willard purchased the property in 1850 that it first gained fame. President Zachary Taylor stayed at the hotel soon after it opened, and Abraham Lincoln, amid assassination threats, covertly checked in and stayed for the 10 days leading up to his inauguration. Ulysses S. Grant, who often relaxed with brandy and a cigar in the lobby, was approached by political operatives pushing various causes whom he nicknamed "lobbyists." In 1963, Dr. Martin Luther King Jr. composed a draft of his "I Have a Dream" speech while staying at the hotel. Today, the Willard continues to host presidents, diplomats, and D.C. power players.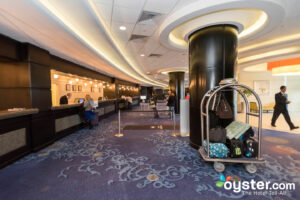 About the only interesting thing about this massive convention hotel is its notorious history. As President Reagan was leaving the hotel after a speech in 1981, he received a gunshot wound to the lung at the hand of mentally ill, would-be-assassin John Hinckley Jr., who was attempting to impress actress Jodie Foster. The White House press secretary, a policeman, and a secret service agent were also wounded (although none fatally).