In the past, cruise ships were vessels that dependably carried passengers from port to port, offering dining and drinks en route. Entertainment could be a dip in the pool, live music, dancing, or shuffleboard. (Or just loads and loads of romantic flings, if "The Love Boat" is to be believed.) And plenty of ships still focus on those classic diversions. But these days, many major cruise lines have tricked out their ships with outrageous features that seem more in line with amusement parks -- or a billionaire's mansion -- such as ice bars and go-karts. Read on for the most flamboyant, over-the-top features we've seen onboard.
1. Bumper Cars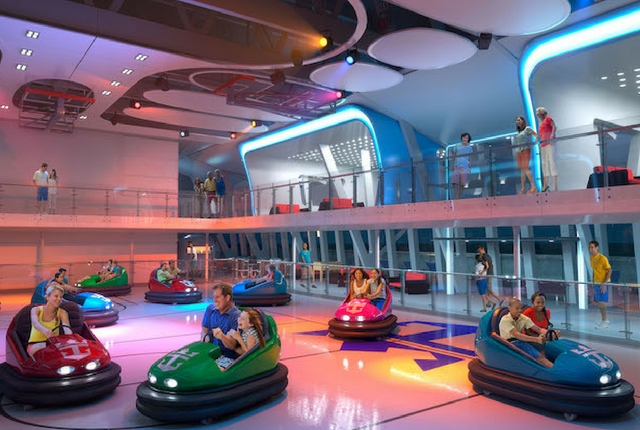 When else would a three-car pileup be a cause for laughter and smiles? Bumper cars are a theme park crowd-pleaser, and Royal Caribbean's Quantum-class ships like Anthem of the Seas offer several of these whizzing cars to kids and kids-at-heart. Parents might be happy to hear that these little autos run on batteries (versus electric-rod conductors), but most passengers are simply too busy dodging each other and flipping 180 turns to notice that detail.
2. IMAX Movie Screens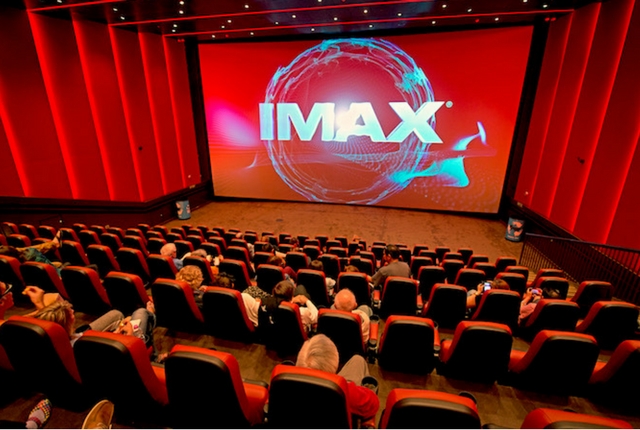 Plenty of ships offer movie screens at sea, but Carnival Vista is the first to crank this up to IMAX proportions. Their indoor screen is three-decks high and seats a total of 187 passengers. Films, including 3D versions with matching glasses, are screened throughout the ship's sailing, and, incredibly, Carnival shows new releases the same time they open at your local multiplex. Even the concession stand gets an upgrade with beer joining the usual popcorn and candy offerings.
3. Ice Bars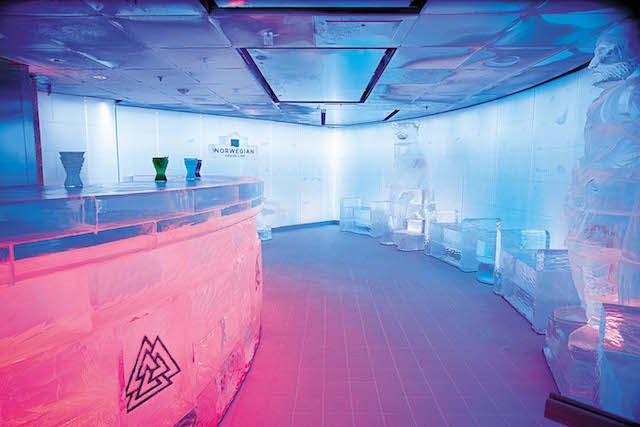 Winter is coming — to Norwegian Cruise Line. Three of its ships (the Breakaway, Epic, and Getaway) have Svedka and Inniskillin Ice Bars where the bar is made of frozen blocks, and several ice sculptures deck out the space. Don't worry about packing a parka with your swimsuit; the bar provides them along with gloves. And you'll need them, too, as the room is kept at a frosty 17 degrees, perfect for sipping vodka cocktails or ice wines.
4. Go-Kart Racing
"Road & Track" named Norwegian Joy's go-kart track "one of mankind's greatest achievements," and they sounded 100 percent sincere. This looping raceway that runs along the top deck of this ship lets cars zip around each other right by vast ocean views. There's even a checkered-flag starting line emblazoned with an electric "Go! Go!" — not that you'll need any encouragement.
5. Skydiving Simulators
If cruising and skydiving are on your bucket list, Royal Caribbean can check both off at once. Their Quantum-class ships are kitted out with iFly skydiving simulators: intense wind tunnels that allow you to hang in the air as you would if you were jumping out of a plane. Get suited up in a jumpsuit and helmet (primo selfie material), and launch yourself into the tube where a rush of air will keep you levitating. The simulator doesn't get too high off the ground, so even those squeamish about heights can hop in.
6. Suspended Biking
This is the high-octane version of peddling around the boardwalk. Carnival Vista's SkyRide takes the usual recumbent-bike setup and hooks it up to a suspended track that hangs over the ship, giving you a bird's-eye view of the top deck, the ocean, and the world (or that's how it feels). Thrill-seekers can put the pedal to metal and speed-race around the loop, while others can leisurely tool around and take in the vista.
7. Robot-Operated Bars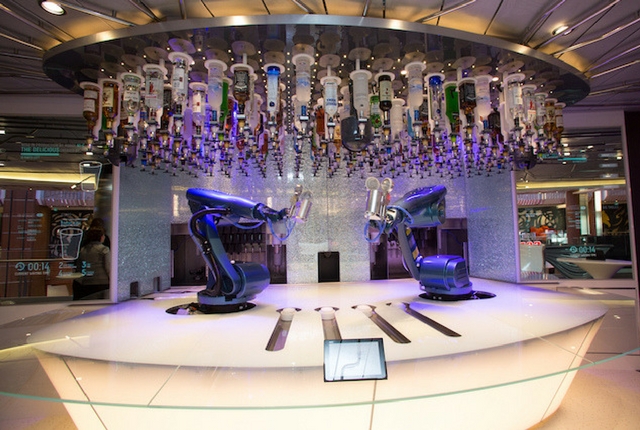 Welcome to the future, where robots serve your drinks. Bionic Bars on Royal Caribbean's Quantum-class ships are manned by two robotic arms that look like they belong in a lab shaking up test tubes instead of the cocktails they commonly pour. A video screen gives a step-by-step account of every part of the drink's construction, and little moving coasters ferry the finished drinks out to the edge of the bar where passengers collect them along with plenty of pics.
You'll Also Like:
All products are independently selected by our writers and editors. If you buy something through our links, Oyster may earn an affiliate commission.