Summertime always gets us nostalgic, particularly when we think back to our busy days and peaceful nights spent at summer camp. Everything was just simpler then, right? Counselors chose the activities, the kitchen staff provided all the grub, and at night the soft sounds of nature -- plus the fact that you were dead-tired from the day's adventures -- put you right to sleep. Well, you may be all grown up now, but you can still relive those days -- and bonus: no need for matching uniforms. When summer was just beginning to hint its arrival, we told you about the best hotels stateside for pitching a tent (and we threw in a Botswana property just for good measure). So this time, we're focusing solely on international destinations where you can experience a new kind of summer camp-like getaway that's adults-friendly (and most are kid-friendly, too). Check out our top picks for outdoorsy, campy properties outside the U.S.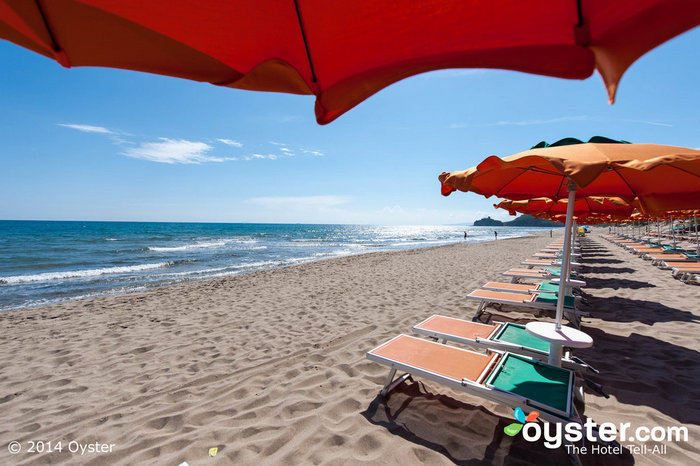 Billed as a high-end camping village, this property has some fun amenities — a striking pool, a Turkish bath, and tennis courts — with bungalows of various sizes spread out over a large wooded area about 500 meters from the beach. Some of the newer, larger bungalows are on the luxurious side; ones at lower price points are a little on the shabby end (although they may be more reminiscent of a summer camp stay than the others). The property offers numerous play areas for kids, as well as daytime and nighttime activities, and it has an on-site market so guests can make use of the in-room kitchens. The hotel also provides a shuttle to the nearby seaside town of Castiglione della Pescaia.
The Selinda Canoe Trail is a four-day, three-night trip that takes place along the Selinda Spillway, offered from May to October. Camp is set up each night in secluded spots along the water — far from modern conveniences such as electricity and flushing toilets, but as luxe as camping can get, with great meals and an attentive staff that does all of the setting up and packing up for you. A safari-on-water, the trip's highlight comes during the day, when wildlife such as elephants, hippos, and giraffes can be spotted. But winding down under the stars, cocktail in hand, with the sound of Africa all around you, is pretty hard to beat as well — one way that this trip definitely trumps your summer camp!
Lisboa Camping & Bungalows has campsites and 70 basic bungalows available in a big park well outside of the city center, and it may be more akin to your summer camp past experiences than some of the other properties on this list. It offers plenty to do with an outdoor pool, playgrounds, and an indoor game room. Guests can buy their own groceries at the on-site supermarket or purchase meals from the cafeteria. The rooms are functional but bare-bones, with small showers and tube TVs.
Often called "summer camp" by guests, Natura Cabanas is a taste of serene, northern coast luxury for a remarkably fair price. Guests enjoy delicious, fresh food, a clean, crowd-less private beach, yoga classes, and a fabulous spa. It's quiet, and a bit rustic without TV or AC in rooms, but that's the point. Rooms range from studios to three-bedroom units and, in keeping with the eco-sensitive theme, most of the furniture was constructed from the bamboo and coco palm trees that were cleared to construct the property. Room highlights include a sexy stone bathroom, porches with hammocks, and high ceilings thanks to thatched roofs.
Villaggio Resort Nettuno is a lower-middle-range property that has more of a campsite vibe than a resort feel. Campers can pitch a tent or set up their mobile home on the premises; there are also independent bungalows set in the terraced landscape, and slightly rustic apartments situated in a centuries-old tower up the hill from the main encampment. Some campers have noted that though the bathroom facilities are relatively clean, they look a bit old and dingy. The property is located a five-minute walk from Marina Cantone, reputedly one of the more beautiful beaches on the Amalfi Coast. Gorgeous views of the sea and sand abound from the Villaggio's spot upon a hill.
Pook's Hill Lodge isn't as evolved as other high-end Belize eco-lodges, so it's ideal for those looking to relive summer camp. It's a perfectly fine place to stay in a wonderfully remote location; just don't arrive expecting luxury on par with that found in other long-established properties such as Chaa Creek. There's no pool, the 11 rooms are fairly basic and small, meals are served communal style, and hot water is only available during limited hours. Camp-like perks include river tubing and birdwatching on-site, and the hotel provides free guided hikes as well.
Camping Village Roma is a nearly 230,000-square-foot open campground with family-friendly facilities such as playgrounds, pools, and separate child showers. Adults will likely appreciate the bar, nightclub, and hot tubs. With over 300 units consisting of tented camping and caravan spaces, and property features such as a supermarket, restaurant, laundry facilities, and ice cream shop, some visitors choose to stay on the premises and skip the arduous journey into Rome proper. It may not be fancy, but this is certainly a step above camping in the dirt.
This ultra-remote, luxurious safari lodge on an island in Botswana's Okavango Delta isn't a hotel, it's an experience, where everything — including the excellent food and the guided excursions (game drives, bush walks, river cruises) — is included in the price of the stay. Guests can get up close to exotic wildlife on both land and water (think: lions and hippos), and even arriving to the property is an adventure, requiring transport by small plane, safari vehicle, and a boat. The nine safari tents are fully screened in and thoroughly high-end, with huge soaking tubs, four-poster beds, and private pools. It's about as luxe as camping gets.
Check out Oyster's page on Google+
To learn more about Jane Reynolds, visit her on Google+
RELATED LINKS:
All products are independently selected by our writers and editors. If you buy something through our links, Oyster may earn an affiliate commission.