Many hotels were not born as hotels. Some first served as prisons, or hat factories, or even lemon distilleries. And some had, shall we say, loftier first lives -- as the residences (often, the second, third, or fourth homes) of royalty. That's right. We've stayed at hotels -- from the Amalfi Coast to the Irish countryside -- that were once the official residences of royals, but have since shed their former titles to serve the lowlier, "ill-bred" set like us. But fortunately, we've still been given the royal treatment at each. Check out these eight gorgeous hotels that kings, queens, and counts once called home.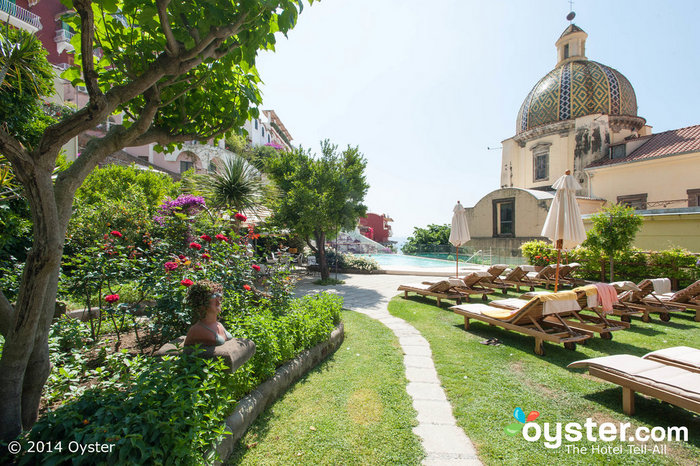 Unlike most hotels in the cliffside town of Positano that require a steep walk to reach the beach and town center, the Palazzo Murat is located smack in the town center's pedestrian zone. It dates back to the 17th century, and for a while it was the extravagant summer home of Napoleon's brother-in-law and King of Naples, Gioacchino Murat. Its historic opulence is evidenced by intricately cut stone doors and window frames, refurbished tile mosaics, and wooden furniture. With a pristine pool and some nice freebies, Palazzo Murat is ideal for travelers who want to stay in historic lodgings in the heart of the action — but it lacks the gorgeous ocean views of nearby cliffside hotels.
The Culloden Estate is a popular spot among couples and honeymooners and it's not surprising; this luxurious historic property was once a palace, and it still sits on over 12 lush acres today. But instead of days filled with royal duties, guests here enjoy days filled with rest and relaxation, whether they're spent at the gorgeous spa, in the fine-dining establishments, or in the attractive rooms which come complete with free water and welcome trays. Bathrooms are small and there are few amenities for children, but otherwise it's hard to find fault with this Irish property.
Housed in the former residences of the Bertolini princes, the Grand Hotel Baglioni lives up to the grand image painted by Florence's past. The hotel is filled with heavy-handed regal touches and ornate decor from top to bottom. The 193 rooms are very spacious (not often the case in a historic building), and feel luxurious, decked out with classic Italian furnishings, large leaded windows, gorgeous dark wood (the ceilings, floors, and furniture), and equally spacious dazzling white bathrooms. Both the rooftop garden and Terrazza Brunelleschi restaurant offer stunning views of Florence. All of this comes with a hefty price tag, of course, but the convenient location and rich design make the splurge worth it for some.
The former estate of an Italian duchess, the ultra-luxurious Esencia oozes Mediterranean elegance and style. With just 29 rooms spread over 50 acres, the property feels intimate and exclusive, and shows a thorough attention to detail in everything from the services to the decor. Upscale, contemporary rooms are housed in two-story buildings set amid lush tropical grounds, and feature lots of high-end amenities, including pre-loaded iPods, Molton Brown toiletries, and in some, even private plunge pools. The gorgeous spa, excellent restaurant, and relaxing pools with ocean views are highlights.
Formerly the palace of an Ottoman Sultan, the Ciragan Palace Kempinski is the grand dame of Istanbul. It wows guests at every turn, from the sprawling, manicured grounds, to the heated infinity pool right on the Bosphorus, to the refined suites. The dining options are extensive and exceptional; the spa is lovely; and the meeting space housed in the original palace building makes an ornate setting for a business function or wedding. It's arguably the city's top luxury option, but it's far from the popular tourist sights in Sultanahmet.
Built in the early 18th century for the noble Villapanes family in the traditional Sevilian baroque style, this gorgeous palace now houses a luxury boutique. Its 50 rooms are all elegant and stylish, with a few original architectural details — including wall moldings and, in some, intricate coffered ceilings — and high-end amenities, such as flat-screen TVs, free minibar items, and free Wi-Fi. The small spa, lovely courtyards, intimate restaurant, and rooftop plunge pool offering panoramic city views are all great perks. The location, in a quiet area of the historic center, is ideal for those looking to see Seville's main attractions.
Ashford Castle embodies the fantasy of the Irish castle hotel, featuring a massive historic stone facade, complete with towers and turrets; gorgeous, manicured grounds; a stunning setting on a huge lake; and common spaces that are truly grand, with rich wood paneling, chandeliers, and antique furniture. George V Dining Room offers excellent, formal fine dining (jackets are required in the evening), and drinks and tea can be enjoyed in the graceful drawing room with lake views. Although it changed hands among warring tribes and nobility many times in the centuries before it was a hotel, Ashford Castle once belonged to the English Lord Bingham. Nowadays, the wide range of estate activities includes falconry lessons, boat tours on the lake, golf on the 9-hole course, clay shooting, and archery.
Once the home of the king of Naples, the Palazzo Caracciolo now houses an upscale boutique that is part of the MGallery Collection of Accor Hotels. The stylish, contemporary interiors are a striking counterpoint to the historic architecture. The 139 rooms feature all-white decor with silver accents, modern bathrooms with black and cream tiling, and solid amenities, such as flat-screen TVs, stocked minibars, and free Wi-Fi. The lovely cloister is a favorite among guests for a quiet drink at night, and the Mediterranean restaurant is a solid pick for those who wish to sample regional cuisine.
To learn more about Jane Reynolds, visit her on Google+
RELATED LINKS:
All products are independently selected by our writers and editors. If you buy something through our links, Oyster may earn an affiliate commission.