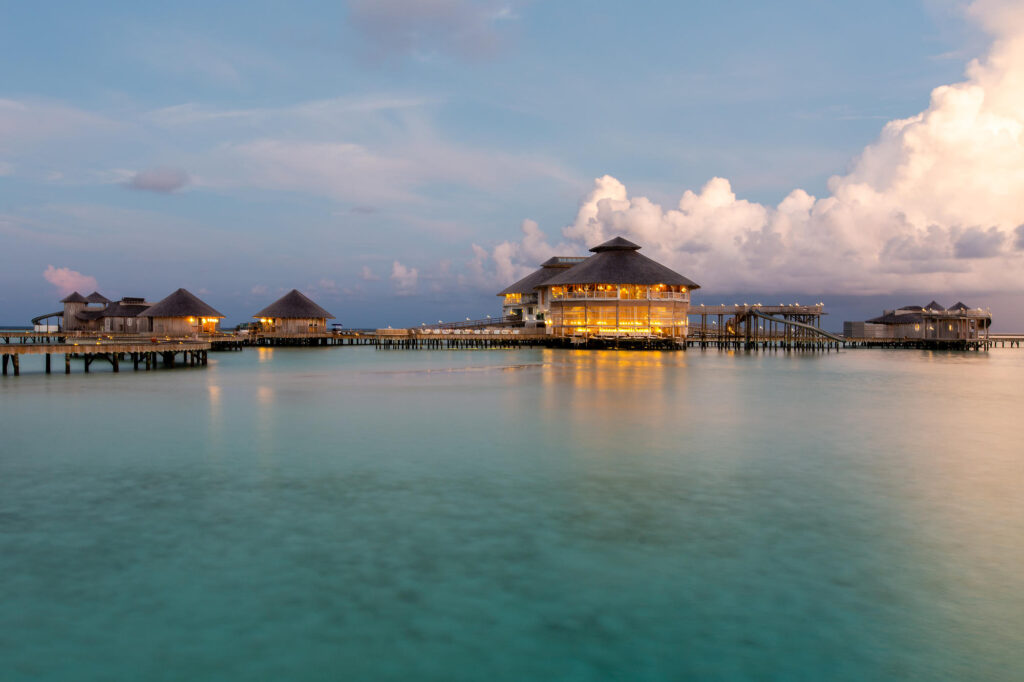 The Gathering at the Soneva Jani/Oyster
Few places inspire exotic island vacation dreams like the Seychelles and Maldives. Often tagged as splurge-worthy honeymoon destinations, these tropical paradises are also fit for families, adventure-seekers, and friend groups, plus they offer accommodations that cater to many budgets. While both destinations require a bit more effort to reach than the typical Caribbean island jaunt, their unspoiled beaches, picture-perfect scenery, and luxurious resorts are worth the jet-lag. 
Getting to the Maldives and Seychelles
While both the Seychelles and Maldives are incredible destinations in their own right, their far-flung locations make them popular add-ons to larger trips. For example, the Seychelles, an archipelago roughly 930 miles off the coast of East Africa, can be added to many East and South African safari itineraries. Meanwhile, the Maldives, sitting 620 miles from the tip of southern India, is often tacked on to larger cultural excursions in India and Sri Lanka.
The Seychelles: If you are traveling to the Seychelles after visiting the African mainland, Nairobi and Johannesburg are your best bets for daily direct flights. Flights from Nairobi to Mahe, the Seychelles' largest island and commercial hub, clock in at around three hours. Flights from Johannesburg are approximately five hours. Flying to the Seychelles from North America will require at least one pit stop — Kenya Airways, Air France, Emirates, Etihad Airways, and Qatar Airways all offer great connectivity through Nairobi, Paris, and the Middle East. An additional domestic flight or ferry may be required if travelers are staying on Grand Anse, La Digue, Félicité, or Silhouette Island. For travelers who prefer to stay put after a long international flight, Mahe is home to some of the Seychelles' best hotels, including the Four Seasons Resort Seychelles, the Banyan Tree Seychelles, and MAIA Luxury Resort & Spa.
The Maldives: The Maldives archipelago is a popular add-on to larger trips across the Indian subcontinent. With weekly direct flights from Mumbai, Bengaluru, and Chennai, as well as daily direct flights from Colombo, Sri Lanka, it's easy to see why the Maldives is often paired with its neighbors. The flight from Colombo to Male, the Maldivian capital, is only an hour long. Like the Seychelles, traveling to the Maldives from North America will require at least one stop. Air France, Austrian Airlines, Lufthansa, Emirates, Etihad Airways, Qatar Airways, and Cathay Pacific offer great connectivity through their hubs in Europe, the Middle East, and Asia. Unlike Mahe in the Seychelles, Male is not somewhere international travelers typically stay. Travelers in search of famed overwater bungalows and luxurious resort accommodations will need to take a seaplane or speedboat transfer to their hotel upon arrival in Male.
Top Hotels in the Maldives and Seychelles
Both the Seychelles and Maldives are known for their uber-luxurious resorts, though both destinations cater to all budget types. One key difference between the two destinations is resort accessibility. In the Seychelles, many travelers will arrive at their hotel, unpack their bags, lounge by the pool, and then head out to explore the island, whether to dine at local restaurants, browse boutique shops and art galleries, or discover the hundreds of plant and animal species endemic to the Seychelles. In the Maldives, it's quite the opposite. Once guests arrive at their resort, they typically don't leave, unless they're headed to another property. The remoteness of the Maldives' atolls and the expense of visiting different islands mean most travelers will remain on the resort grounds for the duration of their stay.
The Seychelles: Accommodations in the Seychelles range from tidy guesthouses to sprawling resorts. Smaller hotels and guesthouses like Bliss Hotel and Villas De Jardin are popular with budget-conscious travelers or those making multiple stops across the Seychelles. Resorts such as Hilton Seychelles Northolme Resort & Spa and Kempinski Seychelles Resort Baie Lazare cater to couples and honeymooners, families, and friend groups. Many resorts offer luxe amenities like private plunge pools and outdoor showers.
The Maldives: The Maldives is perhaps best known for its overwater bungalows, but luxurious digs aren't the only defining characteristic of the properties here, which have over-the-top amenities like ocean waterslides, underwater restaurants, and zero-gravity yoga studios. While most travelers shell out some serious cash for their Maldives vacation, there are more budget-friendly options, like Reethi Beach Resort (one of the Maldives' first hotels) and Coco Palm Dhuni Kolhu.
Beaches in the Seychelles and Maldives
Both the Seychelles and Maldives are known for beautiful beaches, but their glorious stretches of sand are incredible in different ways.
The Seychelles: Dramatic coastal scenery is one of the Seychelles' many attractive qualities. Here, rugged beaches are surrounded by sea-swept cliffs and horizon lines are dotted with the curvatures of distant islands. One of the country's most famous spots, Anse Source d'Argent, is a gorgeous stretch of sand where shallow waters splash up against prehistoric granite boulders.
The Maldives: If sugar white sand, warm waters, and castaway scenery are the defining characteristics of your perfect beach, then the Maldives is calling your name. The country's tiny atolls are home to some of the world's most beautiful beaches, where shorelines stretch undisturbed for miles and the only sign of civilization is your cocktail attendant asking if you'd like another round. The extensive reef system that surrounds the atolls also makes the Maldives one of the world's premier diving destinations.
Weather in the Maldives and Seychelles
The Seychelles and Maldives can both be considered year-round destinations, thanks to their tropical climates and consistently warm temperatures. However, each destination has a few seasonal caveats that are worth noting.
The Seychelles: The Seychelles' high season falls between June and September, when the weather is dry and daily temperatures hover in the low 80s. If you don't mind scattered showers, April and May and October and November are sweet shoulder seasons, with comfortable temperatures and thinner tourist crowds. December through March is considered peak rainy season, with as much as 10 to 15 inches of rain falling monthly. Despite the rain, the Seychelles is a popular winter holiday destination for Europeans.
The Maldives: Though temperatures remain around 85 degrees throughout the year, sunbathers and scuba divers will consider opposite peak seasons in the Maldives. From November through April, the archipelago is sun-seeker's paradise, sunny days and little rainfall. However, reef life isn't as abundant as May through October, when reefs teem with fish. During this long low season, travelers can expect discounted hotel rates and intense short-lived rainstorms.
Activities in the Maldives and Seychelles
Although it might seem obvious that the Seychelles and Maldives are geared toward beach relaxation, they offer different activities on and off the sand. Plus, if you're looking for a nightlife-fueled vacation, neither destination will win you over — sunset cocktails are about as rowdy as it gets.
The Seychelles: Given its diverse flora and fauna and hilly landscape, the Seychelles is a nature lover's paradise. Active travelers looking for excitement off the beach will have their pick of hiking trails, coastal mangroves, and protected rainforests to explore. On Mahe, Morne Seychellois National Park is home to the island's highest peak — unsurprisingly named Morne Seychellois — which stands a staggering 3,000 feet above sea level.
The Maldives: Activities in the Maldives are more resort-centric than those in the Seychelles. There are no hiking trails or mountainous national parks to explore in the Maldives, but resorts here excel at creating fun for their guests. Some resorts, such as the One & Only Reethi Rah, are packed with amenities like multiple pools, tennis courts, football fields, climbing walls, art studios, and tricked-out kids' clubs. Many even offer fishing and whale-watching excursions or trips on a traditional dhoni boat. Others, like Soneva Jani, have outdoor movie theaters and overwater spas.
Our Top Pick for a Hotel in the Seychelles
Overlooking stunning Petite Anse Bay, the luxurious Four Seasons Resort Seychelles marries elegant interiors with the sweeping grandeur of its natural surroundings. Guests stay in individual treetop-level villas, each with its own private plunge pool, whirlpool, and outdoor shower. There's little in the immediate area, but the resort is jam-packed with top-notch amenities, including a spa with a massive menu, a golf driving range, a fitness center with personal trainers, and a dive shop. Classes in yoga, surfing, Creole cooking, art, hiking, sailing, and more keep guests busy. However, the private beach with staff delivering refreshments and attending to guests' needs is the ultimate spot to unwind.
Our Top Pick for a Hotel in the Maldives
Located on a beautiful private island, Constance Halaveli almost seems too good to be true. Accessible only by seaplane or speedboat, the resort is secluded and serene. However, there's still plenty to do: a dive center, spa, pristine beach, gym, scenic dining options, water sports activities, and a kids' center. The 86 airy villas have lovely amenities, like wine coolers and terraces with plunge pools, but some are in a garden on the beach, while others are above the water. The hotel's attention to detail and service is also top-notch — guests can expect small touches, like single roses that accompany 24-hour room service. It's no wonder so many guests refer to this private island resort as "paradise."
You'll Also Like:
All products are independently selected by our writers and editors. If you buy something through our links, Oyster may earn an affiliate commission.