For travelers who want to steer clear of Mexico's booze-guzzling partiers, chain restaurants, and rowdy all-inclusive resorts, Tulum is undoubtedly the place to be. The sleepy, boho-chic destination is well-known for its delicious food, eco-conscious establishments, and friendly locals. It also happens to be ideally located for those who want a relaxed and unplugged home base for exploring the outskirts of the town. Don't get us wrong, Tulum itself is full of ways to spend your days -- be it sunbathing, sipping fresh-squeezed sugarcane mojitos at Batey, reveling in the history of the ancient beachside ruins, or getting lost in the beauty of the biosphere reserve of Sian Ka'an. But if you've got a wandering eye, here are a few of the best day trips from Tulum.
Explore the Gorgeous Theme Park Paradise of Xel-Ha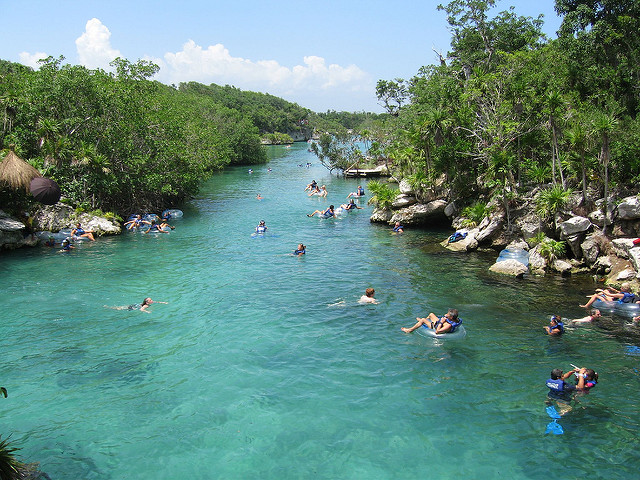 Long before this stunning natural aquarium opened to the public in 1995, the ancient Mayans gave it a name: Xel-Ha, which means "where water is born." While some may be turned off by the fact that modern-day Xel-Ha is most definitely a tourist theme park, its practically unparalleled natural beauty — both above and below the crystal-clear waters — can't be denied. Your admission will give you access to a load of free activities, from swimming in cenotes and snorkeling to hiking and biking jungle trails plus adventurous to-dos that involve rope swings, zip-lines, suspended courses, and cliff jumping. If you want to have interactive experiences with dolphins or Snuba, you'll have to pay extra. Tip: BYO biodegradable sunscreen.
Time from Tulum: Approximately 20 minutes by car
How much time to budget: Plan on spending the whole day here.
Climb the Ancient Ruins of Coba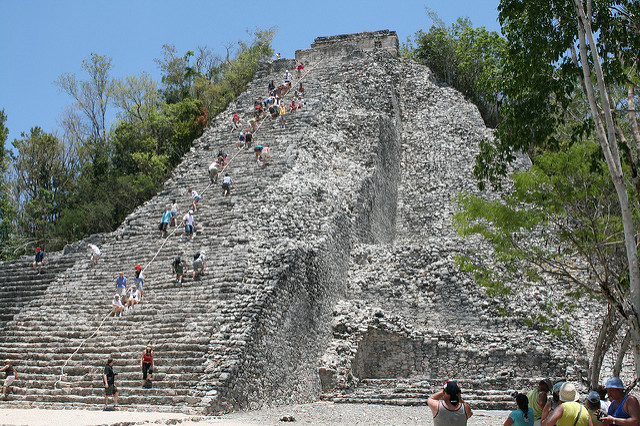 The ruins of Coba are what's left of what archeologists now believe was one of the largest cities in Mayan history. It is estimated that the sacred complex once covered over 50 miles of thick jungle and was home to around 50,000 Mayans. Today, Coba's Nohoch Mul pyramid rewards determined visitors, who climb 120 steep steps to reach the top, with outstanding, 360-degree vistas across the Yucatan. If you're searching for motivation to make it to the top, keep in mind that you are in a privileged position, as Nohoch Mulis one of the last climbable ruins. Rent a bike to ride around the complex, stopping at whichever ruins catch your attention (we recommend checking out the ancient sport courts of Juego de Pelota del Grupa Coba). Tip: Don't forget the mosquito spray.
Time from Tulum: Approximately one hour by car
How much time to budget: You can easily do this as a half-day morning trip.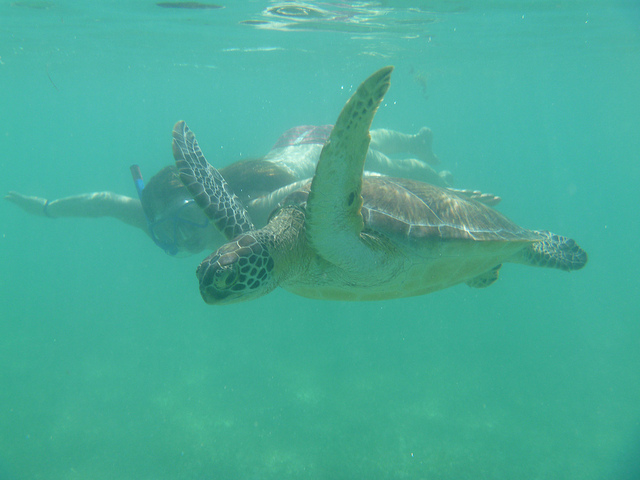 For years, the quiet, sandy shores of Akumal remained an insider secret of locals and few lucky tourists. However, it seems like the secret's out, as the town is now widely known as one of the top spots to swim with turtles (its name even translates to "Land of the Turtles"). If you visit between June and November, keep an eye out for marked turtle nests on the sand; you may even been lucky enough to witness hatchlings. However, this year-round haven is under threat as several boat tours park in the water each day. We suggest all visitors do their part and choose a company with a low footprint, wear eco-friendly sunscreen, and never touch any of the wildlife you see. Tip: Get there early and grab breakfast at the Turtle Bay Cafe & Bakery or plan your visit during the midweek farmer's market to browse crafts and soak in live music.
Time from Tulum: Approximately half-hour by car
How much time to budget: Depending on how much you want to do (lounge on the beach, snorkel, grab a bite to eat, or explore a nearby beach bar, to name a few), you can tackle Akumal in a half or full day.
If people travel to Tulum to relax, they travel to Playa del Carmen to party. The grid-like layout and pedestrian-only La Quinta Avenida make it easy to navigate and stumble across something to eat, drink, or do with every step. Bustling from the sunny hours of the morning to the wee hours of the night, Playa (as the locals call it) is a vibrant spot to spend a day or night out, away from the calm and low-key vibe of Tulum. Here, visitors can expect plenty of restaurants, beach clubs, bars and dance clubs, and places to shop. Tip: Avoid grabbing a cab back to Tulum from the taxi line — they are over-priced tourist traps.
Time from Tulum: Approximately one hour by car
How much time to budget: Those who want to only walk the promenade can do so in a few hours, while folks who want to check out the beach or hit the club should plan on spending a full day or night.
If you're looking for some island vibes while visiting Tulum, make a day trip to Cozumel. Not only is this gorgeous spot ideal for catching rays (we suggest avoiding the touristy cruise depot areas, though), it's also one of the world's top places to snorkel and dive. If you prefer to explore on land, hop on scooter and make your way to the ruins of El Castillo Real, marine inlets, and quite possibly, your own private section of beach. Just make sure to ask about the terrain of your projected route as some of the roads can be a bit harrowing for small engine vehicles.
Time from Tulum: Approximately an hour to Playa del Carmen, followed by a 45-minute ferry ride
How much time to budget: This is a full day adventure.
Discover the Underwater World of Cenote Manatee
Did you know that Tulum is home to the world's longest mapped underground river system in the world? This gives way to a plethora of underground swimming holes, or cenotes. However, while most tourists flock to the popular cenotes like Dos Ojos and El Gran Cenote, we prefer a smaller, more natural-feeling spot, like Cenote Manatee. All you have to do park in a gravel lot, walk up to the entrance, and hop in. But don't let the name fool you — while the sea cows used to be spotted regularly by swimmers, they have become a rare sighting these days. Nonetheless, you can still strap on some snorkeling or dive equipment or hop on a kayak and work your way through the crystal-clear waters tospot colorful fish and hatchlings in the mangrove roots. Remember the eco-friendly sunscreen and bring your own towel.
Time from Tulum: Under a 20-minute drive
How much time to budget: Two hours minimum, but up to a half day to be safe.
Beach and Lunch Like a Local at Juan Chamico's
If you're looking for a laid-back spot with ocean views, hammocks stretched between palm trees, and scrumptious seafood, you'll want to head to the unmarked beach spot, Juan Chamico's. Most tourists find out about this hidden gem through the hushed voice of a hotel manager, tour drivers, or other locals. There's no signage and a few twisting roads, so you might need to procure a handwritten map on how to get here. Once you arrive, snag the first table or hammock you find (it can get packed). Just keep in mind that this was, until recent years, a local's-only spot, so be respectful and soak in the fact that it has yet to be spoiled by rowdy tourists. Tip: There are no menus here; order the fresh fried fish and lobster ceviche, two dishes Chamico's is well known for.
Time from Tulum: About a 30-minute drive
How much time to budget: Two hours minimum, but up to a half day.
A super-chic, adults-only luxury property, Be Tulum has an excellent location in the middle of the Hotel Zone. A design-conscious, BoHo-chic look is present throughout the grounds and in the 20 guest rooms, outfitted with plunge pools or hot tubs, indoor and outdoor showers, hammocks, and modern comforts like air-conditioning and 24-hour electricity (not a given in this area). There's also an attractive beach club, a small infinity pool, a large restaurant with raw bar and grill, two bars with mezcal selection, and a fashionable spa compound across the street.
Offering super cute, sustainable swimwear options, Reformation makes a key swimsuit for any Mexican vacation.
NOW WATCH: The Best Things to Do in Riviera Maya
Related Stories:
All products are independently selected by our writers and editors. If you buy something through our links, Oyster may earn an affiliate commission.