Being stuck in an airport might be one of the worst parts of traveling, but it doesn't always have to be that way. Hear us out. Airport lounges around the world are going above and beyond the complimentary half-hour of free Wi-Fi, making the hours of waiting less painful and -- dare we say it -- even enjoyable. Spas, top-notch coffee service, noodle bars, and stellar rooftop views are only a few of the standout features. So the next time you book a flight through one of these airports, arrive early. Who knows -- with luxurious lounges like these, you might even end up wishing for that delay.
Dubbed the "Clubhouse of all Clubhouses" by Virgin Atlantic, this 15,000-square-foot flagship in London's Heathrow Airport is where all the cool travelers go to hang out. Stop by the bar, which serves Champagne, cocktails, and international menu items, or play video games on retro game consoles, watch a movie in The Den, squeeze in a quick nap in The Lodge, or climb the marble staircase to the top of The Loft for impressive views of planes taking off. Those who want to get spiffy before take-off can visit the spa for a free facial. You can also get various other treatments, including a Bumble & Bumble blowout and Truefitt & Hill men's shave. If inspiration strikes, head to the library, which features music recording software in private business stations. This invitation-only lounge is open to Virgin Atlantic's Upper Class passengers as well as those with 10,000 Flying Co. miles.
Our Hotel Pick:
Formally known as The Pier, this lounge is said to be one of the finest in the world. The experience includes a noodle bar, which serves fresh, made-to-order Chinese dishes like dan dan noodles and wonton soup, as well as a teahouse where guests can enjoy artisanal blends recommended by experts. Travelers can also indulge in a food hall that doles out tapas, cheese boards, salads, fish platters, hot dishes, sandwiches, desserts, and fruit. Beyond the culinary treats, there are shower suites equipped with premium bath products, a relaxation room with high-speed Wi-Fi, and other amenities that might make the pre-flight experience a noteworthy part of your trip.
Our Hotel Pick: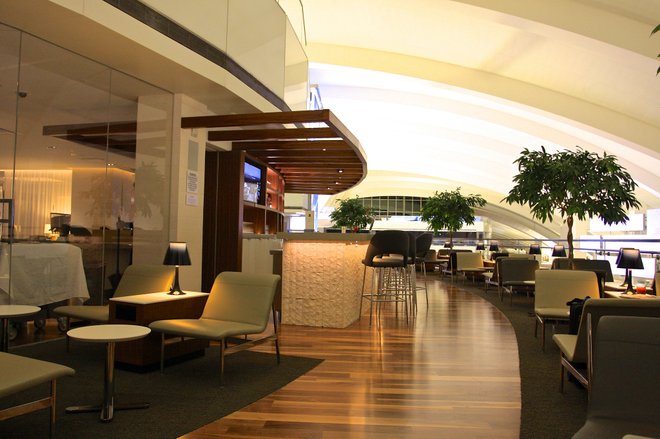 Travelers can continue to soak up the California sunshine at LAX's Star Alliance Lounge, which features an outdoor terrace with views of the Hollywood Hills. Other amenities include complimentary cocktails, a la carte dining service, and shower suites.
Our Hotel Pick:
Air France La Première Lounge, Charles de Gaulle Airport
https://www.instagram.com/p/yttlPdr1z2
Don't miss La Première Lounge when flying through Paris' Charles de Gaulle Airport. Here, customers receive a special check-in and baggage help before being whisked away to the lounge where comfortable seats, HD TVs, and a full-service staff await. A menu curated by famed French chef Alain Ducasse is also available along with snacks and cocktails. Those with even more time to kill should check in to Biologique Recherche, a spa that offers a two-hour relaxation treatment. Air France stocks a full library, but customers can also download the Press app, which gives users access to a selection of titles for 24 hours.
Our Hotel Pick:
At the Emirates First Class Lounge in Dubai International Airport, first-class passengers are treated to a cigar bar as well as a tour of the wine cellar, in which a sommelier can help pick out the perfect bottle to bring home. Quiet relaxation areas are adorned with chaise lounges, pillows, and blankets. Weary travelers can also freshen up in the shower spas. In addition, the entire lounge is equipped with Wi-Fi, offers hot and cold foods, and even boasts a kiddie play area with a child-approved buffet. But we saved the best for last: Here, first-class passengers can take advantage of the greatest perk of all — no lines, thanks to direct boarding.
Our Hotel Pick:
Known for going above and beyond for their premium customers, Emirates has done it again with a brand-new lounge, which opened in May 2016 at Cape Town International Airport. The $2.89 million dollar project gave way to Italian marble floors, leather armchairs, and walnut wood fixtures. Touch-screen business stations are also available for those who need to catch up on emails. If you need some fuel, head straight to the hot and cold buffets and load up on complimentary fare. The lounge also offers a premium selection of Champagne, spirits, and South African and international wines.
Our Hotel Pick:
Qantas International First Lounge, Sydney Airport
https://www.instagram.com/p/BHibgP0Dzci
If you're making the long trek to or from Sydney, you deserve some pre-flight pampering. At the Qantas International First Lounge, you'll find a restaurant serving Instagrammable dishes as well as a bar and coffee station with trained baristas. A shower and spa are also available as are private suites for those who need to combat jet lag. Find even more pre-flight entertainment on one of the Apple computers or at the library, which is stocked with books, magazines, and newspapers.
Our Hotel Pick:
The 24-hour Golden Lounge at Kuala Lumpur International Airport is available throughout all legs of your trip. Decorated in shades of gold and yellow, this lounge is as luxe as it gets. A laksa bar that serves a rotating variety of the Malaysian noodle dish is unique to this location. Each day, lounge chefs prepare 1,500 bowls of laksa for passengers. Platinum passengers can also enjoy a fine dining room, cigar room, showers, nursery, nap room, and much more.
Our Hotel Pick:
Flying through Doha will come as a complete pleasure for those who earn access into this lounge, which happens to be about ten times the size of an Olympic swimming pool. Get some fresh air and drink service in the garden resort area, nap in one of the quiet rooms, or relax in the family room. A Forumla 1 simulator game only adds to the entertainment. Travelers can also get squeaky clean in the showers or fill up at either a continental or oriental brasserie, global deli, or patisserie.
Our Hotel Pick:
At this lounge, you don't have to be an elected official to relax in the swanky leather club chairs with a pint of beer and soft pretzel. Enjoy seasonal menu items at the buffet, daily newspapers and other assorted reading material, showers, and a relaxation room. For an additional cost, guests can also indulge in the Senator Spa, which offers facials, waxing, manicures, and other treatments. Oh, and travelers will also be chauffeured to their aircraft in a luxury German limousine. Pretty sweet, huh?
Our Hotel Pick:
If you're flying out of Seattle, you're going to want to make a stop at Alaska Airlines' Board Room, which is known for its famous pancakes that are made by a robotic pancake printer. Translation: Your Snapchat story just got cooler. Those who don't have ticketed access can purchase a day pass for $45. Other amenities include Starbucks coffee, juice, snacks, cocktails, quiet work stations, and a concierge service that can help with any and all travel needs, including top Alaska tips.
Our Hotel Pick:
In an effort to bring luxury to passengers, American Airlines upgraded their lounge experience at New York's JFK and Los Angeles' LAX. Perks include a selection of top-quality spirits, wines, beers, a variety of healthy foods, concierge service, and private shower suites with high-end toiletries.
Our Hotel Pick:
JetBlue's Terminal 5 at JFK is home to a 4,046-square-foot outdoor rooftop lounge that's accessible to passengers waiting for a flight in the terminal. The grassy park area features a kiddie section, pet area, vendors selling ice cream and hot dogs, and complimentary Wi-Fi. Plus, you'll have ample opportunities to Snapchat planes soaring across the Manhattan skyline.
Our Hotel Pick:
Related Stories:
All products are independently selected by our writers and editors. If you buy something through our links, Oyster may earn an affiliate commission.