Best Value Hotels in Cabarete, Dominican Republic
Take a look at the best value hotels in Cabarete.
See All Cabarete Hotels
1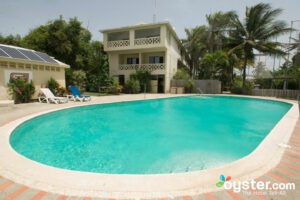 Extreme Hotel is an eco-friendly, three-pearl resort with tons of on-site activities that focus on fitness, adventure, and extreme sports. With an on-site kite school and endlessly windy conditions, an on-site half-pipe, outdoor yoga studio, cross-fit gym, and a full-size trapeze with available circus lessons, this is not the place where vacationers come to spend their days lounging by the pool. There's a small beachfront bar and restaurant that uses ingredients from the hotel's on-site permaculture garden in nearly all of its daily changing menu items. The 19 guest rooms are bare-bones, with simple wood furniture, white bedding, and teeny tiny bathrooms. The hotel's motto "live by the sun" not only implies action-packed days outdoors, but also touches on the need to restrict electricity usage -- which means there's no air-conditioning. Directly next door is Kite Beach Hotel Cabarete, with fewer amenities and lower rates.
2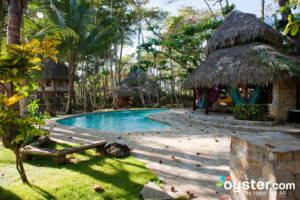 Offering 11 eco-friendly bungalows in a lush, friendly setting, Natura Cabanas is a taste of serene, northern coast luxury for a remarkably fair price. Guests enjoy delicious, fresh food, a clean, crowd-less beach, yoga classes, and a fabulous spa. It's quiet, and a bit rustic without TV or AC in rooms, but that's the point.
3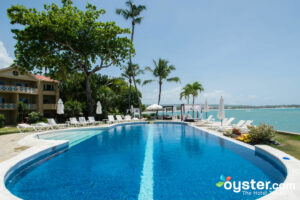 Though it's by no means luxurious, the three-and-a-half pearl Velero Beach Resort is one of the nicest hotels in Cabarete. Its cliffside location affords awesome ocean views and is the perfect spot for sunsets. The 50 guest rooms are spacious and bright, with large bathrooms and oceanfront balconies. Although a bit small, the hotel's gorgeous, mosaic-tile infinity pool is surrounded by pillow-topped day beds and slightly worn lounge chairs. Victor's, the on-site restaurant, serves international cuisine with a focus on fresh Dominican seafood. Velero is within walking distance of downtown Cabarete, and a full service grocery store, but is secluded enough to remain quiet at night. A major downside is the hotel's tiny beach, which is subject to rough waters and lots of wind. Travelers who would prefer to be directly on Cabarete Beach should check out the nearby Kite Beach Hotel or Hotel Villa Taina.
4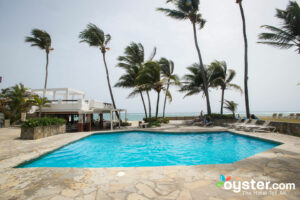 A three-pearl beachfront property subject to some major wind, Kite Beach Hotel is the ideal spot for kite boarders and windsurf enthusiasts. The on-site kite school is the perfect place for amateurs to learn the sport, or for pros to brush up on their skills. It's definitely more of a kite surfer crash pad than a family-friendly resort, and the constantly whipping wind makes it hard to enjoy the beach, pool, or restaurant areas without getting pelted by sand. There are a wide range of room options, including budget studios and multi-bedroom apartments, but the no-frills decor could use some updating -- or at least a visit from an interior designer. For those who want to relax, consider Natura Cabanas for a calmer beach and cute bungalows (though expect pricier rates).
5
Coconut Palms Resort is a mid-range hotel located on a secluded hilltop about five minutes from downtown Cabarete, and a good 10-minute walk to Playa Encuentro. The resort is composed of 50 apartments, most of which have full kitchens, living rooms, and huge balconies overlooking the ocean, but they need a little TLC. There's a free-form pool with a volleyball net and a poolside bar. The Palm Room, the hotel's open-air restaurant, has steep prices for mediocre food and breakfast isn't included. Guests looking for something a bit more modern that's closer to the action should check out the Millennium Resort, a newer hotel that's right on the beach with more expensive nightly rates.
6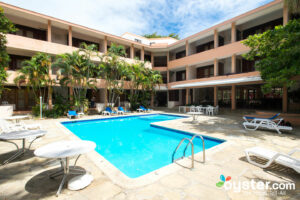 Hotel Casa Cayena is a budget hotel located in Downtown Sosua. Potential travelers should be aware that Sosua is known for sex tourism, and Casa Cayena is one of many hotels that keeps the local business alive. It's not a place for solo female travelers, families, or even couples. Located on Calle Dr. Rosen, a major thoroughfare in Sosua, Casa Cayena is within a few minutes' walk of Playa Alicia, bars, restaurants, and nightclubs. The 25 rooms reek of cigarette smoke, and it's not uncommon to find large bugs running amok in the bathrooms. However, most rooms have large balconies overlooking the pool, and the already reasonable rates usually include breakfast and dinner at the hotel's restaurant. The hotel offers free Wi-Fi and parking and doesn't charge extra fees for temporary guests. The nearby New Garden Hotel has the same sort of clientele and slightly nicer rooms. Tropix Hotel is a budget option for families, with a strict registered guests only policy.