Best All-Inclusive Resorts in North Male Atoll, Kaafu Atoll
Take a look at the best all-inclusive resorts in North Male Atoll.
See All North Male Atoll Hotels
1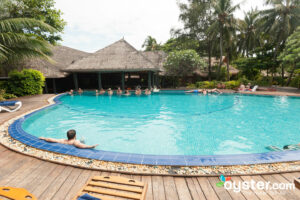 Renovated in 2015, the all-inclusive Adaaran Prestige offers some of the most affordable water villas near Male. This sub-resort shares a private island with Adaaran Select Hudhuranfushi, which means guests can take advantage of the larger resort's amenities -- these include a pool, fitness center, spa, tennis court, and five bars. Those who don't mind flying in a seaplane should also consider the similar (but less expensive) water villas at Kuredu Island Resort.
2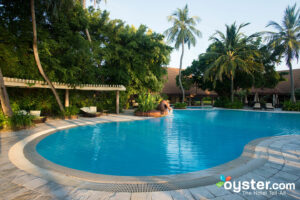 This upscale, 180-room resort is the oldest in the Maldives; it opened circa 1972 on a former coconut plantation surrounded by white-sand beaches. An easy jaunt from the airport -- just 10 minutes by boat -- Kurumba is not the most peaceful locale, nor does it have the most attractive views due to a protective man-made barrier. Despite these two shortfalls, the resort has a lot to offer, including eight restaurants, three bars, two swimming pools, and a modern spa. It appeals to families, thanks to the kids' club with babysitting services, and to couples, thanks to offerings such as wine tastings and sunset jazz. Nine renovated room types have basic contemporary decor, outdoor patios, and spacious open-air bathrooms with separate bathtubs and showers. The team works hard to keep things fresh -- case in point, the sleek Thila restaurant, which opened in 2014, ranks among the Maldives' best. Several meal packages are on offer to keep dining costs in check.
3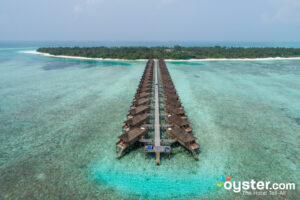 The upscale Meeru is not only the third oldest resort in the Maldives, it is also the third largest, with 286 rooms and a loyal following of repeat guests (many Germans). It's attractive for all ages: Families have their own area of the island, and couples have theirs, hence two separate pools, two buffet restaurants, and two spas. Most guests are on an all-inclusive packages, so bars are lively -- especially the 24-hour one. During the day, there are plenty of activities on hand, including a diving center with courses in French, German or English, a number of water sports, excursions, a driving range, and even a golf course. Snorkeling in the house reef requires a boat ride, though many are happy to stay put on the pretty beaches. Rustic-luxe rooms have vaulted wood roofs, wood paneling, and king-size beds (many are romantic four-posters with mosquito netting); some are overwater, some on the beach, and some offer jetted tubs in open-air bathrooms.
4
Open since 2013, this well-managed resort close to the airport has 140 rooms, either along the shore or overwater on stilts (reached via a lengthy jetty). Thailand-based Centara has two properties in the Maldives, both known for offering luxury accommodations at competitive prices, and this particular one is aimed at young couples (no guests under the age of 12 are allowed). It's not the prettiest island or best house reef for snorkeling, but its service is exceptional, a rarity at this price point. The buffet serves a wide mix of European and Asian cuisines, while three a la carte restaurants (Thai, Italian, and Middle Eastern) and three bars keep the mainland fun and lively; both half-board and all-inclusive rates are on offer. All rooms have flat-screen TVs, DVD players, bathrobes, and 24-hour room service, but no umbrellas on the private villa decks -- and it will get hot in the afternoon sun.
5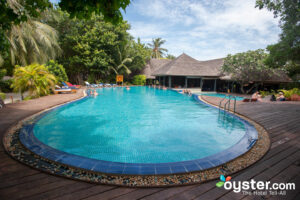 This 215-room, mid-range resort provides all the essentials for a Maldives vacation: white-sand beaches, a turquoise lagoon, swimming pool, all-inclusive buffet, water sports, and decent rooms next to the beach. There are far more luxurious (and expensive) resorts around, but relatively easy access to the airport and a great surf break make Adaaran Select Huhuranfushi a solid value for the area.
6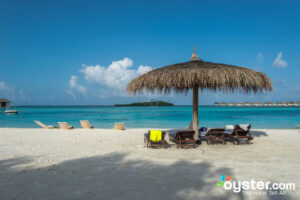 Cinnamon Dhonveli Maldives is an upscale, 148-room property that's an easy 30-minute speedboat ride from Male. Rooms are spacious and mostly contemporary, but are dim, showing wear, and often littered with dead ants. Interconnecting rooms, a kids' club, and kiddy pool area make the resort suited for families, while a world-famous surf spot makes it an enticing challenge for surfers. Wear and tear aside, the resort's value is in the wide array of activities and features on offer, from a spa and pool, to bars, entertainment, and water sports. The Sheraton Maldives Full Moon Resort & Spa is more luxurious and also close to the airport, and often not much pricier, so it's worth comparing rates.
7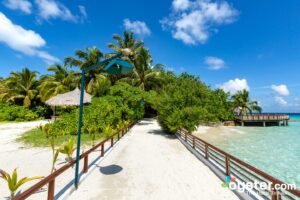 This small rustic resort attracts mostly European couples who take up residence — sometimes for three weeks at a time — in the 36 bungalows spread out over six acres of sand. Locals opened the property in 1982, and it is one of the oldest resorts in the Maldives; many guests have been coming for years (40 percent are repeat visitors). Other special distinctions: There is no Wi-Fi anywhere (!) and there are no TVs -- both intentional choices to keep guests relaxed and unplugged. Most will spend their days exploring the turquoise sea (scuba and snorkel are big here!). Half-board and full-board packages are available -- just make sure to fill up on lunch, since dinner isn't served until 8 p.m.
8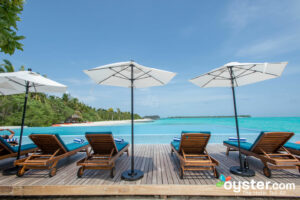 If you're looking for a bang-for-your-buck spot with a fresh, contemporary look where it's perfectly acceptable to ditch your shoes and run barefoot, Summer Island Maldives is worth considering. After a total overhaul, this upper-mid-range, full-board-only resort (re)opened up in early 2015 with 156 spacious, comfortable rooms; a slick, oceanside infinity pool; expanded main bar; and overwater spa. There's also a small but modern gym, with a Pilates and yoga room, stylish library, shops, quality buffet and a la carte dining options, and many activities. Just a 15-minute seaplane ride from Male, this property certainly isn't the most luxe you'll find in the area, but many are drawn to its laid-back atmosphere and beautiful beach.
9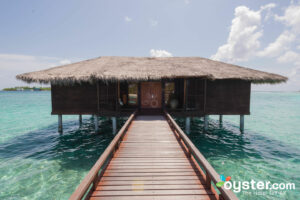 Just a 20-minute boat ride from the airport, Sheraton Maldives Full Moon Resort & Spa is a five-pearl luxury property with a village-like vibe. The small island is home to 176 rooms, an oceanside spa, contemporary fitness center with tennis court, dive center, free non-motorized water sports, a kids' club and pool, lagoon-style pool, and several bars and restaurants. With its close proximity to Male, this is an ideal upscale resort (with all-inclusive options) for anyone who wants to mix in a visit or two to the capital city or just stretch the hours of their vacation as far as possible.
10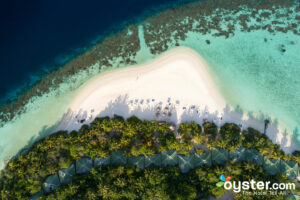 Located near several popular dive sites in the North Male Atoll, Eriyadu Island Resort was one of the Maldives' first tourist resorts. With more than 30 years under its belt, this 76-room, upper-middle-range resort is slowly updating its style and moving toward four-pearl status. Pluses include an excellent, easily accessibly house reef; on-site activities; and direct beach access off all rooms. However, the lack of free water or Wi-Fi, average buffet quality and selection, and slow renovation process (there's a huge disparity in room quality) still leave much to be desired. Prices are fair for what you get, though; competitors such as Adaaran Select Meedhupparu, which also has an on-site reef and simple rooms, typically cost more.