Best All-Inclusive Resorts in Mazatlan, Sinaloa
Take a look at the best all-inclusive resorts in Mazatlan.
See All Mazatlan Hotels
1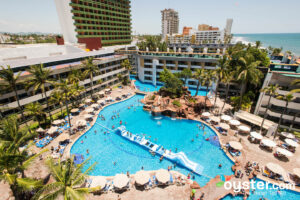 Coupled with its neighboring sister property (El Cid Castilla Beach Hotel), El Cid El Moro Beach Hotel is one of the largest, most full-featured beachfront resorts in Mazatlan. With a wide, soft-sand beach, a huge freeform pool, two alfresco restaurants, and an on-site grocery store, guests have access to almost everything they need without ever venturing off-property. The 390 rooms are simple, but sharper than many in the region, and they feature kitchenettes, flat-screen satellite TVs, and private balconies (with optional sea views) are all provided. The lack of free Wi-Fi, a spa, and a gym, plus an overcrowded beach and sometimes loud vibe, are likely to turn off some guests. For a bit more money, the four-pearl Pueblo Bonito Emerald Bay offers the same amenities and more sophisticated rooms.
2
El Cid Castilla Beach Hotel is one of the most full-featured and family-friendly three-and-a-half-pearl resorts in Mazatlan. Each of the 500 rooms offers modern amenities including flat-screen satellite TVs, air-conditioning, and private balconies, some of which have sea views. The property features an extensive list of common amenities, including a wide beach, three restaurants with alfresco dining and room service, and one of Mazatlan's largest pool complexes. However, the easily overcrowded beach and lack of free Wi-Fi, a spa, or a gym are surprising in a hotel of this class. El Cid Marina Beach Hotel offers a quieter, more elegant atmosphere with access to all of the same amenities for less money.
3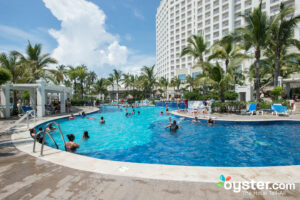 As Mazatlan's largest resort, the 716-room Hotel Riu Emerald Bay has just about every feature an all-inclusive traveler would expect in a typical, slightly dated package. There are three large pools, a massive, a semi-private stretch of beach, numerous restaurants and bars, and a large spa. Rooms are typical of the Riu brand, ranging from simple and dated to more upmarket, with amenities like all-you-can-drink liquor racks and minibars, flat-screen TVs, and private balconies (with optional water views). Make no mistake: This is a party hotel and is built for people who like a higher-volume beach getaway, and there's nothing really within walking distance. For a bit more money, Pueblo Bonito Mazatlan has a quieter, more relaxed vibe and similar features.