Best Kid-Friendly Hotels in Reno, Nevada
Take a look at the best kid-friendly hotels in Reno.
See All Reno Hotels
1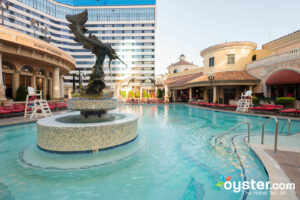 The Peppermill Resort Spa Casino is a crowd-pleaser, with its spacious rooms, lovely outdoor pool area, and variety of restaurants and lounges. The upscale property has a Tuscan theme, evident in its domed entrance, hallway paintings, and exuberant statuary -- though it may be over the top for some. There more than 1,600 rooms, including some with mountain views, and a variety of suites with whirlpools and balconies. The hotel has a casino with slot machines and card tables, as well as a race and sports book. It's a 10-minute drive from the downtown area, though, and not within walking distance to Reno's other casinos. Travelers, especially families, may want to compare rates with the Grand Sierra Resort and Casino, an upscale property heavy on kid-friendly amenities.
2
More modern than many Reno hotels, Grand Sierra Resort and Casino is an
upscale property that's about a 10-minute drive from downtown Reno, and not within walking distance of other casinos. On-site entertainment is in abundance -- there's a casino, movie
theater, bowling alley, a beach-style outdoor pool, and driving range, as well as big-name music headliners plus a variety of restaurants and lounges. The 1,900 contemporary rooms have "spa-inspired" bathrooms, which are particularly impressive and outfitted in striking dark marble. In addition, the hotel offers a spa and fitness center and space for RV hookups.
3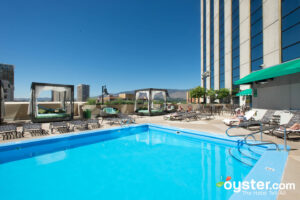 Silver Legacy Resort and Casino is an upper-middle-range hotel in downtown Reno with more than 1,700 rooms and a casino featuring a huge composite dome reflecting the Nevada sky. The property is newer than several comparable hotels in the area and has an outdoor pool with mountain views. Big headlining acts swing through on weekends and the hotel hosts comedians nightly. Rooms are modern and straightforward, with flat-screen TVs and free Wi-Fi. The resort also has a small fitness center, a spa with a whirlpool and sauna, and a hair salon. Guests voice minor complaints about problems with key cards and long waits to check in, but overall it's a good choice for the rate.
4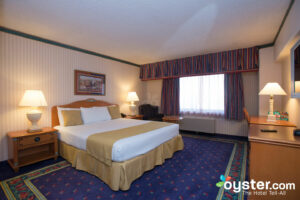 A circus-themed property that will please guests who have a penchant for all things big top, the 1,500-plus-room Circus Circus Hotel and Casino-Reno is a mid-range property built in 1978 that retains its outdated decor. It's popular with families for its kid-friendly midway featuring carnival and arcade games, as well as daily circus shows. Scooter rentals are available, and the hotel has a variety of casino games and restaurants on-site. Rooms are spacious but dated, with unattractive carpeting and curtains. Guests may want to compare rates with Silver Legacy Resort and Casino, which is attached to Circus Circus via indoor walkway -- it has an outdoor pool and its rooms are slightly more modern.
5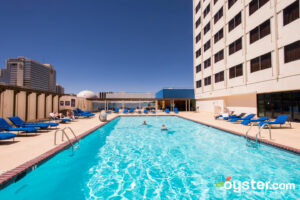 Opened in 1969, Harrah's Reno is an enormous mid-range resort in the heart of downtown, next to the Reno Arch and a short stroll from the Riverwalk. The hotel is a bit of a mixed bag, and it's age is showing in many ways. The 928 rooms are a mix of mostly modern and dated styles, though all at least have modern conveniences like flat-screen TVs and coffeemakers. The main draw here is the casino, which has over 700 slots plus table games and sports betting, though the hotel also has a decent-size outdoor pool and a full-service spa. There are also multiple restaurants and bars plus performance venues. The Peppermill Resort Spa Casino is also worth considering for its more stylish interiors, though it's farther from downtown.