Best Kid-Friendly Hotels in Gramercy and Murray Hill, New York City
Take a look at the best kid-friendly hotels in Gramercy and Murray Hill.
See All Gramercy and Murray Hill Hotels
1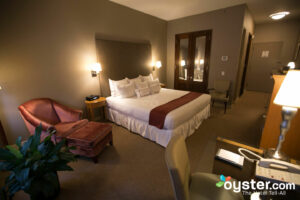 Named after owner Henry Kallan's favorite animal (and because of its tall, slender design), the 75-room Hotel Giraffe is an Art Moderne that will appeal to fans of NoMad architecture, the trendy neighborhood restaurants, and fans of "Sex and the City: The Movie" (in which the hotel was prominently featured). Rooms have understated contemporary decor, and the hotel offers homey extras such as a daily wine and cheese hour and free continental breakfast. There's no gym, but free passes are offered for one nearby. First-time visitors to New York who are determined to hit the sightseeing checklist will probably want to stay somewhere more uptown, however.
2
Opened in 2013, the upscale Hyatt Union Square New York offers stylish accommodations and solid amenities a block from Union Square (and its seven subway lines). Rooms are bright and charming, with fun details and textiles; several feature terraces. The three on-site restaurants -- with a fourth on the rooftop terrace coming soontag:revisit 7/15/2013 -- serve three solid meals a day in comfortable but stylish settings. Overall, it is one of the best bets in the area.
3
Located in the bustling heart of Midtown East, the mid-range, Hotel 32 32 offers a solid rate for its excellent location -- one block from the subway, and walking distance to numerous landmarks including the Empire State Building. But there are no common areas, and aside from free Wi-Fi, in-house features are lacking. Guests must trek off-site to take advantage of a free daily breakfast and free fitness center access at affiliated establishments. Its 102 apartment-like rooms are stylish, contemporary, clean, and well-equipped with flat-screen TVs, iPod docks, minibars, and marble bathrooms with free toiletries. Many rooms offer cityscape outlooks, balconies (one has a deck), and kitchenettes. Hotel 32 32 is hard to beat on price and location, but travelers seeking more on-site features could try the Bentley Hotel, which can have lower rates.
4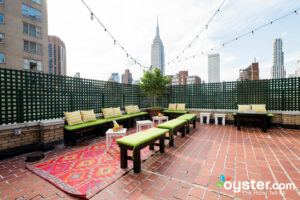 Located in residential Murray Hill, the upper-middle-range Shelburne Hotel & Suites by Affina is an easy walk to a number of Midtown tourist sites and there are an abundance of reasonably priced restaurants and bars nearby. The hotel has its own rooftop bar and inventive burger grill. The 323 rooms and suites are spacious with spa-inspired bathrooms, colorful custom furniture, and fun touches like pillow menus, plus an array of experience and grocery packs to customize your stay (kids aren't overlooked). Some suites have kitchens, and others have wraparound terraces with iconic skyline views. Bike use and daily wine hours give the Shelburne a perks advantage -- but "freebies" are actually covered in a hotel facilities fee. Those seeking a chain hotel close to Times Square could try the Grand Hyatt New York.
5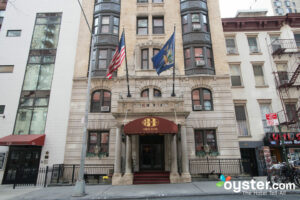 This 80-room budget hotel -- sister property to Hotel 17 a little farther downtown -- is a great value. Many rooms have their own unique decor, down to the patterned wallpaper and outdated bedspreads. That being said, the hotel is clean and maintained by a longstanding housekeeping staff, and technology includes flat-screen TVs and free Wi-Fi. Room sizes and types vary: some have private bathrooms while others are shared -- though it is rare to run into the neighbors except while waiting for the single (and slow) elevator.
6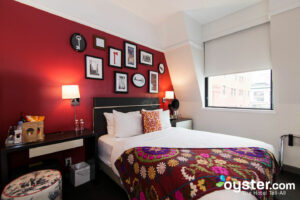 Set in Manhattan's fast-growing NoMad neighborhood, the Redbury Hotel (formerly the Martha Washington) is an upper-middle-range boutique property with a historic facade, a Danny Meyer restaurant and bar, and 265 sleek and stylish rooms. The hotel completed two separate multi-million-dollar renovations throughout 2015 and 2016, and offers a variety of room types, a cozy lounge, an outdoor terrace, and perks (covered by a nightly hotel fee) like free morning coffee service in the lobby and free passes to a local gym, but its greatest asset is its location -- close to the Empire State Building, Macy's, Grand Central Terminal, and Times Square. While it serves as an ideal hub for exploring the city, the hotel lacks such plush amenities as a spa, and the lobby can get noisy during the restaurant's prime hours. Those seeking a quieter vibe might try The Roger or the pricier Hotel Giraffe.
7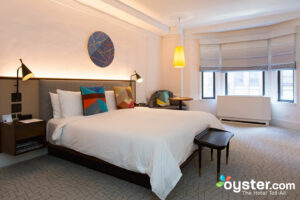 This refined 317-room hotel, since early 2012 a Marriott's exclusive Autograph Collection, is in Murray Hill, a quiet but less popular location. It features modern rooms with excellent beds, 42-inch plasma TVs, iPod docking stations, and free Wi-Fi; a brasserie helmed by a Michelin-starred chef; and an on-site fitness center. It's a fair pick for the price, but also compare rates at the nearby Affinia Dumont. THIS HOTEL REOPENEDAS THE JAMES NEW YORK - NOMAD IN JUNE 2017. WE WILL UPDATE OUR PHOTOS AND REVIEW AS SOON AS POSSIBLE.
8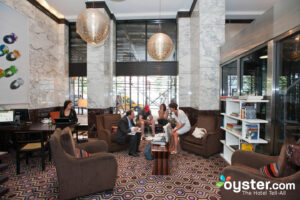 With a world-class gym and spa, plus dozens of customized amenities, the all-suites Dumont is a phenomenal option if you're looking for an urban spa getaway. More than that, it's an excellent high-end choice in general as long as you don't mind being a bit of a hike away from NYC's main tourist haunts.
9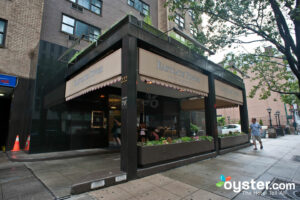 More upscale apartment building than traditional hotel, the 188-room Eastgate Tower offers large studios and one- and two-bedroom suites, all with full kitchens. Rooms are a bit dated, but they are clean, comfortable, and in a quiet part of Murry Hill, just steps from the subway and a 10-minute walk from the Empire State Building.